What if you could monetize every single visitor that comes to your website even if he doesn't click any of your banners? Sounds interesting? Keep reading because we're going to learn about Popunder ads.
Today I'm talking about Monetag. Monetag is a high-tech platform for monetizing desktop, mobile, online, in-app, in addition to social and residual ad inventory. It has access to international advertisers and user-friendly solutions targeted at customers who want to achieve high-profits.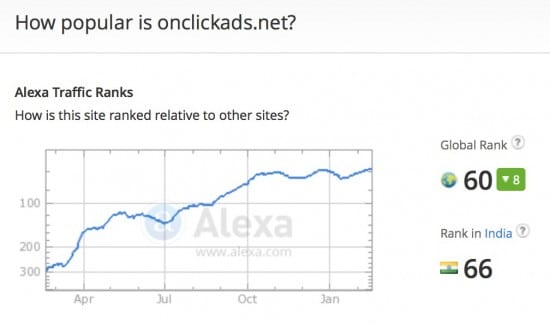 What's special about Monetag Platform?
Well… Monetag acquires a database of a massive number of advertisers in every country, that's why their publishers can monetize 100% of their audiences
And while they offer a variety of ad formats including Push Notifications, In-Page Push, Vignette Banners, Interstitials, and SmartLinks, they have the most famous ads that can grow your revenue substantially.
I'm pretty sure you've seen this kind of Ads, but unless you're into CPA you've not thought about using them to increase your website earnings. I'm talking about Popunder Ads.
What's a Pop Under?
It's an Ad that pop-ups in a new tab or Window (depends on the browser you use) and shows a landing page. If you have visited streaming websites, download websites, and basically any website in the entertainment niche that's not owned by a big brand, you've probably seen pop-ups and pop-unders.
However, Monetag uses a less intrusive technology called On Click Pop Under, which means the ad is only triggered after the user clicks anywhere on your website. This is similar to the one we explained in this network's review as well.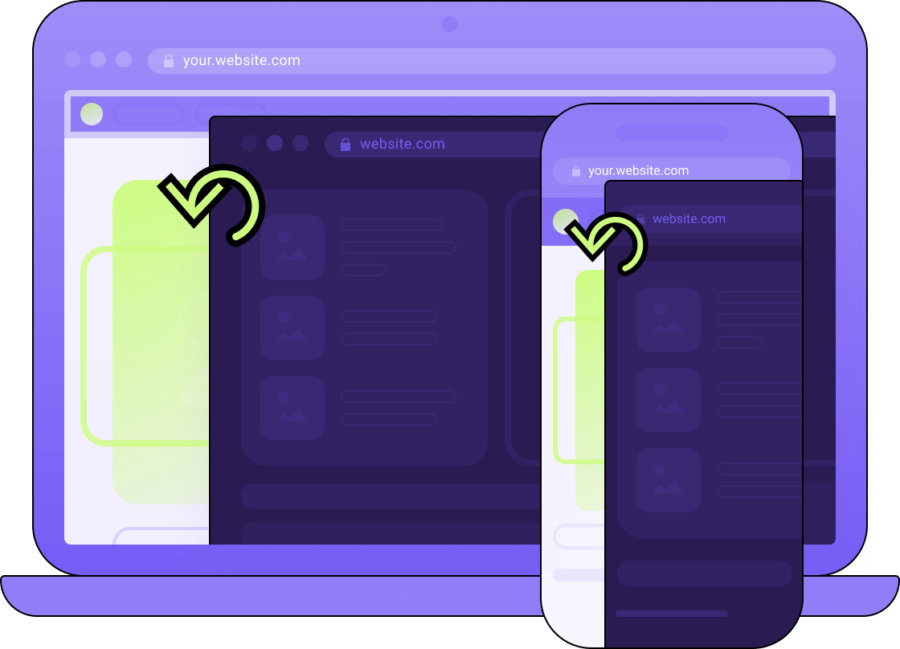 Think about the possibilities and earnings you could generate with Onclick Popunder Ads. The average CPM goes from $7 on different GEOS and up to $12 or more on Tier 1 GEOS. Most people struggle to get $7 just with Adsense or similar alternatives, and the best part is that you can leave your banner Ads no matter what you're using and add Monetag to stack your earnings and double your profit.
I used to run viral websites and all my profits came from clicks on banners around viral news/videos. Many websites do this and get thousands of visits per day. The readers don't just come in and read the article. They actually click the video to be reproduced, or click the Like/retweet buttons, or just click to other articles.
And for each one of those actions you could be earning more money without losing the revenue from your banner ads.
How to get started with Monetag Media
Monetag is a fast responsive platform and the entry barrier is really low. You can sign up and get started in 5 minutes or less.
Their account approval is instantaneous, they have no minimum audience requirements, and as long as you're not promoting adult websites or using fake audiences, setting up your first ads is just a matter of minutes. First, go ahead and sign up for a Publisher account here.
Once you're inside you'll have all these options and you'll see your earnings/impressions/clicks/etc.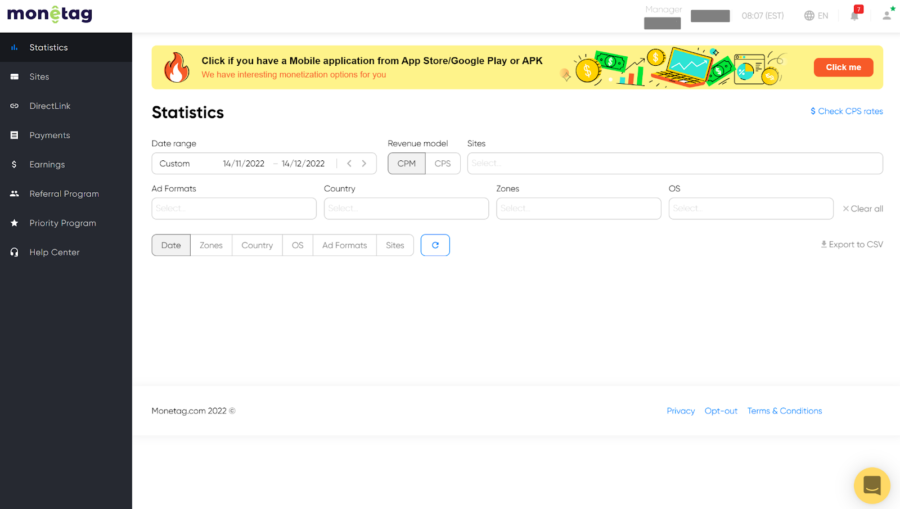 Make sure you go to your Profile settings and fill up your payment method. They accept PayPal, Wire Transfer, WebMoney, Payoneer, and Skrill. The minimum payment limit is $5 and they also provide the option of the weekly payouts.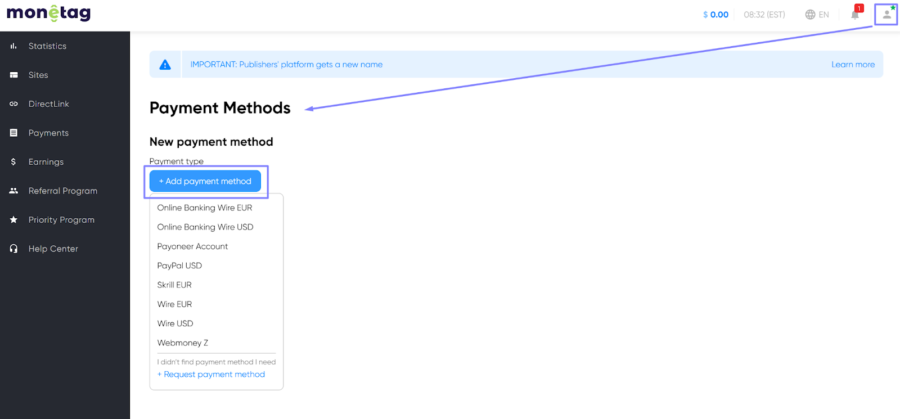 Next thing you're going to do is to add your website in the "Sites" menu. Click the "Add new site" button and write your domain name then click "Submit".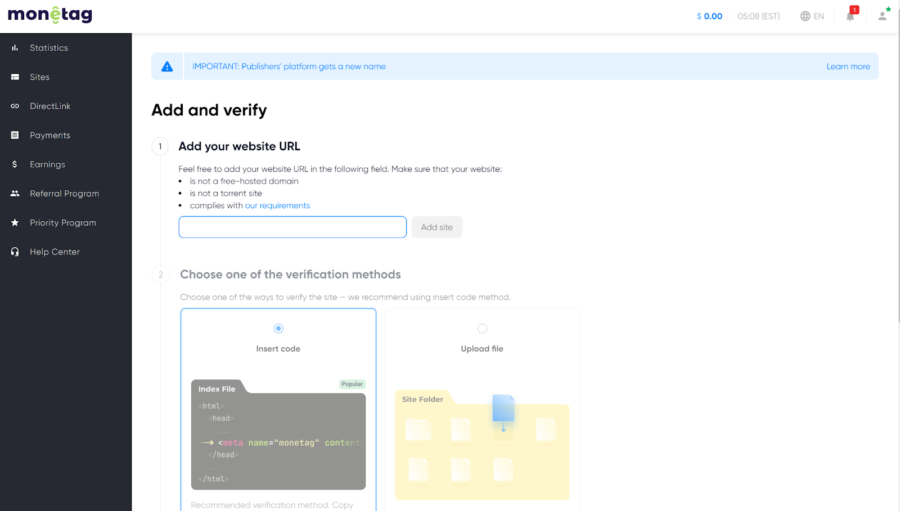 Monetag will give you an HTML code that you can now paste inside the body of your website (an easy thing to do if you use WordPress or any other CMS) and that's it. Your site will be verified and ready to go.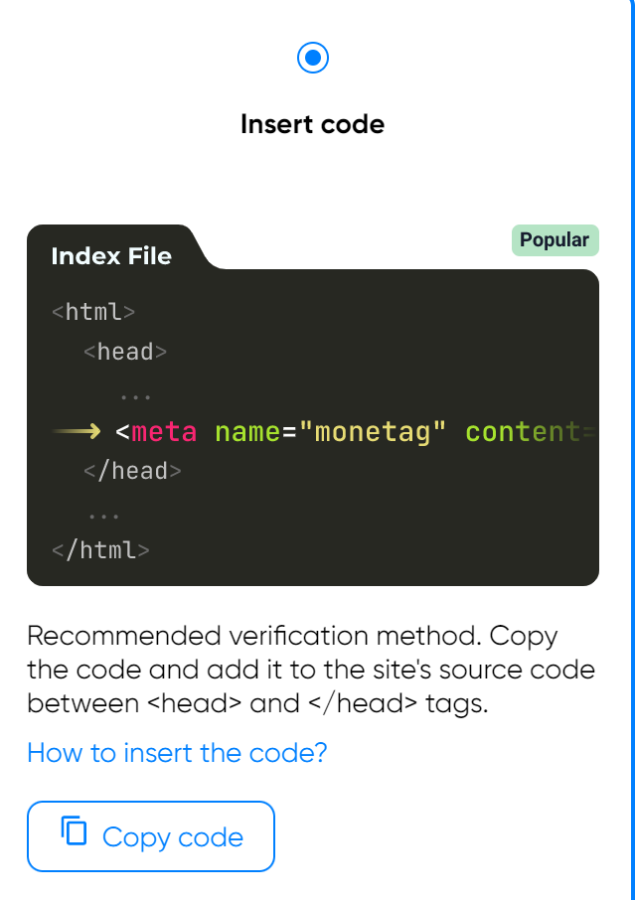 Finally, you're going to choose the type of Ad you want to use so you can add it to your website and start making money! As you can see, Monetag has many ad types aside from Popunder ads. They have Push Notifications, In-Page Push, Vignette Banners, Interstitials, and SmartLinks too. I'll explain how those work in a moment.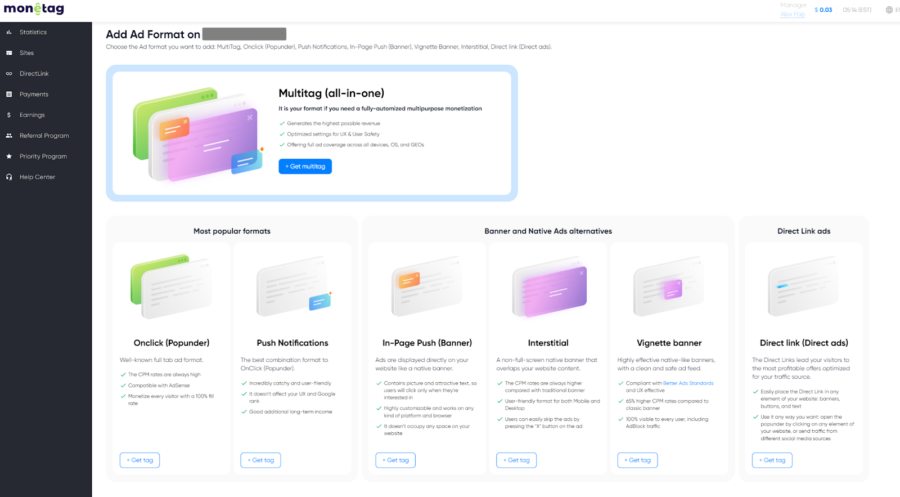 Your website will start showing the Ads you've select and you'll be able to check your stats in Real Time within the stats and Earnings Dashboard:

Ready to earn some extra money? Sign up as a publisher here.
Monetize Mobile audience
If you receive a lot of Mobile audience you might want to try some of the best ads I've seen. While Adsense and other networks can show smaller banner for mobile devices, they're not even close to what you can do with Monetag to monetize your mobile audience.
Monetag's formats are compatible both for desktop and mobile:
OnClick/ Pop-Under Ads
Push Notifications
In-Page Push
Interstitial
Vignette Banner
Interesting, isn't it? This is a complete way to monetize your visits and you don't rely on Banners at all.
Since most of the apps are promoting mobile apps/services like games and utilities (see images above to get an idea), this kind of ads work better for websites about games and everything mobile related. But you should always test and see if it works for you or not.
Conclusions: Think out of the box
As you can see, there are many ways to monetize your audience. Most people think of affiliate links or banners to promote offers/Amazon/Adsense, but there are dozens of strategies to monetize your audience and earn more money.
What Monetag is doing right here is nothing new. Pop-Ups and Pop Unders have been available for years with different networks. However, the way they implement it (Onclick) and their mobile ads are definitely something that you don't see every day.
The best thing about Popunders is that the quantity of audience you have doesn't matter to get started. Even if you have a few hundred visits per day only, and you receive a few clicks on your banners, you can add some revenue implementing Popunders. Banner CTR is not important anymore.
If you've got a big site that's earning $50-500 per day already, then you've got tons of traffic that will ultimately generate clicks and trigger the pop-unders.
For example, if you're receiving 20,000 visits per day and doing $200 per day with Adsense or something similar, you could add another $130 with pop-unders for a total of $330 per day.
Get started now and sign up with Monetag as a publisher here to get approved and start growing your online business.