Finding aged and expired domains can be challenging, with many harmful and spammy options available. I recommend using a domain tool to search through and filter out undesairable domains to make the process easier.
To help you better understand which tool is suitable for your needs, here are the best aged and expired domain tools broken down by features.
Let's get into it!
6 Best Aged & Expired Domain Finder Tools
Type
Domains
Cost
Analytics
DomCop
Expired Domains
20 million+
$64/mo
Whois, Alexa, Estibot, Moz, Majestic
SpamZilla
Expired Domains
2 million+
$37/mo
Majestic, Ahrefs, Moz
FreshDrop
Expired and Auction Domains
5 million+
$33/mo
Moz, Majestic
Domain Hunter Gatherer
Auction Crawler
10 million+
$0 – $109/mo
Moz, Majestic
ExpiredDomains.net
Expired Domains
3 million+
Free
Alexa, Majestic
RegisterCompass
Expired and Auction Domains
1 million+ expired
3 million+ auction
$37/mo or $999 lifetime
Majestic, Moz, SEMrush, Alexa, Google, Bing, Wayback Machine
1. DomCop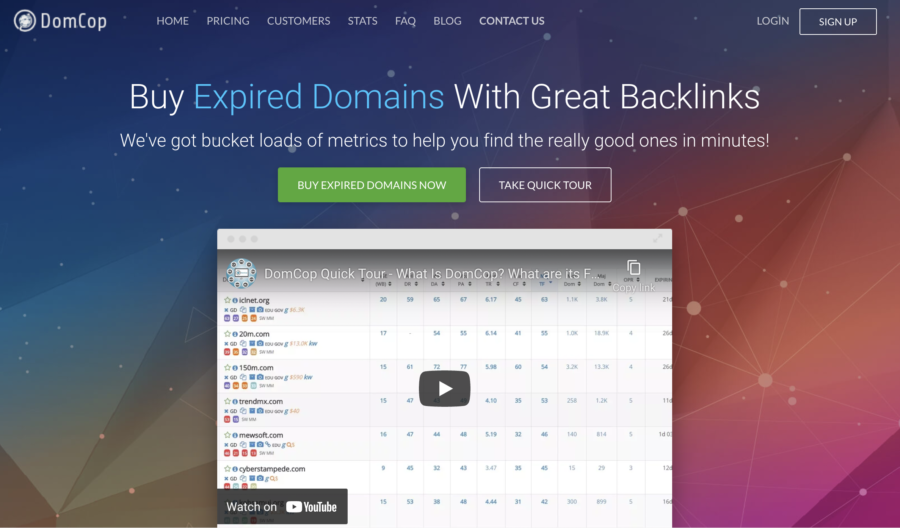 DomCop is my go-to tool most of the time. With expired domains, unlike aged domains, many of the tools are scraped from auction houses and similar sources. So, many of these tools will list the same domains. That said, I find that DomCop generally has a more extensive list than similar tools.
Their interface is also intuitive and straightforward to work with, even as a beginner user. You can search through and rank domains based on inbound links, referring domains, trust flow, domain authority, etc.
To gain access to the platform, you will need to sign up for a monthly or annual plan which varies in price depending on the level of access you want.
Pros of DomCop:
Easy to filter domains
Extensive domain list
Domain watchlist
Daily email notifications
Cons of DomCop:
Read my detailed DomCop review, where I cover the features, ins and outs of the tool, and also compared it to SpamZilla to see which really is the best.
2. Spamzilla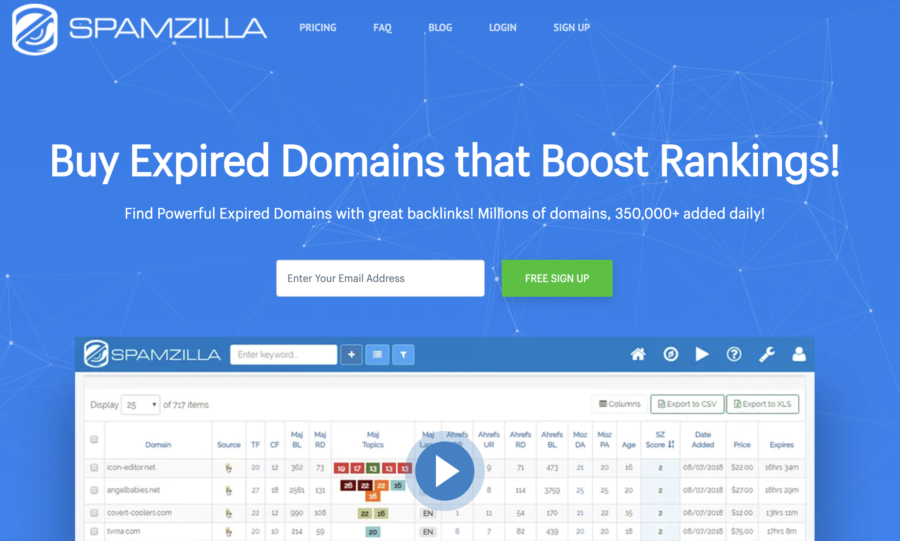 Spamzilla pulls in domains from major sites like GoDaddy auctions and allows you to search through and compare metrics. The tool makes it easy to filter domains based on specific data points such as the price, inbound links, referring domains, etc.
One of the handy features of Spamzilla is its proprietary spam score which looks at various factors to tell you how clean the domain is, potentially helping you avoid buying a penalized or spammed out domain.
Another feature that I particularly like with Spamzilla is that they pull in snapshot images from Archive.org. This helps to save time and provides a bit of history on websites previously built on the domain.
Pros of Spamzilla:
Millions of domains to check
Proprietary spam score
Easy to filter domains
Extensive analytics provided
Cons of Spamzilla:
Free option limited to 25 domains
3. FreshDrop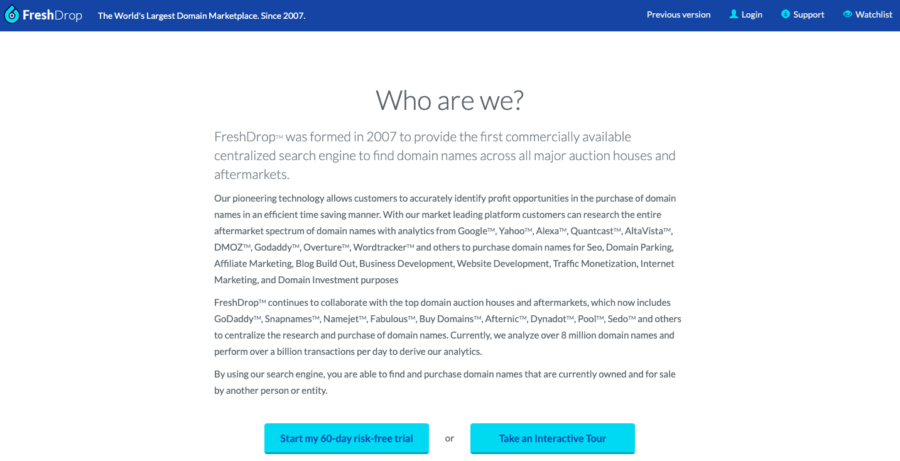 FreshDrop is a centralized search engine that helps you find domain names across major domain auction houses. The search engine pulls domains from sources like GoDaddy, Namejet, Buy Domains, Afternic, Dynadot, and many more.
Their prices are similar to Spamzilla and a few of the other expired domain tools mentioned here. The marketplace also has millions of domains to search through, affording you plenty of selection.
As with other tools, FreshDrop makes it easy to search through domains using various metrics and data points, making it easier to find the exact domain for your project. One thing to note is that their website seems to have many glitches. I routinely had issues clicking around to different parts of the site.
Pros of FreshDrop:
Numerous data points to search with
60-day free trial
Pulls domains from multiple sources
Millions of domains to search through
Cons of FreshDrop:
The website can be slow and glitchy
4. Domain Hunter Gatherer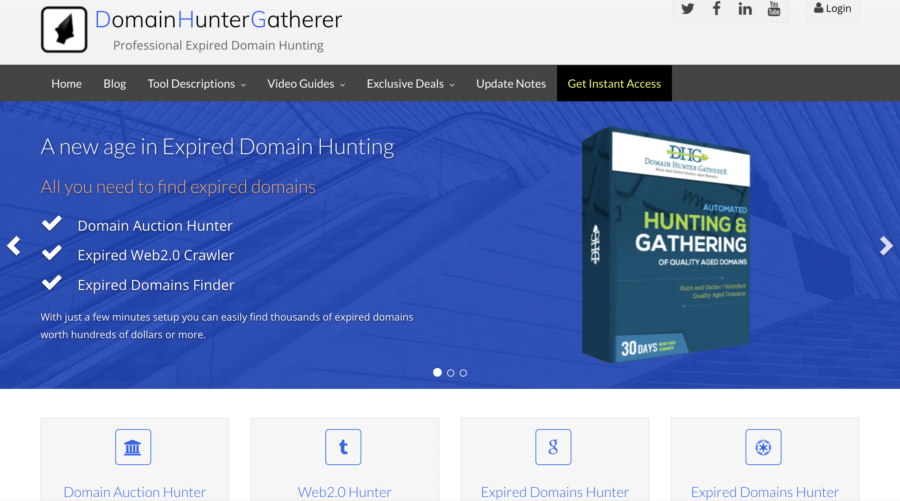 Domain Hunter Gatherer is different from the other tools on the list. This is a downloadable software to search through different domain auctions and expired domain marketplaces.
Aside from this being downloadable software, it operates much like the other online-based tools on this list. You can search for domains via keywords or by searching for specific websites. Once the tool has compiled a list matching your search criteria, you can filter through the domains based on factors like inbound links and domain authority.
One feature that is a bit different with Domain Hunter Gatherer is that it allows you to search for Web 2.0 accounts and traditional domains. While I don't recommend spammy link methods, it is one extra feature that may benefit some people.
Pros of Domain Hunter Gatherer:
Extensive free version
Easy to filter results
Search by keyword or website
Numerous metrics to search from
Cons of Domain Hunter Gatherer:
5. ExpiredDomains.net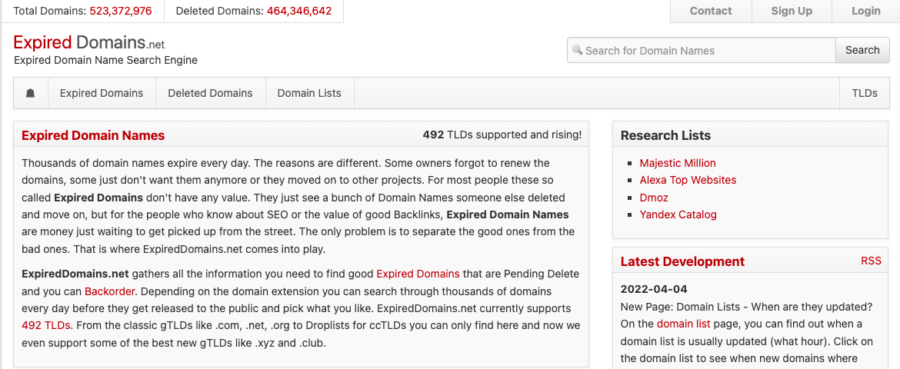 ExpiredDomains.net is similar to DomCop, except that it is free to use. I find this is both good and bad as being free means it's more accessible to everyone, but less work has been done with the interface because it's free.
The tool makes it easy to search through millions of domains via keywords. A very extensive filtering system allows you to narrow down domains more easily. Overall, it's still a solid alternative to DomCop if you don't want to pay a monthly subscription.
The domain marketplace boasts an impressive five hundred million plus domains. However, only a little over three million are expired, with the rest considered deleted domains. There are also many spam domains on the site, so it can take longer to find what you're looking for.
Pros of ExpiredDomains.net:
Free to use
Millions of domains to look through
Extensive filtering system
Easy to search by keyword
Cons of Expired Domains.net:
It can take longer to search through
6. RegisterCompass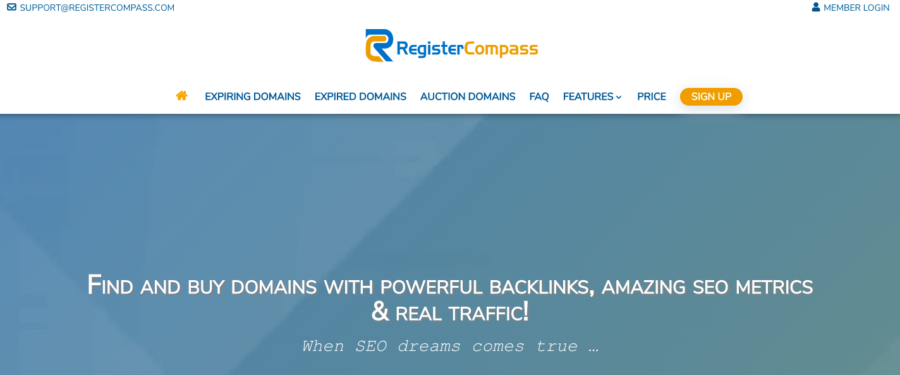 RegisterCompass provides a way to search through both expired domains and domain auctions, making it easy to narrow down results to a manageable list. The website claims to have over one million expired domains and over three million auction domains.
While the tool is good for what it does, I don't think they offer anything better than a tool like DomCop and have less selection. However, one advantage is that you can purchase a lifetime subscription, though it is a bit steep in price.
Pros of RegisterCompass:
Lifetime plan available
Millions of domains to choose from
Numerous metrics to filter through
Bulk domain availability check
Cons of Register Compass:
Lifetime plan is expensive
---
Differences between Expired vs Aged Domains
I've noticed that many people confuse the terms aged and expired domains, often using them interchangeably. While there are many similarities, a very distinct difference dramatically increases the value of one of the other.
Read the mode detailed analysis of expired vs aged domains.
Expired Domains
Expired domains have been dropped one or more times since first being registered. Google and other search engines have been known to discount links to expired domains, meaning you will see a minimal advantage in using one.
The best way to tell if a domain is expired is by checking the original registration date using a tool like Whois. This should match the creation date. If it doesn't, you're looking at a domain that was dropped at least once.
While expired domains aren't bad to use, they are significantly less valuable than aged domains. You will also have to be extra meticulous during your due diligence process. Many aged domains go through a strict vetting process when acquired by an aged domain broker. That isn't always the case with expired domains, so you will have to pick up the slack.
Aged Domains
Aged domains are similar to expired domains except that at no point were they ever dropped or left to expire after registration. Typically, these are domains where a single website was built on them that have been in existence for a more extended period, or the domain has been registered with an aged domain market.
The benefit here is that the links going into the website are more likely to still be active instead of being discounted by search engines. Depending on how long the domain has been with an aged domain broker, it's also likely that there are still pages indexed in Google, among other benefits.
With expired domains, you never know until you get it plugged into Google Search Console if there are manual actions against the domain. Many expired domains have been left to expire specifically because they've been penalized. I've found that aged domains typically don't suffer from this same issue as much.
However, that doesn't mean you can skip out on due diligence. While certainly less common, I've come across aged domains with penalties or many spammy links and other issues.
---
6 Reasons to Buy an Aged or Expired Domain
From my experience, buying and flipping websites and even building new sites, aged and expired domains is one of the best ways to see quick wins.
One of the reasons I like using these domain types is that they can save a lot of time when getting started. In some cases, using an aged or expired domain can save you months of work. However, there are many other reasons for aged and expired domains being a good investment.
1. Existing Authority
High-quality aged and expired domains likely have mid to high authority depending on the previously built websites and link profiles. This holds especially true for domains that used to belong to popular businesses or blogs.
With that said, an aged or expired domain is no guarantee of high domain authority. I've come across plenty of aged domains sold at premium prices due to their perceived brandability yet had low domains.
For this reason, It's essential that you are always conducting proper due diligence before purchasing an expired or aged domain to make sure it's genuinely beneficial.
2. Strong Backlink Profile
One of the main reasons I, and many other experienced website builders and flippers, prefer to purchase expired and aged domains is the potential for a solid backlink profile.
You can buy an aged domain that saves you months or more on your link-building efforts. However, you have to be meticulous in your due diligence with a website's backlink profile.
While many of the top aged domain marketplaces will conduct a thorough backlink profile analysis, they aren't always perfect. You want to be extra careful to avoid buying a domain with spammy links or links from adult websites, gambling sites, or those promoting illegal products or services. With expired domains, it's usually on you to make sure the profile is clean.
Another thing to think about is the specific types of links coming into a domain. I look for links from sources that I otherwise wouldn't be able to obtain on my own or that would take a considerable time and monetary investment to obtain. If all of the links are from websites that are easy to build links from, it usually isn't worth buying the domain.
3. Domain Age & History
Expired and aged domains can benefit from having a significant history and length in use. Assuming the domain history is free of spammy websites or other issues, it can create a positive association with the new website you plan on building on the domain.
Whenever I'm purchasing an aged or expired domain, one of the first things I always check out is the domain's history. Specifically, I use Archive.org to ensure there weren't any questionable websites previously built on the domain, such as adult sites, drug marketplaces, spam sites, PBN websites, etc.
Another thing I check for, specifically with aged domains, is that the creation age matches the website history. This lets me know if the site is genuinely aged or if it's been dropped once or more, making it an expired domain.
Assuming these two inspection points check out, you can benefit from a domain with a solid history relevant to your niche.
4. Indexed Pages
Depending on how long a website has expired or is held by an aged domain marketplace, there may still be some pages that are indexed with Google and other search engines. This is an excellent indicator that the domain isn't suffering from a manual penalty or having indexing issues.
Another benefit to an expired or aged domain having indexed pages is the potential to drive traffic. If any of the pages are ranking in the top spots for attractive keywords, it can make your job easier when first getting started, especially if you are building a website with similar intent and plan on building content on the ranked URL.
5. Existing Traffic
Many aged and expired domains still have traffic either because of pages that are still indexed in search engines or direct traffic from people trying to visit the previous website.
I will say that existing traffic isn't always something you will find on an aged or expired domain. The longer it's been expired or held by an aged domain marketplace, the less likely it is to receive relevant traffic still. In this case, relevant traffic is people visiting the previous website and not just random traffic from people searching the domain.
If you follow my advice and purchase a domain that has similar intent to the website you want to build or redirect the domain to, you can benefit from any existing traffic.
6. Potential Name Recognition
I recommend you always purchase a domain with the same intent as the website you are currently building. This lessens the chance of you having issues with mismatched search intent.
Nobody will trust a website about golfing built on a domain titled PetResources.com. Regardless of how solid a domain's metrics are, don't use it if it doesn't match your website's stated purpose, even if you only plan to redirect the domain.
If the domain was from high authority or a well-recognized brand, assuming that the domain isn't trademarked, you could benefit from that previous website's brand recognition.
Again, this is assuming it wasn't trademarked. For established businesses, you will likely find they have trademarks that cover their domain name, think brands like Apple or Adidas.
However, you can likely find domains associated with famous blogs or authority sites that are not trademarked. These can make good purchases assuming all of the other information checks out as you can benefit from the name recognition.
---
3 Ways To Use Aged or Expired Domains
Once you've successfully obtained an aged domain, I recommend using it in one of the three ways. Most people will likely be purchasing a domain to increase authority, so you're probably going to redirect it or build a site on it.
Whatever you do, make sure to avoid any spammy or shady practices that could leave you exposed to penalties or devalue your website in the future if you go to sell it.
1. Build & Monetize a Website
With aged domains especially, one of the best ways you can utilize the domain is to build a website on it and monetize the site. These domains can cut your time to profit significantly due to the benefits mentioned above.
When buying an aged domain or expired domain to build a website on it, one thing to make sure of is relevance. I've seen many websites built on domains that are not relevant to the site's topic. Some of these I've seen rank quite well.
If you do buy a domain that's not relevant to your site, though, it will be challenging to establish trust with visitors and create a long-term business even if you do achieve solid rankings. There is also a greater possibility of losing those rankings in an algorithm update.
When building a website on an aged or expired domain, the best thing you can do is keep everything legitimate and avoid spammy or questionable tactics. This will help you get the maximum long-term benefit from your domain and increase the value if you decide to sell the website.
2. Flip For More Profit
I believe that expired and aged domains can be an excellent opportunity to see quick and potentially solid returns from an investment perspective. However, you will need to conduct proper due diligence to find undervalued domains.
I want to note that you are more likely to find aged or expired domains to flip for a profit when going through private sellers. Aged domain marketplaces like Odys or SerpNames are usually good at correctly valuing the domains they sell. So, it's less likely you will find an undervalued domain that you can sell at a profit.
3. Do a 301 Redirect
Doing 301 redirects is probably the most common reason people purchase aged and used domains behind building websites on them. I like to do this myself, depending on the aged domain and its relevance to the project I'm working on.
This can be a great way to quickly increase your domain authority, assuming that you set everything up correctly. First, I highly discourage anyone from buying random domains to redirect to your primary domain. It's easy for a manual reviewer at Google to see this and possibly completely discount these domains, meaning you will have spent money for nothing.
Another reason I avoid redirecting random non-relevant domains is that it can lower the value of your website if you try and sell it. I, and many other flippers that I know, want to see a clean link profile when I look into purchasing a website. If I see many random links from non-relevant domains, it's a big red flag and usually a hard pass.
If you plan on purchasing aged or expired domains for 301 redirects, make sure they are niche relevant. Also, make sure the page redirects the domain to is relevant.
One of the methods I like to employ is to forward the domain to a press release page discussing the acquisition. While this won't pass as much in the way of authority, it does keep everything above board and lessens the chance of experiencing issues.
---
Which Domain Finding Tool Do I Recomend?
I recommend DomCop as one of the top domain tools on the market. Aside from having one of the most extensive lists of domains to search through, they have an excellent interface and numerous metrics, making it easy to filter your results.
Another benefit to the tool is that they add hundreds of thousands to millions of new expired domains each day, ensuring that if you don't find what you need one day, you likely will the next.
I also like that they send you daily notifications, giving you a chance to pick up something unique for your project. While they charge a monthly fee, it's worth it for the time it can save you searching everything manually.