If you have the capital, learning how to buy websites can be a good way to skip over the growth period of growing a new website from scratch into fruition.
As with any investment, you need to be systematic. Ideally, you want to purchase undervalued websites with room to grow. However, for the inexperienced, this can prove challenging.
The below information will help you purchase your first few websites while minimizing your risk and maximizing upside potential.
Why Buy a Website?
Brand new websites, even those built on aged domains, can take up to a year or more to begin turning a decent and consistent profit. 
You will be investing a lot of money and sweat equity into content creation, link building, marketing efforts, and managing day-to-day operations.
Buying a website allows you to purchase a revenue-generating asset and potentially cuts down the time to profit.
Good websites will also have plenty of room for growth and income diversification. This presents the opportunity to increase traffic, improve conversions, and see your investment increase by many multiples in a shorter period.
---
8 Types of Websites You Should Buy
Not all websites are worth buying from an investment perspective. You want to focus on revenue-generating websites with solid growth potential.
While you may come across many websites that fit these criteria, certain site types lend themselves more to these qualities than others.
1. Niche Websites
Niche websites focus on very specific aspects of a larger industry or market. An example of this would be a website focused on reviewing golf clubs.
This is not to be confused with micro niche sites, which focus on a specific aspect of a niche, such as reviewing Callaway golf clubs.
Micro niche sites can still be a good investment but typically have less opportunity for growth or income diversification which can cap their upside potential.
Niche sites can be good investments owing to opportunities for growth. You can combine niches within an industry to create a high revenue-generating authority website that covers the broader market or industry.
2. Blogs
Blogs have been a mainstay of the internet for decades. As an investor, you want to look at non-personal blogs that aren't built around a single individual.
Examples of popular non-personal blogs include:
Mashable
Copyblogger
Engadget
Moz
You can monetize blogs in many different ways, such as ads, affiliate links, and courses.
3. Event Websites
Event websites and ticket marketplaces can generate consistent returns with steady traffic and good customer service.
When purchasing an event website, the key is to do your due diligence by checking its reputation. Many event websites can develop bad reputations through poor customer service.
Check out Reddit and review sites to see what people are saying about the website.
4. Forums
Forums typically have dedicated users that return over and over. This built-in audience can ensure consistent returns through ad revenue, courses, affiliate revenue, and even eCommerce.
While not as popular over the past decade due to social media websites, many high-traffic forums still exist. Typically, you can find forums centered around hobbies such as:
Automotive (Bimmerforums)
Travel (Trip Advisor)
Scuba Diving (Scuba Board)
Boating (iBoats)
With forums, it's critical to look at total active user numbers and not just total users.
5. Membership Websites
Membership websites, as with forums, benefit from a core of active users that regularly pay for your product or service.
Some common types of membership websites include:
Courses (Copyhacker)
SaaS Sites (Ahrefs)
Job Boards (Teachaway)
Coaching/Training (Nerd Fitness)
6. Service Websites
You can purchase an existing website if you're a service provider, such as a graphic designer or copywriter.
Purchasing an existing website can cut down the time it takes for you to bring in customers. It can also help you expand your business if you already have your own customers.
As with blogs, you ideally want branded service websites instead of personal service websites. This will ensure you can take over the site with minimal disruption.
7. Dropshipping & E-Commerce Websites
Ecommerce websites can be an excellent investment, especially if they are underdeveloped. There are a few different types of eCommerce sites, including dropshipping and traditional eCommerce.
Traditional eCommerce typically means purchasing products wholesale, private labeling products, or creating your own products for sale.
With dropshipping, you list products from other companies and profit from a markup. The other company fulfills the orders. However, since everything is handled by your business, you will be responsible for customer service and handling returns.
When looking at potential eCommerce websites, ask about the current systems in place for processing and fulfilling orders. Unorganized site owners could be leaving money on the table.
8. Lead Generation Websites
Lead generation websites are built to generate quality leads for service-based businesses. Some businesses that utilize lead gen services include:
HVAC
Plumbing
Roofing
Coaches
Typically, you get paid for each lead you refer to a business owner. This can be a flat fee for each lead, a percentage of sales, or based on a monthly subscription fee.
Operating lead gen websites can take a bit of experience. These types of websites are best for people comfortable with local SEO.
---
Buying Starter Sites vs Established Sites
Starter sites refer to websites purpose-built to sell with minimal traffic and income. These will typically be valued based on the content on the website and usually priced based on a per-word metric.
Established websites are typically bringing in a higher level of traffic and income. These are websites that are well known and are sold based on a multiplier of the average of the previous six to twelve months of revenue.
Various advantages and disadvantages exist for both website types making each suitable for different potential buyers.
With starter sites, the main appeal is in their lower cost. These sites haven't been proven yet longterm so typically their cost will reflect this. However, the downside is you will need to put money or lots of work into the site to grow it beyond the starter level.
Pros of buying starter sites:
Usually much cheaper to buy
Gives you more flexibility with future development
Higher growth potential over the longterm
Saves time creating the website and first articles
Cons of buying starter sites:
Longer time to profit
No guarantee of future success
Requires more capital to grow
If you have plenty of capital to work with, established websites can carry quite a few benefits. You have a proven business model already generating revenue and likely turning a profit. The downside though is you are inheriting someone elses systems with potential for losing your investment should things go wrong.
Pros of buying established sites:
Already turning a profit
Existing relationships with suppliers/affiliates
Proven business model
Allows you to focus on expansion
Cons of buying established sites:
Typically more expensive than starter sites
Inheriting previous owner's mistakes (bad links, content issues, etc.)
Some downside risks with the investment
---
4 Due Diligence Tips Before Buying a Website
As with any investment, doing your due diligence is critical to minimizing potential losses. Look for the following when evaluating each site.
1. Data Must Check Out
The first rule to buying a website is you need to be able to check out the data. If the previous owner hasn't been keeping records, skip the site.
As with any other investment, financial and data records will allow you to dig into how solid the business is. Using analytics accounts, you will be able to tell whether a website has been truly doing well long term, or if its a thin website with a few good months but nothing solid.
Some of the data you want includes:
Analytics (Google Analytics)
Google Search Console
Financial Records
Email Lists
You may have to accept screenshots for some of these records, such as the financial records. However, don't accept screenshots for things like analytics and search console.
Ensure the current site owner adds you as a guest to verify records. On reputable marketplaces, this data will already have been verified. However, for private sales, you will need to verify this information on your own.
2. Brandable Domain
An amazing website can be built on a bad domain. This is especially true for starter sites or websites that are less than a year old, as they have not been proven reliable.
If the website was built on a brand new domain, you have nothing to worry about except the backlink profile. You can use tools like Ahrefs or SEMRush to check this out.
Look for backlinks from shady websites, links in foreign languages (often from spam sites), or many low-authority non-contextual links.
One final thing to think about with the domain, especially starter websites, is brandability and future growth potential. Quality domains are highly brandable and won't lock you into a specific niche.
You don't want a domain that is highly specific to a single topic or that limits you from expanding into other topics as your website grows. Not only will this limit your profit potential, it will also make link building and building traffic more difficult. Here's an example of a branded and non-branded domain:
GlobalGolf.com (brandable and leaves room for growth)
CallawayGolfClubReviews.com (not brandable with limited growth potential)
3. Site History or Existing Penalties
Where you need to be extra diligent is the website history. Especially if it was built on a dropped domain. This means it had previous websites built on it from one or more owners.
The first thing you need to check on a dropped domain is what websites were previously associated with it. Be extra careful to look for websites related to illegal or adult content.
Be on the lookout for sites built for PBNs or other link schemes. Finally, look for sites previously associated with malware or spam sites.
You can check what websites were previously built on a domain through the Wayback Machine Internet Archive.
One other thing to look for are existing manual penalties. You can check this through the Google Search Console and Bing Webmaster Tools.
Many site owners won't have Bing Webmasters set up. However, it's a hard pass if they won't grant you guest access to Google Search Console or if they don't have it set up.
4. Monetization & Traffic Sources
Finally, you want to look at the current monetization methods and traffic. Ideally, a website will have multiple forms of monetization, ensuring greater stability.
Websites with only one revenue stream are at the whims of Google algorithm updates, seasonal trends, and other potential issues. With multiple traffic sources, you have some redundancy built-in.
Ensure the current owner can provide records for each revenue stream for at least the previous six months.
The same holds true for website traffic. Multiple traffic sources ensure that if something happens to one (such as losing access to a social media account), your profits won't suffer too much.
One final tip is to look at potential monetization and traffic sources that aren't currently being utilized. To maximize your returns, you want to purchase undervalued websites with opportunities for traffic and income growth.
---
5 Best Brokers & Marketplaces For Buying Websites
Purchasing a website from an established website broker will lessen your chances of being scammed. For first time website buyers, avoid private sales through Facebook groups.
1. Flippa

Flippa is one of the oldest website marketplaces around. The site has cleared over $400 million in sales with websites, domains, and apps.
Each site is vetted before listing with a done-for-you service that can help you find the perfect website for your budget.
You can find everything from eCommerce sites to SaaS businesses, AdSense monetized sites, blogs, niche and authority sites, and more.
2. Empire Flippers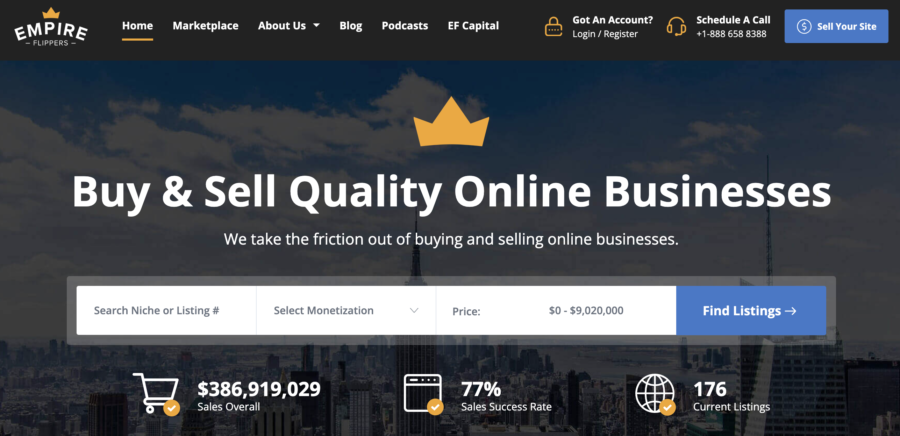 Empire Flippers has helped sell over $300 million since the marketplace was first founded in 2012.
Empire Flippers is an excellent marketplace for first-time buyers due to its meticulous vetting process and extensive resources for buyers.
One thing to note is buyers on Empire Flippers must be verified. This means you need to provide proof of funds for websites you're interested in purchasing.
3. MicroAcquire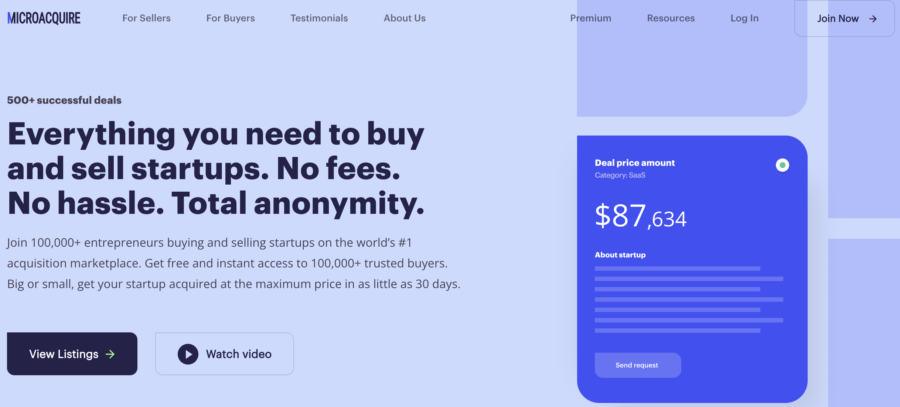 MicroAcquire is one of the newer marketplaces for startups.
Every listing is vetted by professionals with various resources available for buyers, including detailed metrics, advisors, and financing.
The platform has various websites, including SaaS, eCommerce, agencies, crypto, and more.
4. FE International
FE International has helped to sell over one thousand businesses since 2010. The platform is focused on mid-market SaaS, content, and eCommerce businesses.
They offer numerous resources for buyers, including guides for first-time buyers, due diligence reports, and other information to help you find the perfect business.
5. Motion Invest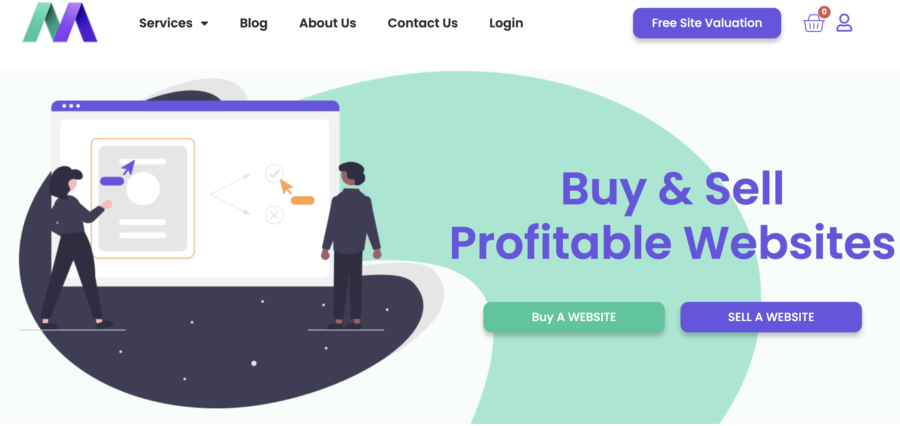 Motion Invest is another new marketplace for buyers and sellers of websites. The majority of the websites on the platform are low to mid-market niche and eCommerce websites.
All websites are vetted before being listed on the platform. As a buyer, you will get access to the site's analytics and other buyer metrics. Serious buyers will be required to place a non-refundable deposit to lock in the website.
---
Site Purchase & Transfer Process: 5 Steps
Each platform will have a slightly different buying and transfer process. However, the overall process is similar across all platforms.
Typically, you can expect the following steps when buying a website:
1. Choosing a Website
Most platforms make it easy to filter through websites. Some of the common filtering options will include:
Budget
Website Type (SaaS, Content, etc.)
Industry
Monetization Type (ads, affiliate, etc.)
Net Profit
Use the filters to narrow down the list of potential websites you are interested in, and that meet your budget and revenue criteria.
2. Confirm Buyer Interest
This will differ with each platform, but generally, you will need to put down a deposit or show proof of funds.
Typically, you will need to confirm buyer intent to view more extensive buyer metrics such as advanced analytics and income reports.
You may also be required to sign a non-disclosure agreement. This will typically be a requirement of the seller, so it will vary from one seller to another.
3. Conduct Due Diligence
Before making a purchase, do your due diligence to verify all provided information. Make sure to go through all of the analytics and earnings reports.
If anything doesn't add up, don't be afraid to ask questions. You should be confident in everything provided before moving on to the purchase phase.
4. Purchase Website
Once you've settled on a website, there are typically two routes to purchasing the site, making an offer or buying now.
Usually, higher-priced websites will be open for negotiation, while lower-priced websites will be buy now. It can also vary by platform.
After you've been confirmed as the buyer, your payment and transfer process will begin. Payments are generally made through an escrow account unless you're working with a private sale, not on a platform.
5. Website Transfer
After you've funded the escrow account, the transfer process begins. You may be required to sign a contract with timelines for deliverables and an NDA in some cases.
On platforms like Flippa, you will know ahead of time everything that you get with the sale. It's important to check through each item and, if possible, have in writing what is to be included so there are no issues later on. Common items included in the sale of websites are:
Domain
Analytics Account
Google Search Console Account
Bing Webmasters Account
Google Business Profile (Brick and Mortar Businesses)
Content
Website
AdSense Account
Email List
Product Inventory (eCommerce)
Social Media Accounts
These are the most common deliverables, but each website will include something different. Once the escrow account is funded, you will be given all deliverables within a specific period.
You will have a set period to evaluate all deliverables to ensure everything is as promised. Once you've approved everything and the seller is happy, you will both confirm satisfaction, and the funds will be released.
---
Main Takeaways
Reputable marketplaces will ensure the information submitted by a seller has been verified. However, that is no excuse for you to slack on vetting a potential website yourself.
You should also be prepared to move fast as good websites can sell quickly. Lower-priced websites can move within a day, and higher-priced sites (over $100,000) can easily close in a week.
For your first few websites, try and stick to lower-priced sites. Once you have a system down, you will be better prepared to pick solid investments.
As with any other form of investing, patience and practice are vital to developing a solid system that can help you minimize risk and develop consistent returns.