I have been building niche sites on aged domains for over 5 years and it is my preferred method when starting a new site.
Over that time, I have accumulated knowledge and experience about what works and what doesn't work. From growing a site on such a domain to $10,000 in monthly earnings to identifying major red flags of aged domains for sale, I share the most important things I've learned in this guide.
This guide will cover:
What is an aged domain
Advantages of an aged domain
How to find good aged domains
How to perform due diligence on aged domains
Let's get into it!
Video Overview
I recorded a detailed video about age domains that summarizes key points:
---
What is an Aged Domain?
An aged domain is a domain name that previously had content published on its URLs, typically for one year or longer.
This includes domains that have not had their domain registration renewed by the owner and are being auctioned by the domain registrar. An aged domain can also include existing sites that are still live but neglected by the owner (also known as an aged site).
I like to use the analogy that an aged domain is like abandoned real estate. An aged domain receives value from links from authoritative and relevant sites, similar to how abandoned real estate receives value from its surrounding neighborhood and its proximity to important locations. Just as you can extract value from improving an abandoned real estate property, you can extract value from acquiring and improving abandoned domains.
An aged domain is different from an expired domain because an expired domain is dropped by the registrar and goes back to the domain registry (e.g., Verisign for .com) for general registration.
---
Do Aged Domains Work?
Like many SEO tactics, aged domains sometimes work great and sometimes fail. My success rate with aged domains is roughly 50% where half take off quickly and the other half don't receive much traffic.
It is recommended to test the domain to see if content ranks quickly in Google before you invest too much into an aged domain that has trouble ranking in Google. I have seen examples of niche sites built on aged domains by a done-for-you service with over 100 articles and very little Google traffic.
---
Why Buy An Aged Domain? 3 Reasons
An aged domain offers 3 main advantages for growing a niche site faster.
1. Skip Google Sandbox For Your New Site
New sites started on a brand new domain typically experience a temporary "sandbox effect" where content doesn't rank well for several months.
Alternatively, a site built on an aged domain can start ranking for content immediately. It is possible to see high rankings within days after publishing content on pre-existing URLs on an aged domain.
2. Strong Backlink Profile
Authoritative and relevant links are one of the most important ranking factors in Google, and aged domains allow you to acquire powerful links at a fraction of the cost of link building.
A good aged domain will have natural links from authoritative websites like the New York Times that are very difficult to replicate with link building.
Several niche relevant links to specific pages also helps increase the topical relevance from Google's perspective.
3. Redirect To Your Main Site
If the aged domain is highly relevant to the niche of your main site, it can make sense to redirect the aged domain to a category page, topic silo, or press release page on your main site to help grow its authority faster.
You can also redirect the domain to your main site's homepage but this is usually not the safest method.
---
How Do I Find a Good Aged Domain? 5 Step Process
1. Check Domain Age
The age of a domain can be checked with the WhoIs record and the Wayback Machine (Archive.org).
You can check the creation date from the WhoIs record at the site Who.is or the ICANN registration lookup tool. It is also available at registrars like GoDaddy.
You can also check the earliest recorded date on Archive.org.

If the earliest Archive.org date is much earlier than the creation date, this indicates that the domain may have been dropped and the WhoIs creation date was reset.
2. Verify Domain History
Use Archive.org, Google, and AHREFs or SEMRush to check for any issues from previous use of the domain.
Check if the domain was dropped (the Whois record will show a recent creation date).
Check multiple Archive.org snapshots across different years to get an idea of the type of content that was live in the past.
Use the "site:" search operator in Google (e.g., site:yourdomain.com) to see if any pages are still indexed in Google. The titles and descriptions of the search results can provide clues on what the previous content was about.
Google search the domain name. There may be articles, reviews, or brand mentions that discuss the previous business that used the domain.
3. Thorough Backlink Analysis
Use AHREFS or SEMRush to review the quality of inbound and outgoing links.
Check for the number of links from high authority sites that are unobtainable through normal link building (e.g., New York Times, Wired.com).
Check for the number and quality of links from niche relevant sites.
Check whether the links were naturally acquired or built.
Check for external links to controversial or spammy niches such as pills, casino, adult (you can also review Archive.org snapshots to find these).
Check for foreign language links (e.g., Chinese, Russian).
Check for anchor text of outgoing links that suggests obvious selling of links (you can also use Archive.org to check this).
4. Verify Topical Relevance
Check the Top Pages report and keywords report in AHREFs or SEMRush to see which topics were covered at previously existing URLs. You can also check Archive.org and Google (site:yourdomain.com) for additional information about what was previously published on the domain.
Using the Guru Plan on SEMRush, you can view historical data on keyword rankings and top pages going back to 2012. This data is also available with AHREFs but requires an expensive plan (the $999 plan is required for unlimited historical data).
Ideally, the topics of the past content should be a close match to topics that you plan to publish on the site.
Some examples of a good topical match would be:
Publishing informational content about game development and popular video games on the previous blog of a game developer.
Publishing informational content about servers on the domain of a previous server hosting business.
Publishing informational content about recycling on a previous blog about how to recycle items.
Examples of a poor topical match that we have seen listed for sale on marketplaces:
Technology informational content on the site of a previous bar and nightclub (lost 77% of traffic from its peak according to AHREFs).
Wine cooler reviews on a site that was previously a wine bar and restaurant (lost 99% of traffic from peak according to AHREFs).
Popcorn product reviews on a site previously about shark diving (this was a real site that was listed on Motion Invest for $3,500).
You do not want to publish content on completely different topics that are not relevant at all to the original content because it is a major red flag that carries high risk of a penalty or significant traffic drop.
Google spokesman John Mueller has stated that they look for instances of those "trying to abuse the system by picking up domains that are totally unrelated to what they've been working on".
I have seen examples of aged domains losing over 90% of their traffic, presumably because they were publishing content that was unrelated to the original site.
5. Check For Trademarks
Even if a domain owner doesn't renew their domain, they still own any trademarks that have been registered for the brand name. Simply using a trademark in the domain name can lead to a trademark infringement claim against you.
It is important to conduct a thorough trademark search to minimize the legal risks. Some providers like Odys Global perform trademark checks, but you should also check on your own using USPTO Trademark Search.
For more expensive aged domains, you may want to consider hiring a trademark attorney to perform a professional trademark search for around $200 – $400.
---
4 Best Tools For Finding Aged Domains
Here is a summary of expired domain tools.
1. ExpiredDomains.Net
ExpiredDomains.net is a free tool that aggregates thousands of aged domains and expired domains from multiple sources around the Internet.
It provides many useful data points for each domain like referring domains from Majestic SEO, SEMRush traffic and keywords, WhoIs creation year, earliest year from Archive.org, estimated valuation, and auction end date.
You can even sort domains by current SEMRush traffic and keywords for free.
2. SpamZilla
SpamZilla is similar to ExpiredDomains.net but it is a paid tool with additional third party metrics like Moz and AHREFs (requires a AHREFs subscription). SpamZilla requires a paid subscription of $37 per month.
They also provide data on how many times the domain has been dropped in the past and how many pages are in the Google Index (not available on ExpiredDomains.net).
One unique aspect of SpamZilla is their proprietary SpamZilla Score. This score provides an estimate between 1-100 of how "clean" each domain is with a lower score indicating a cleaner domain in terms of SEO.
3. DomCop
DomCop is a similar alternative to SpamZilla with many of the same data points provided for a higher price of $64 per month and up (or $540 with the annual plan).
They also have an advanced feature available with the "Guru Plan" that crawls the Internet for expired domains that match your criteria.
Read my detailed DomCop review, where I cover the features, ins and outs of the tool, and also compared it to SpamZilla to see which really is the best.
4. Domain Hunter Gatherer
Domain Hunter Gatherer is a freemium downloadable software for Windows computers that is similar to the tools mentioned above.

The free version pulls domains from all the major auctions and requires that you enter API keys for data from Moz and Majestic.
With the premium plan, you can check third-party metrics without API keys (Moz and Majestic), crawl authority websites for expired domains, or search for expired domains with keywords. Since this tool crawls websites and Google, they highly recommend that you use proxies to get the best results.
---
3 Best Platforms For Buying Aged Domains
1. SerpDomains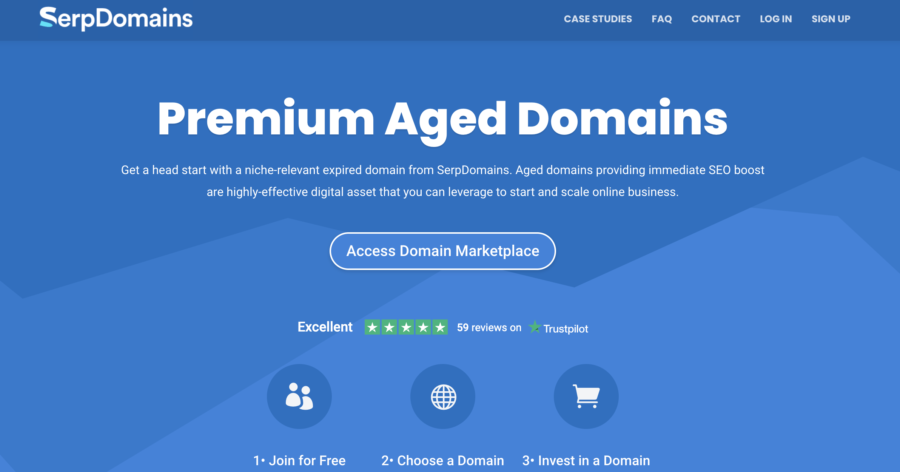 SerpDomains has nearly 100 aged domains available in their marketplace, with Domain Authority ranging from 20 to 60.
This is the least expensive marketplace based on cost per referring domain. I have also bought domains from SerpDomains and check their inventory regularly.
2. Odys Global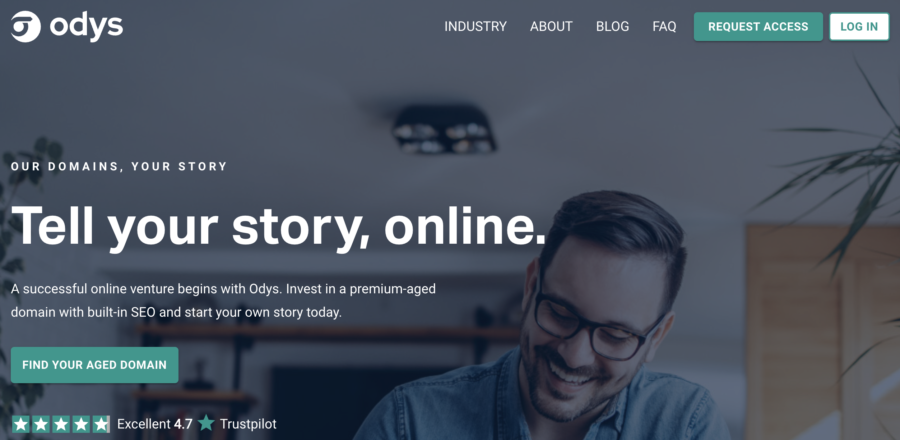 ODYS Global is my go-to source for buying aged domains because the domains are often high quality and brandable. They also check for trademarks, provide a professional logo, and put up a barebones WordPress site with top pages that helps keep some pages in the Google index.
They have the largest inventory with nearly 1,000 aged domains. ODYS is the most expensive marketplace based on cost per referring domain.
3. SerpNames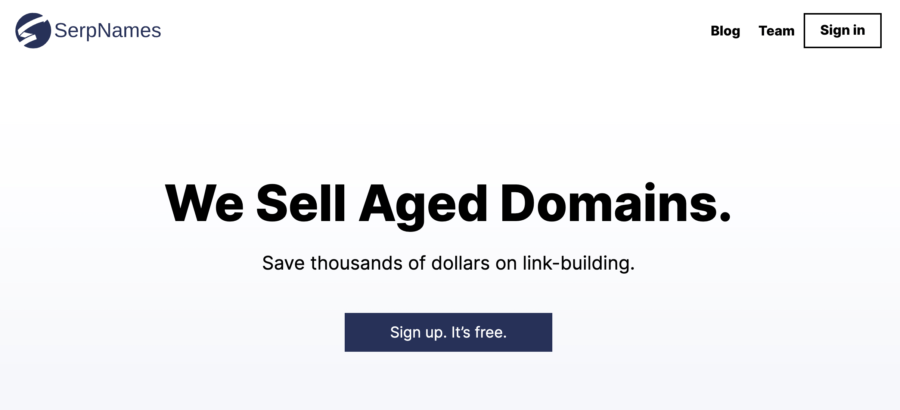 SerpNames has around 170 aged domains available for sale on their marketplace, many with quality backlink profiles and good branding.
Some domains have a Domain Rating above 40 and hundreds of referring domains. I have personally bought several domains from SerpNames.
---
FAQ – Frequently Asked Questions
Are older domains worth more?
Yes, older domains provide the advantage of a longer history as a live website and an older site can be perceived as more trustworthy by Google than a newer site. 

For example a site that has been around for 20 years has a long history of publishing content and earning links over time, and is less likely to be a spam site.

Older aged domains are typically priced higher on marketplaces and auctions based on their age.
Are expired domains good for SEO?
Domains that have been dropped can still receive some of the same benefits of an aged domain since they still have links pointing to them. It is debatable whether dropped domains are viewed differently by Google. 
Should I reuse old content from the previous website?
It is not recommended to use old content from the previous website since you do not own the copyright for this content and the previous owner can file a DCMA takedown notice or threaten legal action. 

I always publish brand new content on existing URLs or use 301 redirects to a relevant category page, article, or press release page.  
Can I redirect an aged domain to an existing site?
Yes, there are a few approaches that can work well when redirecting an aged domain to an existing site. 

I typically recommend redirecting to a relevant category page or a press release page (press release method) and not redirecting to the homepage of an existing site.
---
Final Thoughts
Although the effectiveness of an aged domain can vary, I strongly prefer building niche sites on a good aged domain rather than a brand new domain due to the advantages discussed in this article.
It is critical to perform thorough due diligence on prospective aged domains and to make sure new content will match closely with the previously published content.
---
Other Aged Domain Guides
Make sure to check out the other articles I wrote on this topic: