Content is king.
If you want to drive organic traffic, you need content. You don't just need any type of content, you need the best content (period).
I've tested a lot of content agencies since 2008 when I started doing digital marketing. Many agencies have flopped, but the cream always rises to the top.
Here are my favorite agencies I've used.
I share personal experience, features, pros, cons, and pricing for each.
Here's my breakdown.
---
5 Best Content Agencies
I've battle-tested these top content agencies over the years. They've all performed well. These are my personal experiences.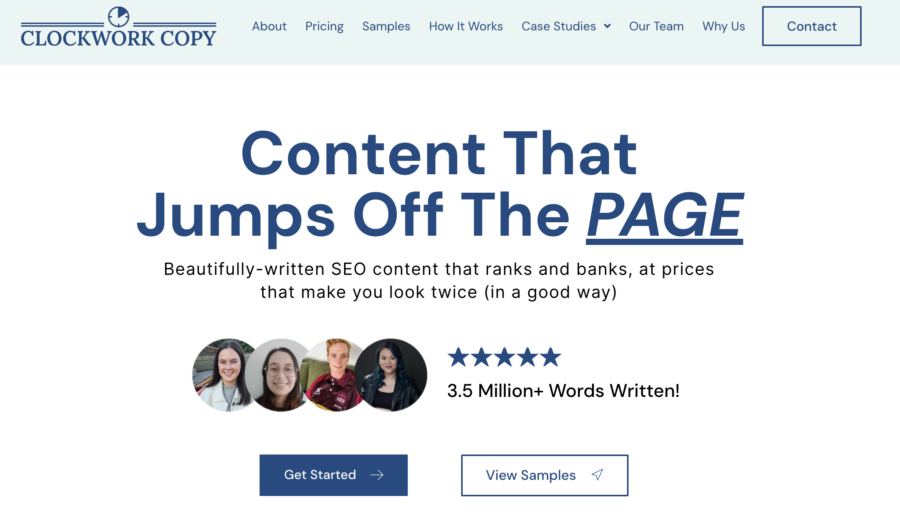 Clockwork Copy's only mission is to create content that moves the needle from an ROI perspective.
This is why they are among the top agencies listed. They understand how to structure content to be personal, and expertise-driven, and follow proper call-to-action placements to ensure maximum ROI.
As an example, they previously worked with a dating photography brand and helped them increase their traffic by 4 times. This is a clear indication of how successful Clockwork Copy is with their projects.
Features:
Assists in crafting top-tier content that meets high standards and excels in search engine rankings.
A zero plagiarism policy and strict no AI publish-ready content. This indicates a commitment to transparency and integrity, promising that content is original (zero plagiarism) and not generated or altered by AI, ensuring authenticity and trustworthiness.
Clockwork Copy produces premium quality content written by in-house native English-speaking writers.
Pricing:
Clockwork Copy provides pricing packages for their writing services, ranging from varied prices. The services are based on the scale, frequency, quality, and urgency of content creation, which starts from $0.08 per word, which can be about 5-10 blog posts.
New customers can avail Clockwork Copy's exceptional services by selecting a special offer of 50% off their initial 1,000 words when they use the code TWFTRIAL during checkout!
Pros:
Proven results: Clockwork Copy has made businesses, big and small, reach their marketing targets. They've got a team of skilled writers who know how to write convincing content that gets results.
Affordable: Clockwork Copy has different pricing options for every budget. They also provide a free consultation to help you decide if they're right for your business.
Good work experience: Getting started with Clockwork Copy is super easy. You can use their simple online form to request a price estimate. If you have any questions, their customer service team is always there to assist.
Cons:
Lack of extensive services: Clockwork Copy provides only a small set of writing services, like blog posts, articles, and website content. They don't offer services like writing for social media, email marketing, or video scripts.
Limited availability: Getting in touch with Clockwork Copy can be challenging because they're usually fully booked with clients. This might be frustrating for businesses that need writing services in a hurry.
No option to choose writer: Clockwork Copy doesn't give you the freedom to choose a writer of your choice.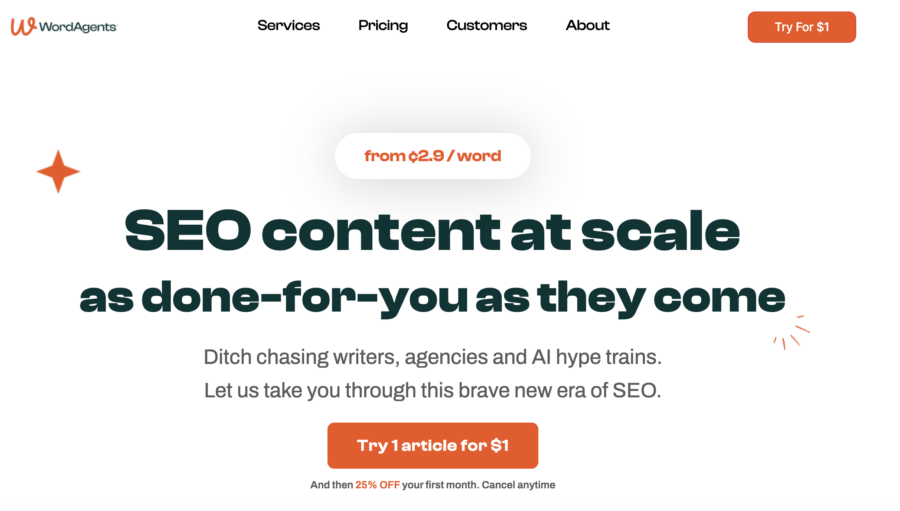 With a team consisting of over 500 skilled writers this diverse group of professionals immensely attracted me.
Their team of writers goes through a rigorous vetting process and receives comprehensive training that helps them craft buyer-focused content.
WordAgents have completed 100,000+ projects till date and their team of writers has typed more than 77 million words – which is amazing!
Features:
WordAgents specializes in high-quality content creation with a focus on SEO optimization.
They serve businesses of all sizes, from startups to large multinational companies.
WordAgents boasts a team of over 200 skilled writers, each with expertise in various industries.
Their content is grammatically correct and tailored to your specific business or niche.
You can trust WordAgents to produce content that is both engaging and effective in the digital realm.
Pricing:
WordAgents offers cost-effective and high-quality content solutions suitable for businesses of all sizes.
They cater to various budget requirements with pricing plans SEO Lite and SEO Supreme, ranging from $0.12 to $0.06 per word. Whether you're a small startup or a larger company, WordAgents can tailor their services to meet your specific needs.
Additionally, they provide a monthly SEO Lite plan that starts at $290 for extended service requirements. You can also try their platform by investing just $1.
Pros:
Fast Service: With WordAgents, you're assured of getting your content within a week of ordering. It's a good choice if you need content fast.
High-quality content: WordAgents' writers are experienced and talented at creating top-notch content. They'll study your topic and produce informative and engaging content.
Range: WordAgents is versatile when it comes to content creation. They can produce a wide range of content types, from blog posts and articles to website text and social media updates.
Whether you need informative articles, engaging blog posts, or content for your website and social platforms, they've got you covered.
Cons:
High pricing: WordAgents is pricier compared to some other content writing platforms. They do this because they promise top-notch content, and they achieve that by hiring experienced writers and giving them extensive training.
However, if you only need a small amount of content or are watching your budget closely, WordAgents might not be your most cost-effective choice.
No direct access: When you collaborate with WordAgents, you deal directly with their in-house team to handle your projects.
This is good if you want top-notch content, but the drawback is that you can't hire freelance writers from the platform on your own.
Limited control: WordAgents does allow the clients to choose their writer and provide personalized feedback.
SEOButler is one of the first content agencies in the space focused towards niche site builders. Founded in the year 2014 as articlewriting.ninja, SEOButler has grown 10x since then and worked with companies such as Phoenix SEO Hub and Level Up Digital. They now provide other services like backlinks, PR, and more.
Features:
SEOButler is a valuable resource for businesses of all sizes looking to improve their content.
They have a team of experienced experts and offer a variety of services.
SEOButler can help you achieve and exceed your goals to achieve success in ranking your content to the top.
Their services are adaptable to both small startups and well-established corporations.
Distinct features include SEO audits and guest posting to boost clients' SEO performance.
Pricing:
SEOButler offers a varied range of services and prices regulated according to it. They make sure that they offer good discounts on bulk orders. They also have a policy of 100% refund if the client is unsatisfied.
Blog content starts at $0.07/word and can range to $0.1/word.
Pros:
Guest post outreach: SEOButler can assist in getting your guest posts featured on top-notch websites. This is a fantastic way to create links to your site and enhance your search engine rankings.
Easy-to-use platform: SEOButler's platform is user-friendly and straightforward. You can easily order, oversee your projects, and monitor your outcomes.
Ecommerce SEO: SEOButler provides eCommerce SEO services that can enhance your website for search engines and boost your sales.
Cons:
Opaque pricing: The price range is often ambiguous and jumbled up.
Amature: As compared to other agencies, SEOButler is new in the field of content marketing and does not have a very trackable record.
No copywriting services: This implies that you'll have to seek out another company to handle your copywriting needs.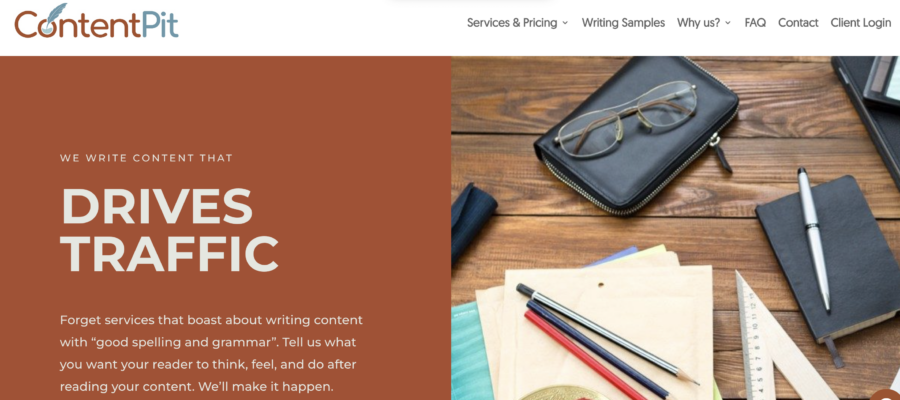 ContentPit, launched in 2019, is a strong player in the world of content creation. What really caught my attention is that ContentPit provides guarantees that are quite rare in the industry, including a money-back guarantee, a response time guarantee, and unlimited revisions.
Features:
ContentPit is a robust and adaptable platform for creating high-quality website and blog content.
It offers cost-effective pricing that undercuts most of the rival agencies.
The user-friendly interface makes it accessible for businesses of any size.
ContentPit provides an extensive range of features to enhance content creation.
Pricing:
ContentPit offers various packages for their service and the average pricing range is 5,000 words for $231, where you will get up to 10 articles. ContentPit's priciest 1000-word plan is a mere $0.049, significantly undercutting many rival agencies. For their premium 100,000-word tier plan, the price drops even further to $0.03 per word.
Pros:
Fast turnaround times: Content Pit excels in delivering content swiftly, often completing requests within 24-48 hours.
This rapid turnaround sets it apart from the slower processing times commonly found in other content writing services.
Guarantees: Content Pit provides customers with several assurances, such as a 100% satisfaction guarantee and a commitment to ensuring content is free from plagiarism.
Content scheduling: one can schedule their content according to their need.
Cons:
Quality can vary: Due to the presence of various non-native English writers, the content may vary at times.
Lack of personalization: They might not customize your content to match your brand or target audience.
This could result in less engaging and effective content compared to what a native speaker familiar with your business could create.
Limited scope of topics: The range of topics they offer to work on is limited.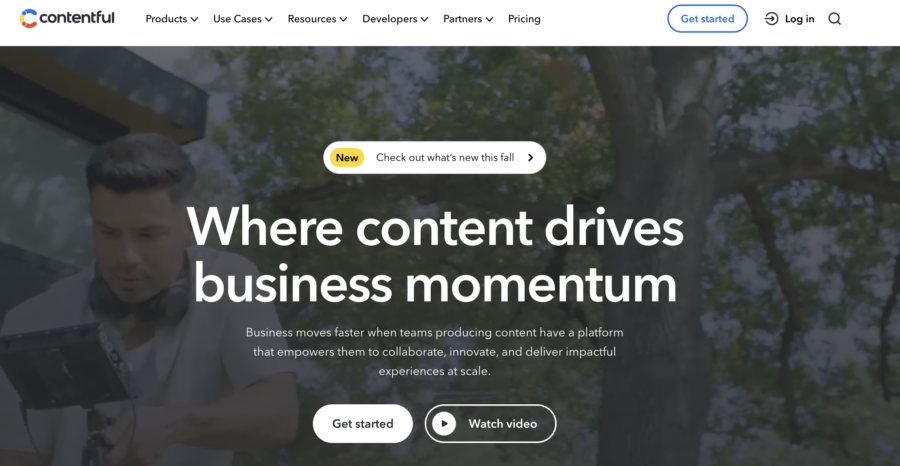 The founders of Contentful ​​saw that web CMS couldn't easily adapt to mobile or other digital channels. So, they built a software to solve this problem. That's how Contentful was born.
In a video podcast featuring Contentful's CEO Steve Sloan, he discussed his amazement at the massive shift in the market, which is pushing digital leaders to completely change how they create digital experiences for their companies. I was most drawn to Steve Sloan's forward-thinking approach.
Features:
Contentful is a widely chosen, flexible, scalable headless content management system (CMS).
It efficiently manages complex content models.
Contentful ensures seamless content delivery across organizations' websites, mobile apps, and IoT devices.
Pricing:
Contentful operates on a subscription model, requiring a monthly or annual payment for platform access. However, there are ways to explore Contentful for free before committing to a paid plan.
Create a free account on their website, utilizing the Community plan, offering unlimited content types and 0.1 TB of asset bandwidth. Additionally, you can sign up for a trial of either the Team or Premium plan. The basic plan starts at $300/month.
Pros:
Content Modeling: It offers a robust content modeling tool, empowering users to effortlessly define intricate content structures and relationships.
API-First Approach: Contentful provides a complete set of RESTful APIs, allowing developers to easily retrieve, handle, and deliver content to any destination.
Security and Compliance: They provide high end data security and compliance with the industry.
Cons:
Limited Content Editing Features: Limited scope to extend and customize ideas.
API Rate Limits: For busy websites or apps, it has limits on the number of requests per second through its API, which might be something to keep in mind.
Potential Cost Considerations: It has a complex pricing structure and charges extra for additional services.
---
How I Choose a Content Agency
I've bought, grown, and sold many websites where content is the main driving source to bring in organic traffic.
I've tested many content agencies since 2008, and understand what goes into choosing the right ones.
Here are my recommended considerations.
What's Your Budget?
Content always comes down to price. The cheaper the content usually the worse the quality (not always but most of the time).
This is because usually cheaper content comes from non native English speakers/writers. Many non-Natives have EXCELLENT English but they are harder to source.
To make an informed choice, start off by clearly defining your content marketing goals and budget limitations. This process points out the criteria for selecting the right agency, ensuring your goals align with your financial limits.
Vet Agency With Trial Content
Most content agency websites are filled with case studies, "as featured on" logos, and more.
The best way to test an agency is to place a trial order. Some agencies offer a trial order at a significant discount, e.g., Clockwork Copy gives 50% OFF a trial order.
If the agency does not provide a trial order (whether discounted or not), reach out to their support and ask for it
Read Reviews and Testimonials
Read the public reviews on platforms like Trustpilot. But also go one step deeper.
Ask folks in Facebook groups and communities that cover digital marketing, content marketing, and/or business building.
In the niche site community, we have the following high-tier groups:
Just search for the right community and ask, or better yet, search the archives for content agency topics.
---
Conclusion
If you want to receive organic SEO traffic, you need content (period, no questions here).
Either you are writing the content, hiring in-house writers that you hired, or outsourcing to a content agency.
Hiring a content agency is not the easiest task. You have to vet them, make sure they follow your thorough instructions, and ensure they assign a proper writer who can write.
From the list of content agencies I covered above, I would suggest Clockwork Copy as the best choice because of its varied range of services and affordable pricing. Also, with their in-house native English writers based out of New Zealand, the content stands out.