Whether you're flipping domains, building websites, or both, using the best marketplaces to buy aged domains is essential to your success.
The problem?
There are lots or marketplaces to choose from, and not all of them are worth using.
Some offer good features and benefits, while others are clearly in it to profit themselves.
You don't need a huge list; you need a list of the best ones that offer value, security, peace of mind, and above all else, the best chance of finding the perfect domain for you.
And that's what you're going to get in this definitive guide.
Let's get started.
What is an Aged Domain?
The short answer is a domain name that has been around for several years — it's not brand new.
The long and more important answer is a bit more complex, and to explain better, let's first look at what happens when purchasing a brand new domain name.
When you purchase a brand new domain, it has no back history online. As a result, the search engines have no clue about the target audience. Until they do, the domain name, and the website built upon it, will stay in the sandbox and see little traffic.
It starts with a zero DA score (Domain Authority) and will need backlinks, content, and time to see progress in search rankings.
It can take a while!
An aged domain is slightly different because it likely has backlinks, DA scores, and trust.
The owner has let it expire or decided to sell it for profit. And as a result, it's available to purchase on a marketplace.
When you buy a domain name before it gets dropped, you get to keep the backlinks, DA score, and trust it has gained over the years. It typically costs more money to purchase aged domains because of this advantage.
To sum up: an aged domain has been around for several years, has built up trust and backlinks, and offers you a faster way to rank in the search engines.
---
Best Aged Domain Marketplaces
So now you know what aged domains are, how to use them, and the difference between expired and aged.
The important thing you need to understand now is where to buy them and the best marketplaces to use.
The six options below are the best, so let's learn more about each one.
SerpDomains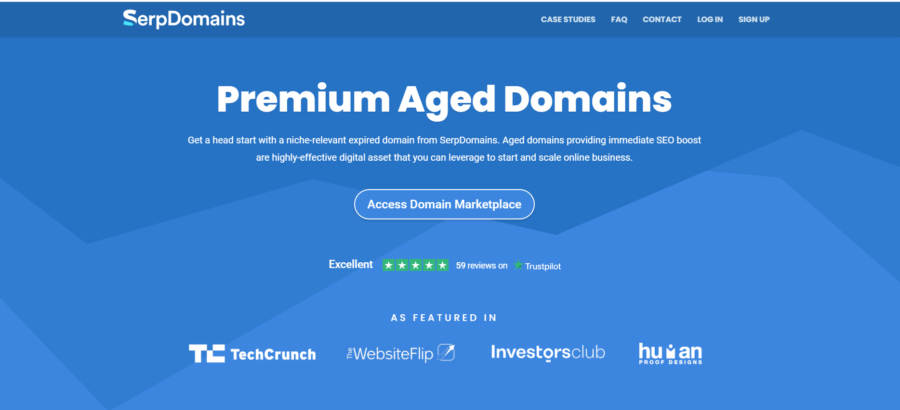 SerpDomains, founded in 2016, sells aged domain names with due diligence included. 
The five-star rated company offers a guarantee that any domain you purchase has genuine backlinks, clean history, clean anchor links, and that they are indexable or indexed by Google.
Currently, there are around 120+ domains listed for sale. Once logged in to the website, you can click on the links to see the data regarding the domain name.
The marketplace features the domain name, the relevant niche topic, the domain age, indexability, URL authority, referring domains, total backlinks, site language, and live referring domains.
A simple click on the Google Index, active records, or the LRD (Live Referring Domains) will provide information relevant to the domain.
The prices currently range from $549 to $6,779.
Pros:
Good selection of aged domains to suit most budgets
Live chat support
After-sales support
Fast Transfers
Cons:
SerpDomains is a company with an excellent track record of happy customers. So if you're looking for a site with excellent customer service, this is the place for you.
SerpNames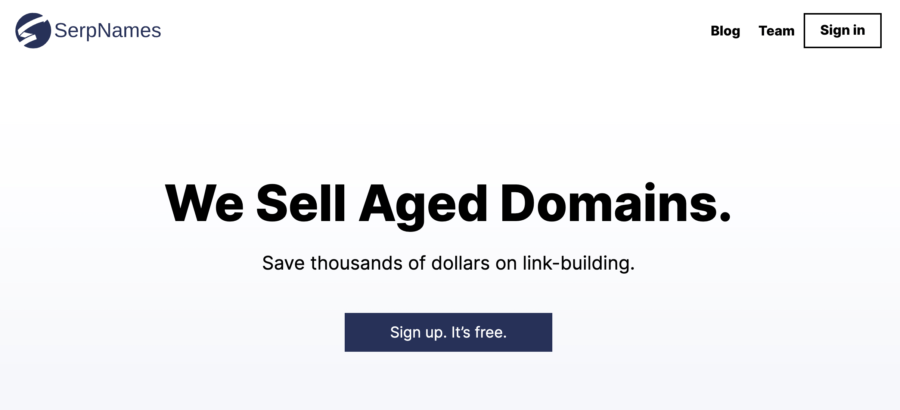 SerpNames has 172 listed domains for sale. The current prices range from $399 to $9,000.
They have been in the industry for over eight years and provide a service that consists of vetting and good support.
The marketplace is free to join, and once inside, you can filter by price, domain authority, referring domains, and domain rating. In addition, the listing has an option to view a snapshot image of the backlinks using Ahrefs.
Pros:
Spam checking of domains using Google Search Console
Sandbox prevention methods
Trademark checking
Payment plans available upon request
Cons:
Information about the domain names is lacking
The marketplace interface could do with an upgrade
SerpNames is suitable for those who are confident about performing their due diligence.
Odys Global
Odys Global is a marketplace that sells premium domain names, aged domains, expired domains, and done-for-you content websites as an optional add-on to a domain purchase.
Currently, they have 948 domains listed, ranging from $1260 to $47,300, so most budgets are covered.
The marketplace has a good reputation and provides vetted domains for numerous niche markets. Each listing includes traffic stats, backlink information, domain history, SEO metrics, and market insights.
The buying process is straightforward, and the interface is clean with filter options for industry, price, language, TLD, and more.
You get expert pick options from two leading experts in the industry and support from an account manager, SEO advice, and technical assistance.
In addition to the above, you also have the pre-order feature, which gives you access to domain names before they reach the marketplace. It comes with a monthly subscription price and a guarantee to find a domain name.
Pros
Large selection of domains available
10% of domain purchases when using the pre-order membership
Ody's will host a simple website on the domain to keep the pages indexed while listed for sale.
Good domain research
Easy to use
Excellent support
Cons
Registration is required to see the marketplace listings.
You can't sell domains (although this feature is coming soon.
Ody's Global is suitable for business owners and affiliate marketers looking for premium aged domains on a private marketplace.
GoDaddy Auctions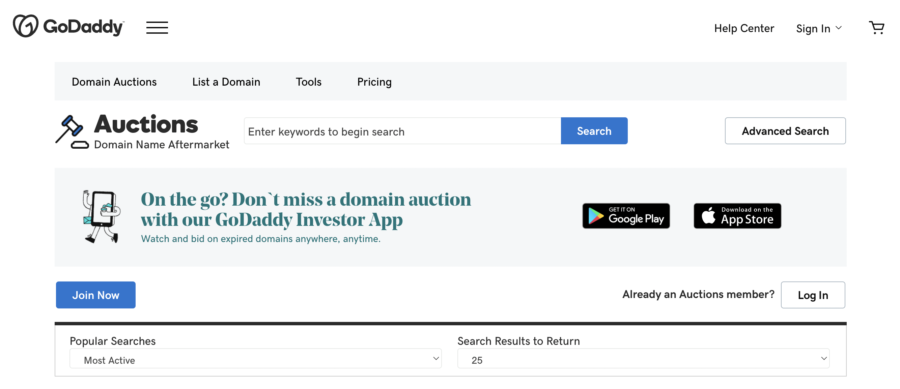 GoDaddy Auctions can be an excellent place to find aged domains at reasonable prices. It costs $4.99 for a yearly membership, and you can buy and sell.
You have no buyer fees, but you must purchase a year extension for each domain you buy.
If you have your eye on a domain name, you can set it at the maximum price you want, and if you get outbid, the site will increase your bid by $5.
You can keep track of up to 100 domains, and if anything changes, like a new bid or it expires, they let you know.
The interface is pretty clean and straightforward to use. For example, you can search for a domain using the main search bar or filter for expiring soon, ending soon, fixed price, closeout, and bargain bin.
You can see the number of bids, traffic, estimated value, price, and time left on the main screen. If you want more information about the current auction, you can select the checkbox to see data on the number of bids, age, similar domains, and parking statistics.
Pros:
Massive inventory of aged domain names
Massive company
Potential to bag a bargain
Bidding tools
Mobile App
Cons:
You have to perform your due diligence
Popular domains can have intense competition
Everyone has heard of GoDaddy, so if you want to use a well-known company, and have access to a handy mobile app, take a look at GoDaddy.
Flippa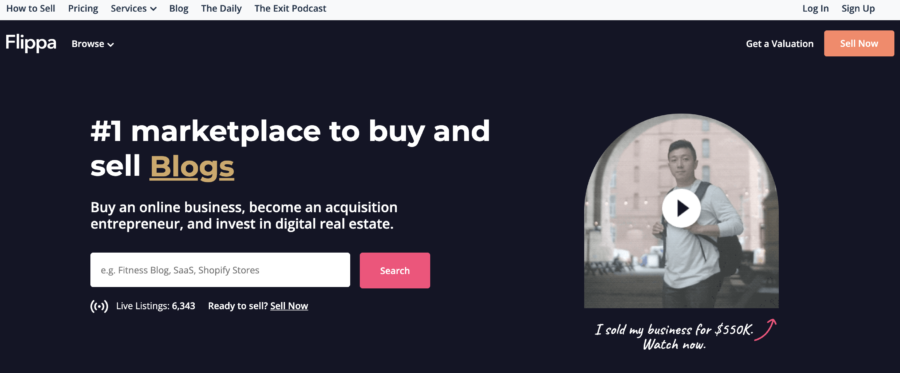 Flippa is another huge domain name marketplace with over ten thousand domains listed for sale. Pricing ranges from free to millions, and you can find a domain name in almost any niche topic you can imagine.
The site has excellent filter options, and each listing displays relevant information about the domain for sale. However, the marketplace is unvetted, so you will have to perform your checks and due diligence.
You can ask the seller questions, create alerts, and watch the listing for bids.
Pros:
Huge marketplace
Trusted company
Escrow payments
Potential to get great deals
Easy to use
Cons:
Flippa is great for those who know how to spot a bargain and understand the need to research before purchasing.
Sedo
Sedo is one of the world's largest domain marketplace and offers aged domains ranging from around $80 to six figures.
You can search by name, category, price, age, special inventory, and the number of domains available means you can find one in most topics.
You can acquire domains by auction, buy now, or make an offer. However, they also offer a paid broker service if you want some help with purchasing and negotiating,
Sedo also offers a domain transfer service for free, where they issue a Domain Purchase Agreement to both parties and liaise with the transfer of the domain. Only when the domain transfer is complete will the seller receive the money.
Pros:
Transfer service is an excellent security extra
A large number of domains
Endorsed by experts
You can sell domains, so good for flipping
Cons:
Filtering can be a tad overwhelming.
Sedo is excellent for those who want extra security when purchasing and transferring domains.
---
How To Use An Aged Domain?
Once you have an aged domain name, you can use it several ways. For example, you could build a website, use it as a redirection, or flip it for profit.
Let's have a closer look at each one.
Build A Website On It
You can build a website using an expired domain to give it a kickstart. If you purchase the domain name before it drops, you can also add similar content and see pretty fast rankings.
The trick is to purchase a domain with topical relevance to your niche and continue to add content targeting relevant keywords.
Use As A Redirection
Another way to use an aged domain is to use it as a redirect to send a powerful link boost to your website.
You can redirect to a current or a new starter site, targeting the homepage, category page, or both.
Redirecting is a common SEO tactic used by website owners because it saves them time and helps them increase their website's authority.
Flip It For More Money
You can purchase a domain name for a specific price and then resell it for a higher price — it's called domain flipping.
The secret is to spend a considerable amount of time vetting the domain name before purchasing, and then it becomes easier to sell for a profit.
A good domain name will consist of the following:
A premium extension (preferably a .com as this is by far the most popular domain name choice
One or two words in length
An upward trend
The possibility of branding
Good quality backlinks
---
Differences Between Expired and Aged Domain
An expired domain has fully expired beyond the auction stage and returned to the domain name registry. As a result, it's available to be purchased again, and the registration date will be the date when purchased.
An aged domain hasn't fully expired, and when sold, the registration date stays the same. So, for example, when a company doesn't renew its domain name after five years, it typically goes to auction, and if purchased, the buyer keeps the backlinks and domain age.
It's also the same if you purchase a domain name from a broker or marketplace — you're effectively transferring the property over, like buying a house, so you still get to keep the existing benefits of the property.
Read more details on the debate between expired vs aged domains.
---
How To Choose Quality Aged Domains: 6 Ways
When purchasing an aged domain, there are several things you can do to determine if the choice is a solid one.
Before jumping in and hitting the buy button, you should consider the following.
1. Google Indexed
When websites no longer exist, Google will de-index the site after a set time to avoid sending traffic to dead sites. They don't do it straight away because they're smart enough to recognize people are selling sites and domains, so you usually get a bit of grace before they de-index.
Some domain marketplaces will take measures to prolong the domain's index pages by using a skeleton site that makes it look like the website is still live.
However, it's still essential to check that the domain has pages indexed.
Run a site search in Google to check it yourself.
For example, site:domainname.com — should display the pages indexed in Google for the domain name.
If you don't see any, it could be blacklisted. At the very least, you should see a few pages listed; the more, the better.
2. Quality of Backlinks
Backlinks are beneficial, and typically, the more you have, the better; however, not all backlinks are the same, and their quality sets them apart.
The best backlinks come from websites with a high DA score. These are trusted websites that the search engines deem authoritative and trustworthy.
If you can find an aged domain with backlinks from sites like Forbes, Moz, US News, etc., then this is an excellent sign that the domain name is worth purchasing.
It's also crucial that the links pointing to your site have a similar interest to the niche. So, for example, if you're going to build a blog on a domain name related to fashion, you want most of the links to be from a similar topic and not something completely different, like 'hand tools.
If most of the referring domains point to your home page, you can add bonus points to your due diligence because you can avoid using too many 301 redirects.
3. Domain/Website History
You can check the domain's history (and website) by visiting Archive.org (The Wayback Machine). This site will give you the history of the domain name from the time it was first registered and more information about the site's history.
Simply enter the URL, and you get data back showing you the years from registration to the current date.
You can see snapshots of the site, which is beneficial because you can determine if the site has been live most of the time. If there are periods of no snapshots, it usually means the website wasn't live at this time, which could result in some of the pages being de-indexed.
Another option to check and confirm the age of the domain is to use a website called Whois.
Enter the URL, and receive information about the domain name, including the date it was registered.
4. Niche Potential
You should consider the potential of the niche before making a decision. For example, is the niche potential rising, or was it just a passing trend that seems to be losing interest.
For example, a few years ago, fidget spinners were extremely popular, but now they're dying out. If you purchased a domain name related to fidget spinners now, you might get some good backlinks included, but what's the point if no one is interested in the topic anymore.
Besides this, you should also ask yourself if the niche topic has monetization potential.
Can you use ads? Are there any affiliate products available to promote? — these are some of the questions you should consider.
5. Trademark Concerns
Most aged domain marketplaces will check this for you, but it's still worth doing yourself. You should check if the domain name has any trademark or copyright matches.
Run a search in Google to see if anything similar exists, and then go to the following websites to run a domain search:
These sites will help you uncover any domains that have trademark concerns.
6. Price
Finally, you should consider the price carefully to ensure you're not overpaying.
The actual age, amount of referring domains, indexed pages, length, and TLD are essential metrics to consider to see if the value is correct.
For the first three, more is better.
The older the domain, the more backlinks it has, and many indexed pages are a good sign, especially if the backlinks come from high DA sites, so expect to pay more.
As for length, the shorter and more brandable names are usually the best, and those with a .com extension are typically the most expensive.
Compare other marketplaces for similar domains to see what they're getting sold for and see if it seems like a fair price.
---
Actionable Takeaways
You now know the best aged domain marketplaces and understand what to consider when purchasing them.
You know why they're beneficial and the checks you need to do to avoid getting ripped off. As long as you perform these checks and practice common sense, you should be able to find some fantastic deals on the sites mentioned above.
Here's a list of the actionable takeaways from the article:
Aged domains offer benefits when starting a new blog, using 301 redirects, and merging with a current site.
If you find good value aged domains, you can also flip them for profit.
It's crucial to perform due diligence before purchasing a domain name.