Among entrepreneurs, e-commerce has become a popular way to make money online and a huge trend since last year.
But why? E-commerce has always existed but it has become an easy and fast way to make money nowadays for people that find the right products to sell, and then manage to advertise correctly and sell lots of units fast. These advertisers had implemented several successful marketing strategies to scale their businesses, reporting hundreds and even thousands of sales a day. You may have seen their ads on Facebook, and even bought something.
Some of them belong to a huge brand marketing team, some of them are people that manage their online stores by themselves without even seeing the products they sell.
How is this possible? In this article we are covering this year's trend: how to make money online selling products through an online store without stocking, handling and fulfilling products. We are talking about Dropshipping and below we are covering this business model in detail!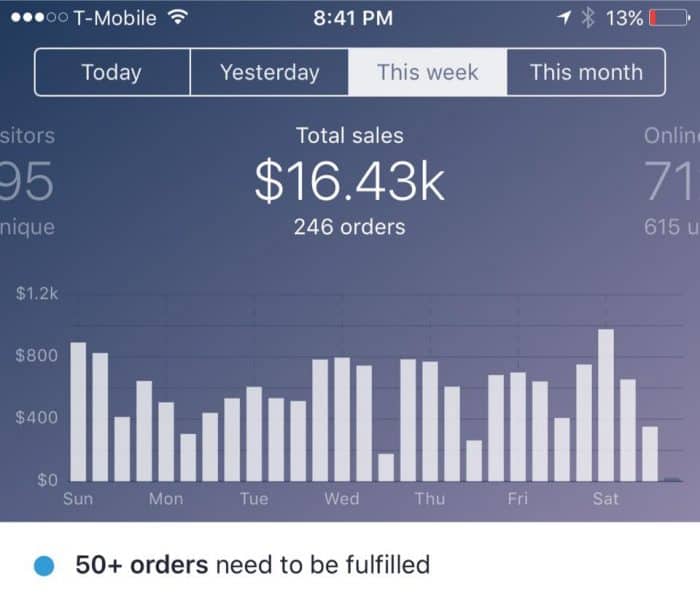 Among several e-commerce platforms, Shopify has become the most popular for this business model. The image above is a screenshot of the Shopify dashboard showing recent sales of drop shipped products. But why is Shopify so popular? Because you can build a professional online store in one day and it is affordable. Shopify is very easy to use, fast to install and affordable compared to other e-commerce platforms. It offers all the great tools you'll need to sell online, complete freedom, control of your customer's information and it offers great design on their store templates. Check it out for yourself for FREE.
How are People and Brands Making Money with Shopify Right Now (2022)?
There are many different ways to make money with your own online store and in this article, we are going to feature three types of business models that are using several brands & people to make money with their Shopify stores.
Selling Your Own Products
Buy Wholesale
Drop shipping
Selling Online Your Own Products
Product development is for those who want to run a business online doing what they love. Great and unique products are born with this kind of brands. Is worth mentioning that creating your own products involve more than just making what you love to do. Product development is a process that involves several areas.
Costs & Processes involved when making your own product:
Product Development: Time & Materials
Material Costs
Warehouse, Machines and Workforce
Producing and Building your own Inventory
Inventory Tracking & Storage
Packaging
Shipping
Marketing
Online Store Costs & Management
After sales support
Outsourcing the production can reduce the producing costs which is mostly chosen when it is actually cheaper compared with your own production costs (e.g. Manufacture in China vs. Manufacture in the USA). It is cheaper when you order a lot of units. Choosing this alternative depends if you are going to be able to sell all the inventory in a short period of time.
Manufacturing your own product allows you to have quality control of the product itself. It is common that making your own product becomes a very time-consuming process overall if you need to cover tasks of different areas of the new business at the beginning. If there is no budget to hire people to manage different areas, scaling will take longer.
The best choice for these type of business is to create a unique product and keep improving it, being the best in its niche. Why? Because when you produce your own products you are limited to your skills, tools, machines and materials, you have few product choices and you better be very good on it.
Shopify allows to manage your online store in a sophisticated way, and when you use it becomes an essential working tool. You can manage and organize your product inventory very easily and fast. You can also add several variants of one single product and change the price and picture of each one if needed.
As a unique brand, it's important to show a professional image to your customers. Shopify Stores are specially designed to offer your customers a great user experience because it is fast, easy and reliable.
You can easily set up your Shopify Store in a matter of hours, overall if you already have your product price list and pictures.
Sell Online Wholesale Products
Buying products from wholesale suppliers is more simple and easy. It allows you to buy a lot of units with the cheapest prices in order to re-sell it at a higher price. One advantage of this business model is that you are able to acquire products that already sell, avoiding the process of introducing a new product to the market to validate it. Also, compared to manufacturing your own products, the minimum quantity of items to order to apply to wholesale programs is much lower. It depends on the wholesale supplier guidelines and the type of product. You'll also be able to acquire more variety of products of different brands.
Costs & Processes involved when buying wholesale products:
Inventory Tracking & Storage
Packaging
Shipping
Marketing
Online Store Costs & Management
The hard work is to compete with other retailers that already sell the same products as you since there are already established products and commonly produced by different manufacturers. It will also affect your prices, since your competitors may offer lower prices you are able to offer.
Depending on the type and quantity of products you want to acquire is the wholesale supplier you may choose, for instance, Alibaba and Aliexpress are well-known wholesale suppliers.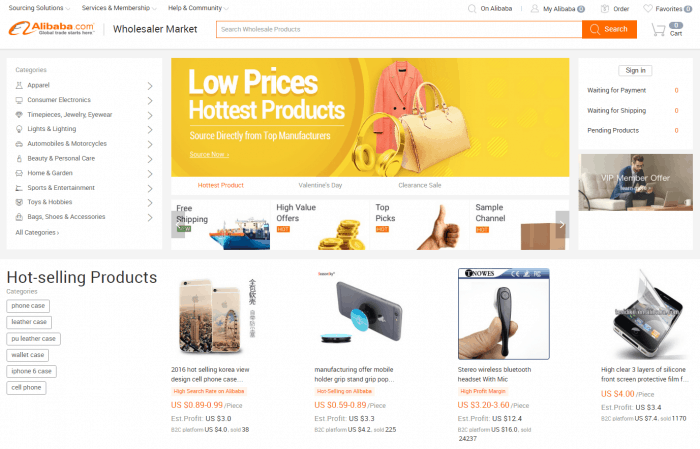 Drop Shipping with Shopify
Drop shipping is a retail fulfillment technique in which the retailer/store doesn't keep products in stock but instead transfers customer orders and shipment details to either the manufacturer or a wholesaler, who then ships the product directly to the customer.
Drop shipping means selling others products through your own store, it is a great way to make money today without producing something and distributing it to the customers, you only sell and get a profit off it.
You need to find a high demanded product, get it from a drop shipper at a very cheap price and showcase it on your own store with a higher price to the right people. It sounds easy but it is actually harder than it sounds. We will talk about some ways to find hot products later and how to reach your target market.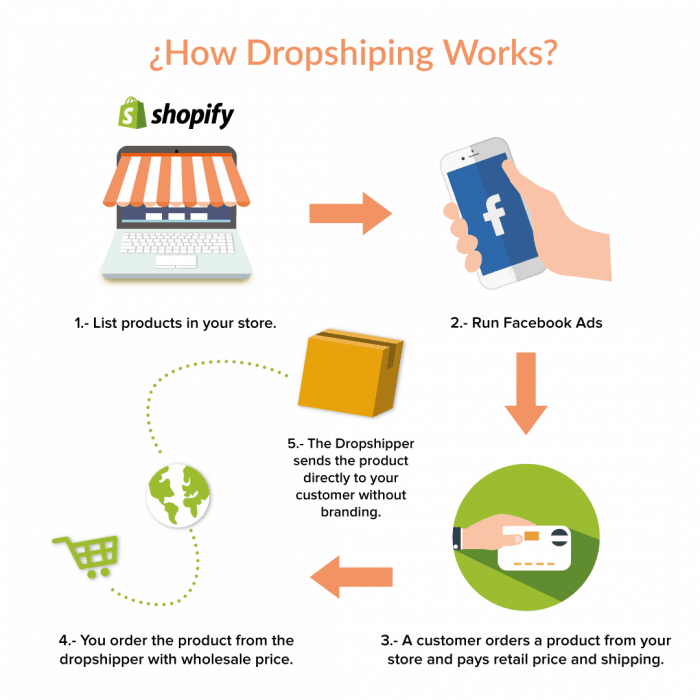 But for now, you might be wondering, Why would people buy a product from your store if they can buy it at a lower price somewhere else? The answer is that most people don't know, at least for now. It also involves psychological aspects about why people consume under specific situations, for instance, the sense of urgency used by advertisers to make people think and feel that they need to buy something right away. We will dig about it later too.
If you want to start an e-Commerce business online, drop shipping is one of the easiest and cheapest ways to run an online store that allows you to see faster results. Why? Because you don't have to produce and fulfill anything, you have to focus on selling while the manufacturer/distributor does almost everything for you. To make it work you need money to run lots of ads and find the way to get ROI.
Drop-shipping allows you to avoid all the following costs:
Product Development: Time & Materials
Materials Costs
Producing and Building your own Inventory
Warehouse, Machines and Workforce
Inventory Tracking & Storage
Packaging
Shipping
Drop-shipping costs and processes involved:
Marketing
Product Cost
Online Store Costs & Management
This business model also brings you freedom, as long as you have an internet connection you can be everywhere and still running your store and making money. Freedom is something that everyone seeks but not everyone achieves. Some people in this business use to travel while they manage their online stores as long as they have an internet connection.
The main focus of this business model is to drive targeted traffic to your online store. Targeted means that you show your products to a very specific group of people who are willing to buy your stuff because they like your products or something related to it. How can you target an audience? With Facebook Ads, you can filter an audience by location, age, gender, interests, behaviors, etc. This is by far the most popular way to target people nowadays.
That said, you can add a new product to your store and start running ads in minutes with Facebook Ads. This way you can test a campaign fast. If the product doesn't sell, you can try a different audience, ad type, ad design or move to another product. You can test different campaigns of different products at the same time in order to learn about which products are selling with a particular audience, ad type and ad design.
Popular Drop-Shipping Suppliers
People nowadays are using as suppliers some big wholesalers capable of fulfilling their business needs as retailers. Some of these big suppliers have become pretty popular between entrepreneurs. We are going to feature some of them:
Aliexpress is a retail online store where mostly small Chinese businesses offer products to international online buyers. For this reason, the prices are very low and also is the standard international shipping. But why is Aliexpress so popular among entrepreneurs? As a retailer from china, which is a place capable of producing almost anything in huge quantities, Aliexpress showcases a large variety of products, some of them proven best-sellers with wholesale prices ready to be shipped. Several Aliexpress stores also offer product lots, which means the cost per product is even lower. This is useful if you are looking to buy wholesale.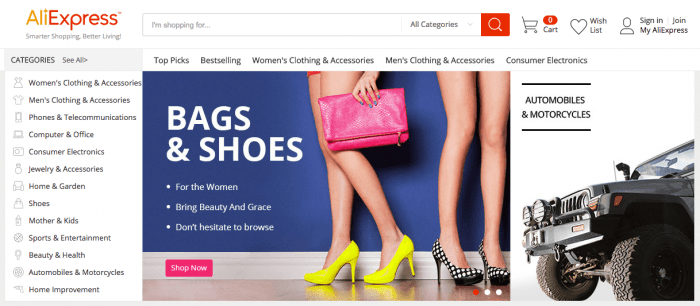 But for entrepreneurs, drop-shipping is an opportunity to make a business. How? Offering the same cheap products to a target market with a higher price, and sometimes not high enough to exceed the price of their competitors. As mentioned above, if advertisers manage to make a product appealing with creative ad design and pointing to the right people, they can sell hundreds or even thousands of these products they don't even touch.
For beginners, the use of Aliexpress as a retail supplier is great because they can actually order from one product at a time with the same low price. If you have a good relationship with your supplier, you can actually ask for lower prices overall you reach a good sales number. Aliexpress has a delivery warranty, if the product does not arrive on time you can claim your money back. Depending on your customer's location, the shipping can take a few weeks or months. You can rush the shipping paying extra, it all depends on what is available for a particular country.
The popularity of Aliexpress among entrepreneurs had caused the development of tools like Oberlo, which is an app that allows you to import products from Aliexpress directly to your Shopify Store. Oberlo allows you to save time and money because it fulfills your orders automatically and your prices and inventory are always up to date. When imported, you can customize your products with different text, images and variants. It also includes integrated order tracking and multiple users account between other useful features. Here you can register for your Free Trial to start creating your store and see how easy and fast is to setup and add apps like Oberlo.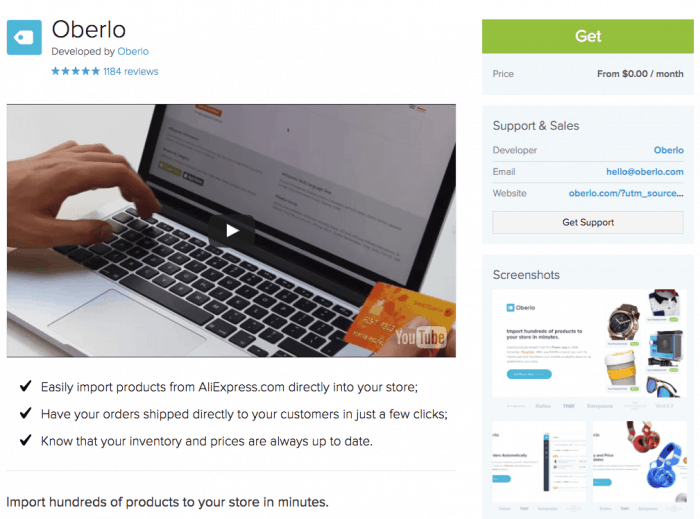 There are also different alternatives of drop-shipping for different niches. As you can drop ship products that are selling right now, you can take advantage of customized products too. For instance, lots of entrepreneurs took advantage of the "Teespring" model to sell thousands of t-shirts in the past years and it still remains a tendence.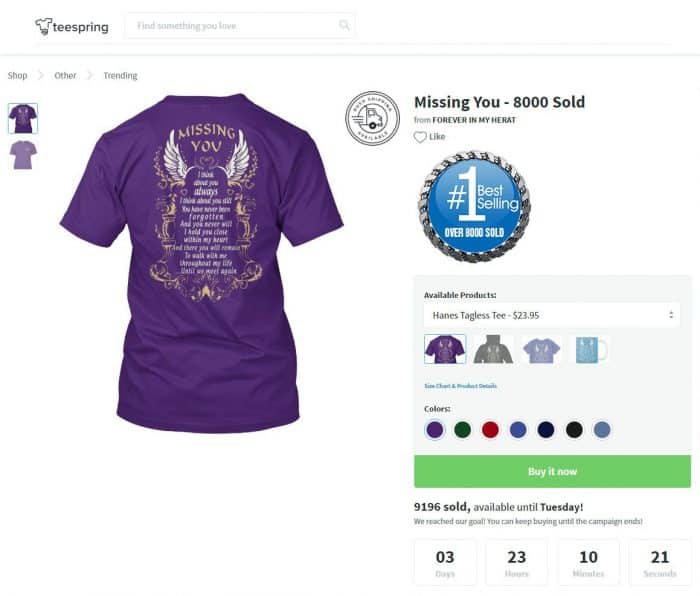 As you can notice by the number of sales, campaigns like the one above is an example of successful targeting on Facebook. Several platforms like Teespring allow you to create unique products that can be sold if you find the right audience.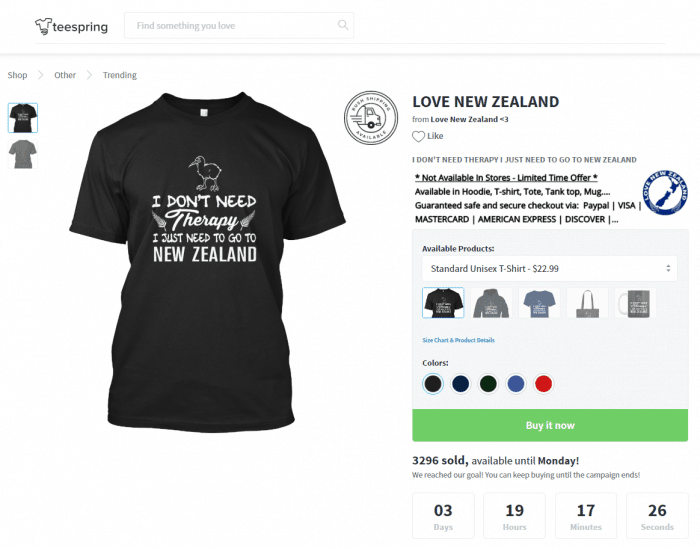 There are unlimited angles used to advertise customized products. Successful advertisers manage to find the best way to target a product to the right audience.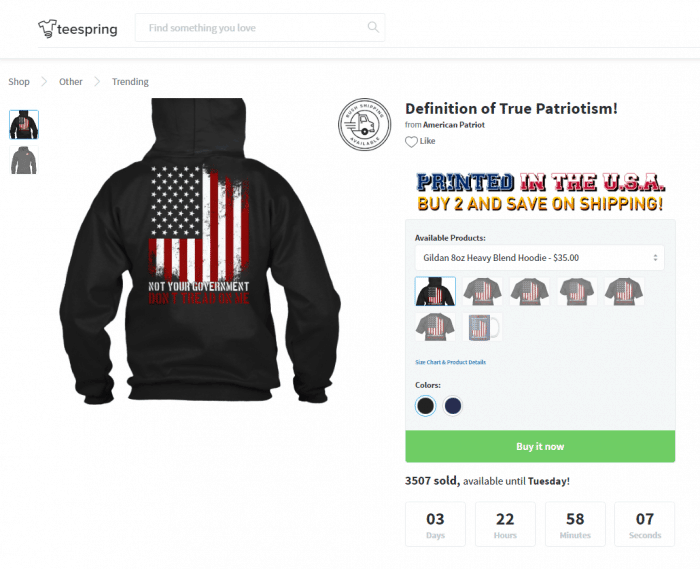 Some advertisers take advantage of holidays, relevant events and trends to create products that people find appealing. The key is to reach the correct audience to sell as many items as possible.
Other similar companies are "Sunfrog" and "Teechip" which allow you to showcase your customized t-shirts from their website. Recently Teespring was integrated with Shopify to add products directly to the store. This integration is not available anymore and they recently added new features when the Teespring 2 version was launched in January 2017.
A current alternative with Shopify integration is "Printful", a company that allows you to drop-ship custom apparel and other products like mugs, posters, pillows, totes, hats and iPhone cases. Its Shopify App allows you to add your custom products in a matter of minutes with several variants. This allows you to showcase customized products on your store that you don't even own physically but can be shipped to anyone who orders it. With the Printful app, you can add products right away from your Shopify Store in seconds, similar as Oberlo.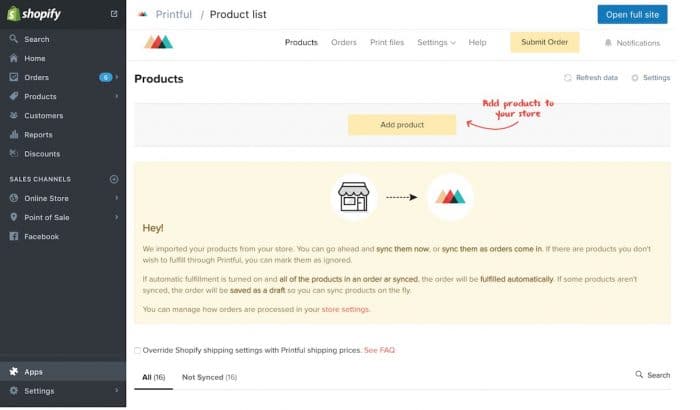 There are similar companies with Shopify Integration like "Gearbubble", which allows you to drop-ship customized products like clothes, mugs, iPhone cases, pendants, bracelets, etc. Here is an example of a successful recent bracelet campaign, where GearBubble provides the products and you can customize several types of products with your own designs.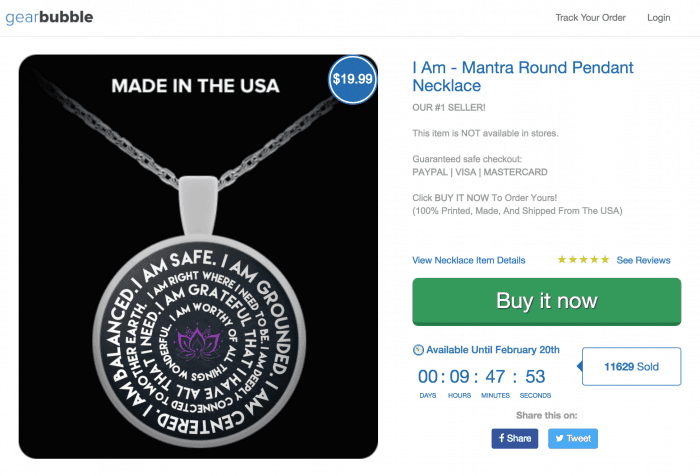 With cheap prices and high quality products, Gearbubble among others are used by entrepreneurs to sell unique customized products that their audiences find very appealing.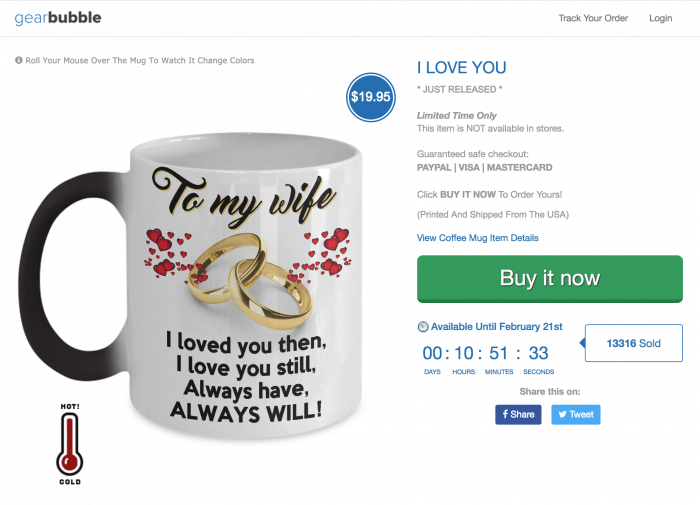 There are some products that are sold by thousands and it doesn't have to be innovative or with a great design. You'll be amazed how some very simple products are sold nowadays compared to others that their creators spends lots of resources to create new and ingenious designs.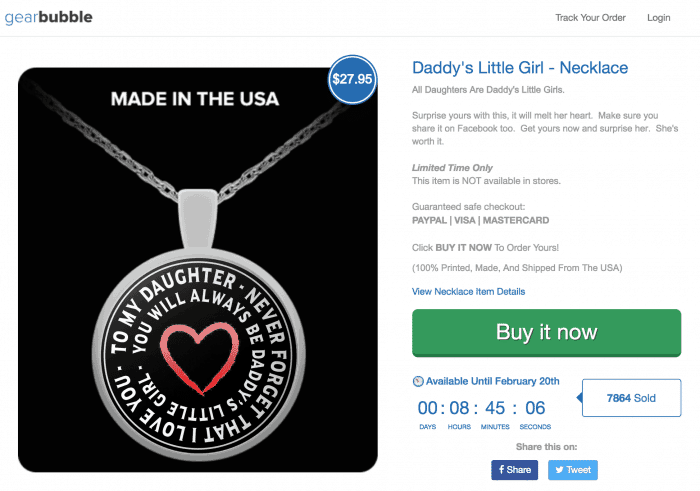 People love some products for the emotional message and the way it makes them feel, not strictly for the innovation of the product itself.
Which is the best choice? There's no right answer to this question because it is up to you to review different aspects like base product cost, product quality, shipping cost and delivery time, Shopify integration & automation level, support response quality, etc. It all depends on your niche too, for instance, you would prefer Aliexpress if you are selling gadget accessories like charger cables. But if you are selling iPhone Cases you may like sell customized designs which you'll only be able to order on "Printful" or "Gearbubble".
Top Brands on Shopify
As a sophisticated e-Commerce platform, Shopify meets the demands of any brand size. From entrepreneurs to big companies, Shopify hosts thousands of stores around the world. The following brands belong to the top list of successful Shopify Online stores.
If you can recall the popular brand "Spigen" which sells all kind of phone accessories, you may not know that its popular online store is actually a Shopify Store.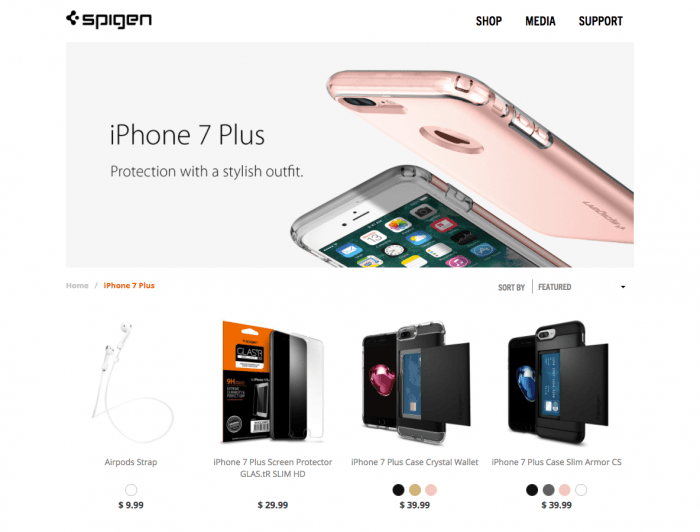 Similarly, the popular sunglasses company "Hawkers" also sells through Shopify. I'm sure you've seen their ads on Facebook or Adwords lately 😉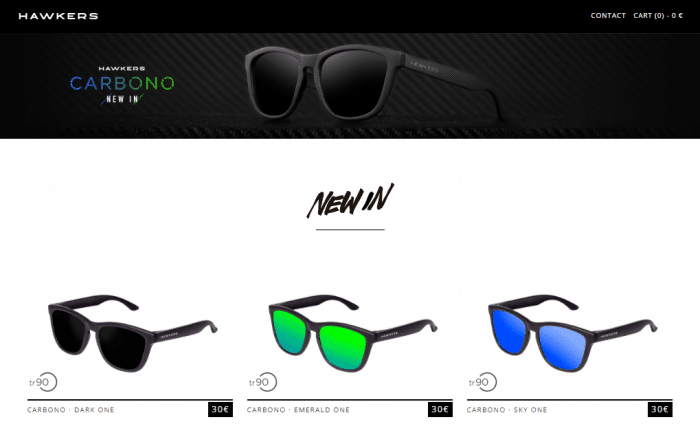 Another good example is "Radioshack" online store.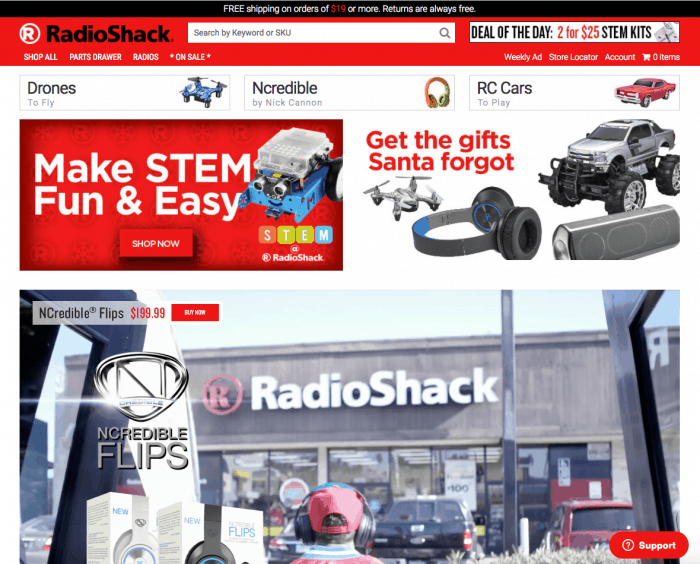 Famous people and celebrities also make use of Shopify. The successful brand of the celebrity "Kylie Jenner" sells thousands of products through her Shopify store.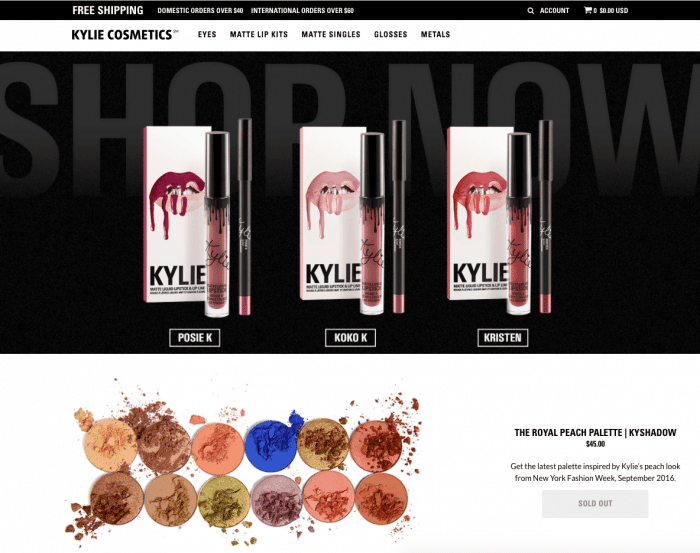 Kylie Jenner, a celebrity with a huge audience, chose Shopify which provides the requirements needed for a huge amount of visitors at the same time. Check out this video where he sold thousands of products in a few minutes just by posting 1 tweet and 1 Instagram post:
Also, famous public figures like Instagram celebrity "Jeffree Star", who has his own makeup product line, chose Shopify to manage his popular store which receives more than a million visits per month.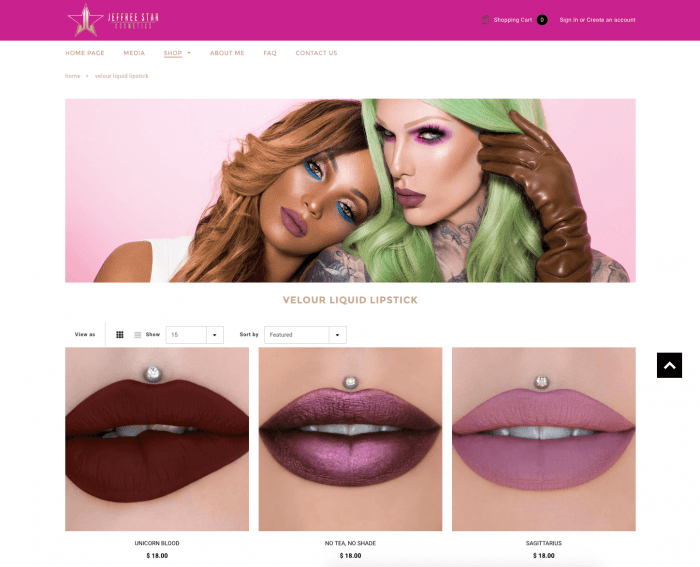 As you can see, everyone managed to make their online stores look like their own, there is no Shopify branding. Their well designed themes allow to fully customize the design of the whole store.
How to Drive traffic to your Shopify Store?
There are different ways to send traffic to your Shopify Store in order to make sales. On e-Commerce it's not only about quantity but quality of traffic. It's about reaching the right people and make them buy. If you manage to show your products to an audience that cares about it and that is willing to buy you'll probably make a good amount of sales. To achieve this, successful brands and entrepreneurs use different traffic sources: Organic Traffic and Paid Traffic.
You get Organic Traffic when your visitors land in your website as a result of unpaid search results. Organic traffic comes when there is a marketing strategy behind that takes time and effort to rank and spread. You can get organic traffic from several sources like Search Engines, Direct Traffic and Referring Sites.
Search Engines like Google or Bing will show you a list of websites as a result of your keyword search. Webpages are ranked in google by keywords and the position depends on the Search Engine Optimization ("SEO") of each one. You get Organic Traffic mainly from Google if you are ranked in top positions on the first search page. Being ranked in top positions on Google takes time and a good SEO strategy.e.g. The following image shows the search results on Google with the keywords "iPhone 7s plus case". The first result is actually a Google Adwords Ad, but the real first place is taken by the brand Speck, which has made a good SEO and its site is above the main brand of the searched product which is Apple.

Direct Traffic is when your visitors arrive directly on your site and it can be done in different ways like when you type the URL or click on a bookmark or when you click on a link in an email or chat message. The amount of direct traffic you get defines your success in marketing which can be stronger in some areas than others like email marketing.Email Marketing is one of the best digital marketing practices done by advertisers and when done correctly it becomes a great source of traffic to your online store. Advertisers implement several marketing strategies which the main goal is to get email subscribers instead of selling something in particular. Why? Because even nowadays email marketing outperforms social media. Email marketing is better at driving targeted traffic and direct conversions while social media is better with engaging with your audience.
Referring Site Traffic or Referral Traffic is when your visitors click a link on another site and then land on yours. One good example of this is traffic coming from Social Networks like Facebook, Pinterest, Instagram, Twitter, YouTube, etc. Another example is when your website is mentioned and linked in other website and you get visitors from it.
On the other hand, we have Paid Traffic which is the type of traffic used for on e-Commerce to reach a bigger and defined audience. There are several types of paid traffic used on marketing strategies to make sales.
The most popular and effective nowadays is advertising on Facebook. Why? Because Facebook owns a huge user base that can be grouped in audiences. Facebook ads have become the first source of paid traffic among e-Commerce entrepreneurs and brands because of its effectiveness. Facebook provides multiple targeting options allowing you to target custom audiences based on specific demographics like:
Location
Age
Gender
Language
Interests
Behaviors
Connection Type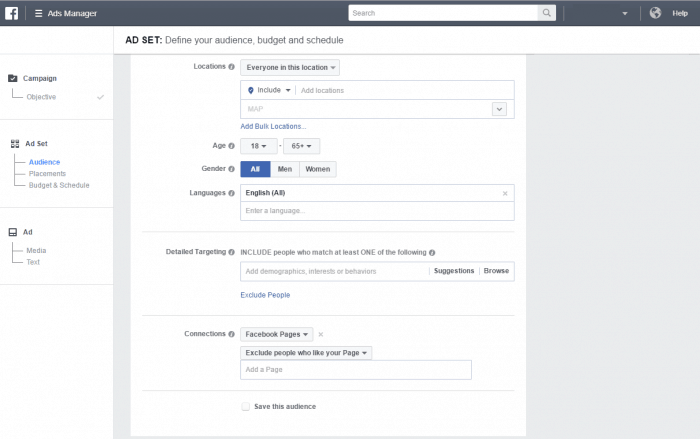 With a 1.7 billion user base available on Facebook, you can narrow your custom audience with these demographics enough to reach your target market and boost your sales. Facebook as a sophisticated toolbox, also allows you to keep track of your ads and measure its performance. Stats of different data are displayed in your Facebook Ads Manager which can be used to make smarter decisions in the future.
Have you ever seen a suggested post on Facebook that is related with the websites you have visited recently? Advertisers show their product adds on the Facebook Feed of their recent visitors.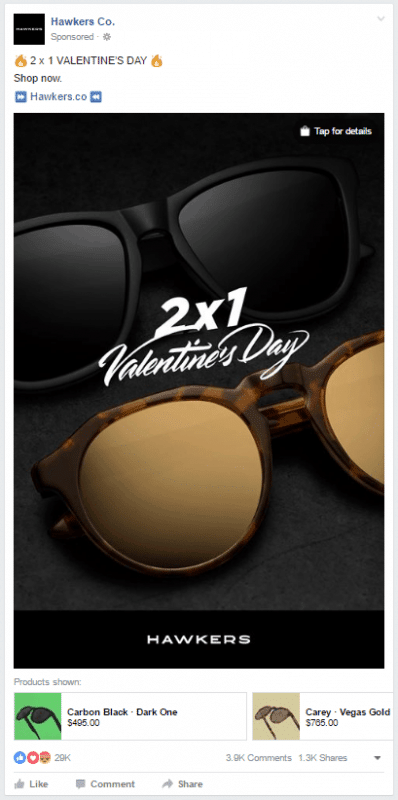 For this purpose, one key tool used to track valuable information about your ads performance is the Facebook Retargeting Pixel. It's a must to track your conversions and to group your audiences by their behavior inside your online store.
Another popular paid traffic source is Google AdWords, which is able to provide a huge amount of traffic if you outbid your competition in order to be in the top position. As a search engine, Google gives you access to consumers that are searching for similar products or services like your own. AdWords allows you to do remarketing as well.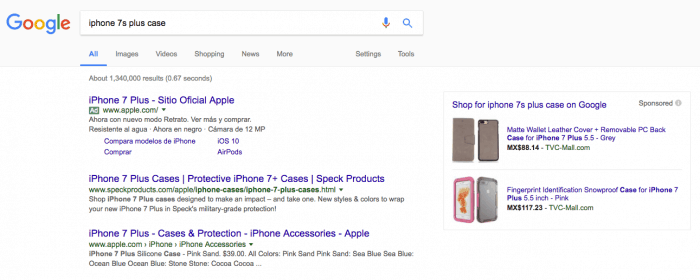 As you can see in the following picture, the long-tail keyword "iphone 7s plus case" on google shows google ads at the top results from apple and also from TVC-Mall.com at the right, just before the top ranked which is the brand Speckproducts.com. Something interesting is that this particular brand is ranked over Apple, which is the brand of the product searched. This is a good example of a good SEO strategy that drives lots of traffic of potential customers.
While you can have direct access to a huge amount of people willing to buy something similar to your products, is well known that AdWords is a harder tool to master and in the meanwhile it can be way more expensive than Facebook Ads.
Try Facebook Ads First
If you are willing to spend your money making an e-commerce business online, take your time to think about which business model fits with your goals. Dropshipping is a great model for beginners and it will bring you knowledge and experience for bigger goals and Shopify is also a great e-commerce platform to start.
With a lower budget available it is better to try Facebook Ads first. Also, Facebook Ads gives you the advantage to target different audiences based on very specific demographics and behaviors.
We recommend trying Facebook Ads as a paid traffic source for beginners because it is easy and cheap. There is an upcoming article that you may find useful about how to launch your first ad campaign which covers which ad type to choose, ad design basics, how to see conversions and ROI, when to kill and ad and scaling. Stay tuned!