2019 update: Check out the second part of this article on how I make $500 per day adding Propeller Ads. Also check out the third part of this strategy to learn how to optimize your mobile traffic for maximum revenue with Facebook Instant Articles.
OK, so this is one hell of an article I've been waiting to write for a long time. I didn't, because when I was about to, Facebook decided to change a lot of things in their algorithm and the whole strategy changed.
This still works and but it has changed a lot. You can still make a lot of money and bank hard if you have the budget. I was making from $100 to $350 PER DAY back in 2013-2016 with this whole strategy, and even though it might take more budget now to start, you can still make more than $5-10k per month with this strategy.
In fact, I know some people earning more than $10,000 per month with this and the good things are you can have it as a side business, 100% automated, and making money for you. I'll keep this post updated in case this changes, but I'm sure it still works in September 2019. The faster you start, the better.
Things you need
A Website with a VPS or Dedicated server (I recommend Vultr. CLICK HERE TO GET A $50 BONUS CREDIT)
An Adsense account at the beginning, and later an account with a CPM/CPA advertising company. A great alternative in case you don't have Adsense for this strategy is Media.net.
A Facebook Ads account with a credit card or Paypal
A Facebook Fan Page and some budget to start. I'd recommend $1,000 at least. $1,000 – $1,500 per month would be perfect.
How does it work?
The concept is simple, but it's not as easy as it sounds. Basically, what you're going to do is to create a viral news website with a basic Wordpress installation and send a ton of traffic to it.
How much traffic? Thousands of visitors per day. As much as your budget allows you. Some people send more than 1 million visitors to their website PER DAY. But you don't need that much. Start with 1k per day and then aim for 5k, 20k, and keep growing.
Lastly, the idea is that you generate great (but simple) articles with viral images, videos, or stories, and make them go viral with Facebook. When the people visit your blog, they'll find Google Adsense's ads and you'll earn money from the clicks you receive.
I recommend Adsense because the Ads will be totally irrelevant if you use almost any other CPC network, but if Adsense is out of your options for any reason, try Adversal from this alternative article.
Sooner or later, you'll want to move to a CPM based network, but you'll need at least half a million visits per month to move to the next level. So don't worry just yet.
I recently explained the reason why Google Adsense beats almost any other alternative, especially if your traffic isn't organic (i.e. not from search queries). Because we're going to send a chunk of traffic directly from Facebook, we want somewhat relevant ads even if they're not coming from search engines, and you know… Google controls a good part of your life, so they can serve decent ads to your audience even if they come from Social Media sites 🙂
Here's a screenshot of one of my best days. Check where most of my traffic was coming from: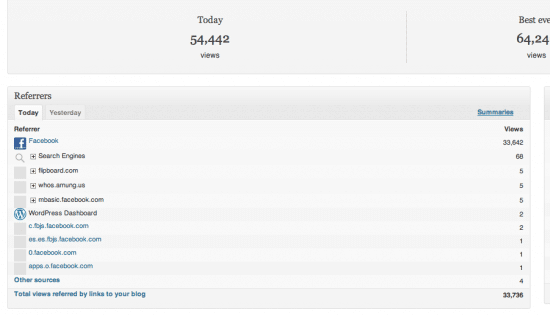 Also, be sure to try this even if you're on a tight budget because I'm going to show you how to earn money with CPA offers (no Adsense or CPC/CPM networks) and make a few extra thousands per month with paid traffic in my next's week article 😉
Shall we start?
I'll divide this into 3 steps. You need to rinse and repeat after analyzing your data. I'm glad most of it has been covered and you'll see that it's not as difficult as you think, but it takes some time and a good plan with a budget.
[convertkit form=4981459]
Step 1. Create a Wordpress Blog
This one is easy. If you're struggling with this, leave a comment below so I can help you. You can find almost everything in my blog in the Wordpress Category. I cover everything from setting a domain name, installing Wordpress, and even installing a theme. Again, just leave a comment below if you need help with any step. This shouldn't take you more than 1-2 hours, if not less.
Don't forget you need a fast VPS at least to make this work. Vultr has a $5 per month VPS which outperforms many managed VPSes priced at $30+.
Now the key with Adsense is having great traffic and having a good CTR (Click-through rate). Since Adsense works on a CPC basis, the higher your CTR, the higher your earnings. Trust me, with the quantity of traffic you're going to send to your blog, increasing your CTR from 3% to 5% could be the difference between $100 and $180 a day. So you NEED a good CTR.
I've tested a lot of themes for this, and many of them don't work. I've got my CTR above 10% some times when a story goes viral, but at least, I try to aim to anything above 5%.
Unluckily, I can't show you my detailed Adsense earnings because it's against their TOS, but I promise you'll have a great CTR with that theme and you can add your banners with the Quick Adsense plugin.
I recommend you to change your theme every 1-2 months to keep your CTR high. Some other great themes to start are the CTR Theme and the Divi theme from Elegant Themes.
Having a mobile responsive theme is KEY, since many people will visit your website from FB for Android or iOS, and you want your Ads and videos to look fine there.
Step 2. Create a Facebook Fan Page and grow it
I don't need to write this whole process again because I wrote it a few months back and almost nothing has changed here. Basically, this is the same guide on steroids, so have a read on how to create a Facebook Fan Page and grow it super quick with Facebook Ads here: From 0 to 1,000 daily visitors in 10 days.
The process is basically the same, but this time you'll create a Fan Page targeted to all people in a country who like viral stuff and cute/impressive stories. All of the Fan Pages I grew with Facebook Ads are quite active and have great reach.
There are a few changes happening on Facebook lately, so in case you want to take advantage of them:
Use Facebook Newsfeed and Mobile Newsfeed Ads! The volume there is super high compared to RHS (Right Hand Sided) Ads.
Facebook is rolling out new, bigger RHS ads. They're bigger and probably a little bit more expensive than before, but the size difference between those and the newsfeed ads isn't as big as before. You can drive a lot of new likes from RHS too, and the CTR will be high while the competition adapts (you might not even see those new ads yet). The only draw here is that RHS ads are displayed to desktop computers only, but hey, there's the volume on Facebook.
Facebook now distributes your ad budget during the day, no matter the time your upload it and get approved. This is super handy because if you start an Ad at 10 pm with a budget of $10 per day, Facebook will only spend $1 between 10 pm and midnight instead of eating $10 in 1-2 hours with shitty results.
There you have it. Just copy the same strategy from my guide on how to go from 0 to 1k daily visitors and apply these new advantages. Since we're going big, I'd recommend a daily ad budget of $10 to start, and then move to $20-30 per day if you can keep your CTR high and new likes coming.
You'll receive a lot of organic likes too, from people sharing, tagging, and liking your posts on Facebook and other social networks. Those are free 🙂
Step 3. Write viral stories and publish them in your Fan Page
This step is easy but takes time. Basically, you're going to look for viral stories, news, and trends and publish them in your blog. What I'd do is spy other competitors and check the stories they publish. Try websites like upworthy and viralnova.
Also, have a close eye on Google trends, as you can get a lot of traffic by being the first to write viral news on your website too.

You're going to post links AND images every few hours, every single day. I recommend you to post between 3-5 links to your website (that means you need to write 3-5 viral news PER DAY) and also post 3-5 images in between. The images can be part of viral stories, cute animals, or impressive facts. The key is to keep your audience active and your Facebook reach high.
Example: 8am image, 10pm link to article 1, noon image, 2pm link to article 2, 4pm image, 6pm link to article 3, 8pm image, 10pm link to article 4.
NEVER copy & paste their articles into your website unless you want to get banned from Adsense. Rewrite the stories from your own point of view, ad videos, or whatever you need, and always link to the sources. Otherwise, you'll have problems in the long run. Trust me.
Also, have a look at the placement and distributions of Ads in those websites, as you want to try the same to get a good CTR. I used to have 1-2 Squared Ads in the content, and a big skyscraper ad in the sidebar. This is a formula that works well.
Step 4. Rinse, repeat, and automate.
You should be able to get everything started in 1-2 days if you focus and work fast. Again, let me know if you have any questions below. Depending on how good your stories are, and the budget you spend on Facebook Ads, you'll start making some profit after a few days or weeks. The more budget, you spend the faster your Fan Page will grow and the more traffic you'll send to your website. It's pure mathematics.
If you grow it big enough to make it a side business or even a full-time job for you, then you might want to step it to the next level and automate everything. After all, we want to increase our ROI and still have time to enjoy with family and friends, don't we?
So here's what you can do:
Automate your Fan Page posts
There are a lot of social media tools that allow you to schedule your posts on Twitter and Facebook (Buffer and Hootsuite, for example). Most of them actually hurt your reach, so don't use those. Use FPTraffic.
FPTraffic is a great tool built by an Affiliate Manager from a CPA network and it works really well. You can schedule images (it has an integrated finder), posts, giveaways and more so you don't need to be in front of your computer every 2 hours to post your article/image. In fact, you can schedule for many days in the future, so it's perfect for this project.
FPTraffic is a great tool even if you're not doing this but you have a FB Fan Page for your blog/website. Also, there are guides on how to make money with Facebook Fanpages inside FPTraffic which alone are worth the price you pay for it. Grab it while you can and get a 50% lifetime discount before the price goes up from $10 per month to $20 per month.
Outsource your article writing
This is something you might want to do after a few weeks or months. Make sure you understand the whole process and then you'll be able to hire someone to do it for you.
You have already automated your Facebook Fan Page, so you now need to automate your articles and the business will be 100% hands-free.
What I did: I hired a content writer and paid him $3 for every post (300-400 words). Since I needed 3-5 posts per day that's a total of $10-15. Once you start making money and driving a lot of traffic, $10-15 will be less than 10% of your earnings and you'll be hands-free for another business.
Looking for viral stories and videos can be tricky at first, so I looked for the stories and copied the links into a google drive shared document. I'd upload 5 new links every day so the writer could prepare the articles for the next day and publish them. It wasn't 100% automated, but let's say I had to spend less than 30 minutes per day in this business to earn $100-300 per day. I was happy with that 🙂
There's no magic formula
Most people try to look for a magic formula so they can earn money online on autopilot. They want to get free information and pay for a $19.99 Warrior Special Offer that shows them how to make $1,000 per day without doing anything.
Well, that magic formula doesn't exist.
This is a business, and it requires work and focus, and you might fail a few times, but it will be worth it. Magic formula's don't exist, but systems do. And systems work if you're good enough to analyze and improve your ROI.
But I know most of you won't be able to achieve this because you won't take action. Taking action is the most important thing in this life. So bookmark this page or print it or take notes and start your website and Fan Page ASAP! You can do it in 1-3 days maximum and if you start buying likes in 3 days, you could be earning your first bucks by the end of the next week. What are you waiting for?
Scaling and Optimizing
This is something I cover in my second part of the guide where I used Facebook ads and Propeller Ads.
How to scale your FB Ads to increase your traffic and earnings:
How to analyze your FB reports and focus on the audiences that give you more results (higher ROI)
Few tips and WP plugins to help your news and stories go viral
Moving to a CPM Ad network for higher ROI
Talk to you in the next one 🙂