In this Adsterra Review, I want to introduce you guys to one of my favorite ad networks to monetize traffic from some specific verticals. It was launched back in 2013.
I have been recommending Adsterra for more than a year now in my list of recommended Adsense alternatives (check my list here) but in reality, I've been using them for much longer than that.
Adsterra is one of my recommended ad networks for people working with some specific websites or blogs and as you'll read below, they work pretty well as long as you know which ad formats and verticals work great for this network.
We sometimes get better CPMs than other networks and the payouts and stats are easier to handle as well.
Let's get started!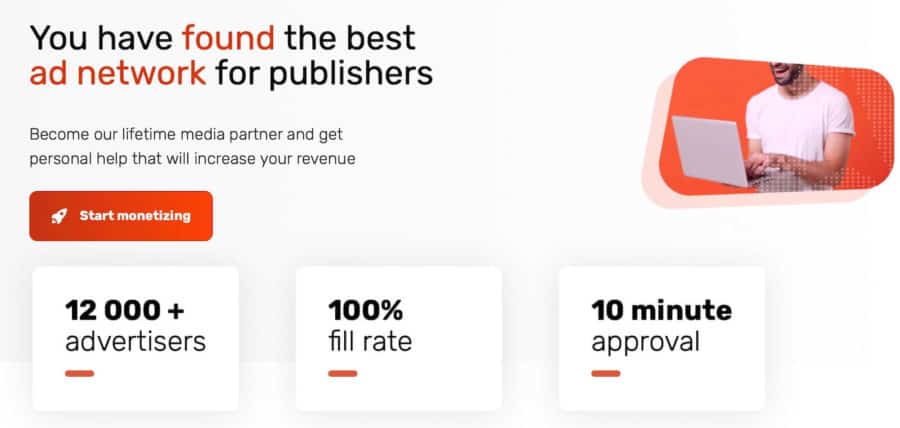 Adsterra Review – Introduction
I started working with Adsterra back in 2015 as an advertiser, but as a publisher, I have been working with them since 2017 if I remember correctly. Back then, I remember they had around 3,000 active publishers with great quality of traffic to buy.
Nowadays Adsterra is covering more than 248 countries, generating more than 30 billion ad impressions per month. They work with 18K+ direct publishers and 12K+ brands, affiliates, media agencies, and ad networks dealing with mainstream and non-mainstream verticals.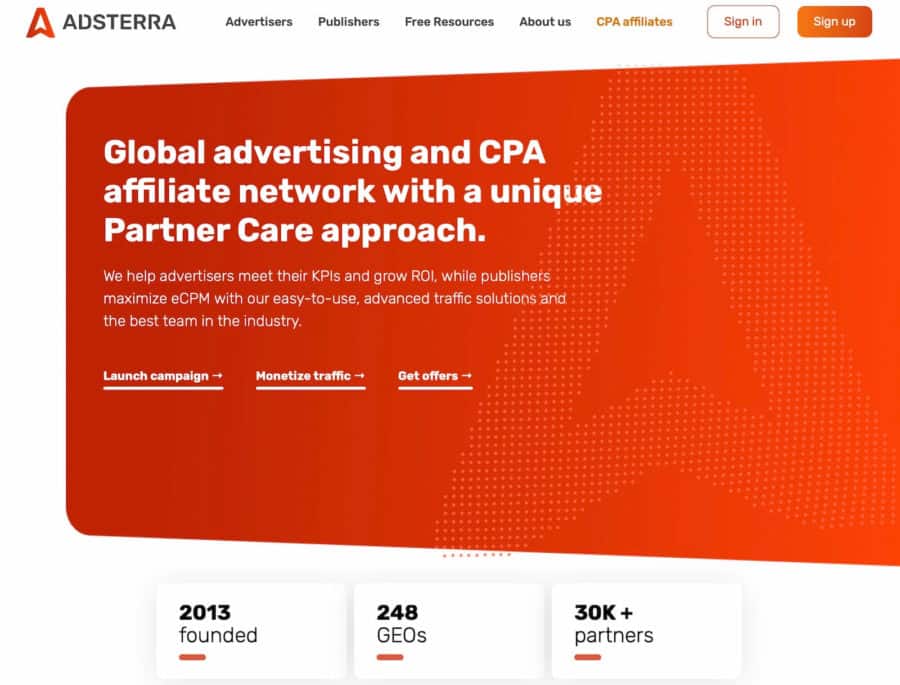 Adsterra works in 248 countries, so you can pretty much say their ads have good coverage worldwide. Obviously, some countries yield better results than others as it happens with any network you work with, but you will make money no matter which country you're receiving traffic from. Their ads work on both mobile and desktop devices as well.
They launched their SSP and full publishers dashboard in 2017 and it has a very simple yet easy-to-understand user interface to get started and quickly implement your ads on any site.
Speaking of ad formats, Adsterra started as a popunder ads network and quickly evolved and grew into different ad types as you can see in the picture below: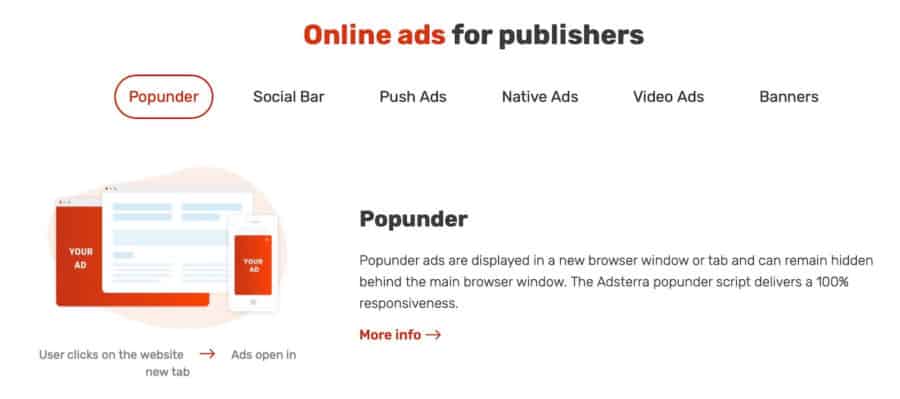 With 5 different ad types that are 100% compliant with the ad requirements of Google Chrome, you can always use 2 or 3 different ad formats in your sites to make more money and increase your CPMs.
One of the newest ad formats available that's pretty unique to Adsterra is called social bar.
Social Bar uses dynamic iFrames that don't block web content. Simple iFrames blankly pop up while other page content remains non-clickable. Dynamic iFrame inside Adsterra creatives allows website users to click on ads, expand and collapse them while navigating the website and absorbing the content.
Nowadays Social Bar has gained success: it exceeds other ad formats in CR by 20-30 times.
I personally use their pop-under and push ads as they tend to perform better in the verticals we're working with. However, on some sites, I also recommend testing native ads, social bar, and even ads.
Talk to your manager to see which ads are recommended according to your traffic stats.
And talking about traffic, I mentioned above I use Adsterra for some very specific websites. Keep in mind I don't use Adsterra for personal blogs like Stream SEO. I prefer using it in blogs where we can get tons of traffic without much competition, yet they can't be monetized with networks like Amazon or Google Adsense.
Here are a few examples of the verticals I recommend to monetize with Adsterra as shown on their website: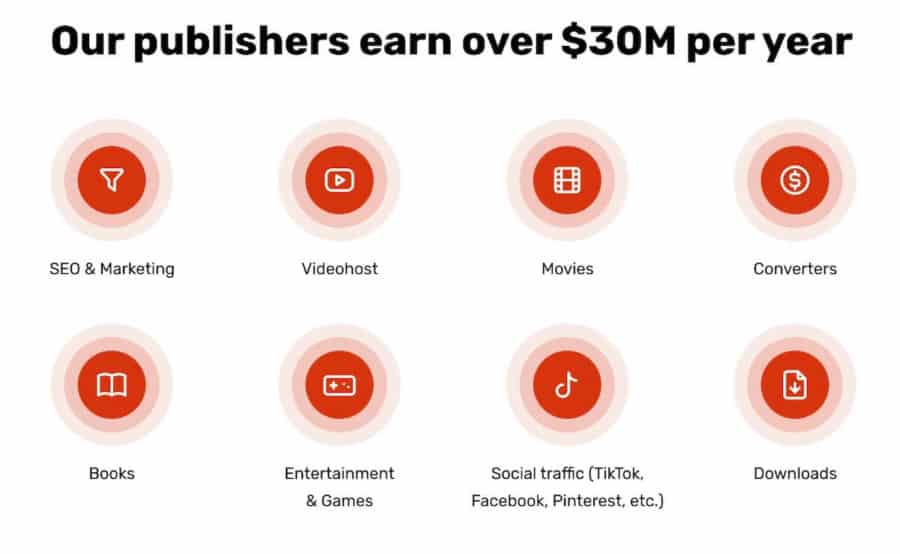 Any niche about:
Downloads
Videos or viral videos
Streaming movies, series or sports
Music and MP3s
Video and file Converters
News or viral news
File hosting and anything related to downloads
Entertainment and fun sites like memes, etc.
Those niches work really well with Adsterra. In some geos, we have got CPMs of $1 or more, while in some other geos with great verticals we have managed to achieve CPMs of over $30-50 USD.
It will all depend on your traffic numbers, quality, and geos. Your mileage may vary.
Adsterra Review – Creating an account and implementing their ads
Signing up with Adsterra is an easy process. Just click this link to get started and validate your account by confirming your email as you'd do with any other website.
Account approvals are fast and you get access to your Dashboard in a day or so. There's no need to wait for many days or weeks to get your account approved as it happens with Google Adsense lately.
Once you're approved you can log in to your dashboard which looks like this: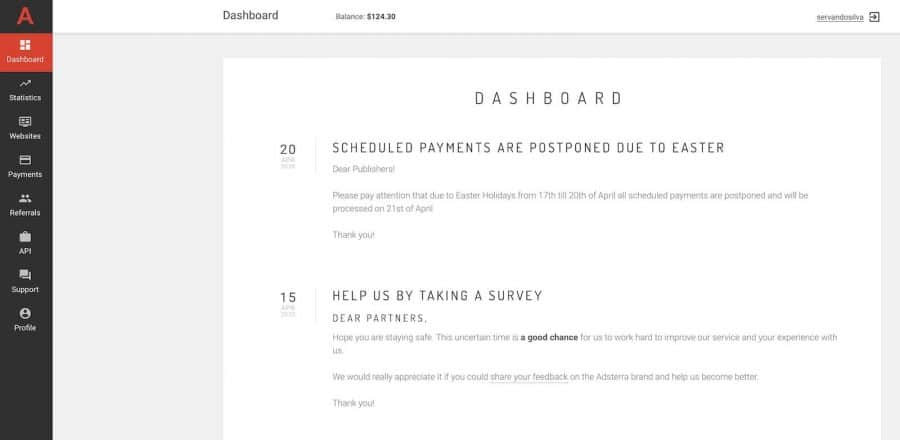 Here, you can see your monthly balance, real-time statistics, websites, payments, and also contact support in case you need any help or have any questions or recommendations to ask.
It's important to mention here that the Adsterra team has support in the following languages:
English
Chinese
Spanish
Russian
French
So you're not just stuck with English as many other networks offer and you can get help even if English isn't your native language.
As you can see I have a balance of $124 for this week so far.
The first you need to do besides filling up your profile information is to add a new website so they can approve it.
Click the Websites menu at the left and you'll see this window: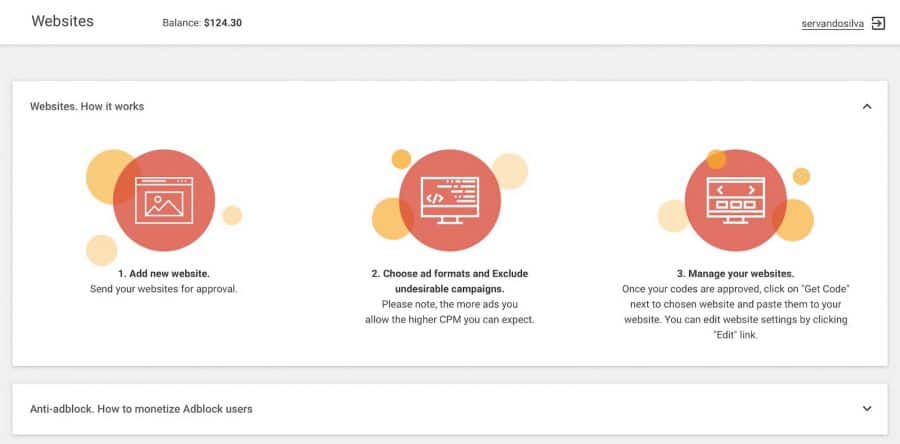 Here, you need to add a new website and get it approved. Website approvals are fast. The last time I added a new website it was approved a few minutes later, but don't worry, sometimes you can wait a day while their team approves your domains.
Click the "Add new website" button and a new window will appear.
Just write your website's domain and select the category. Also, select the ad units you want to try with your site.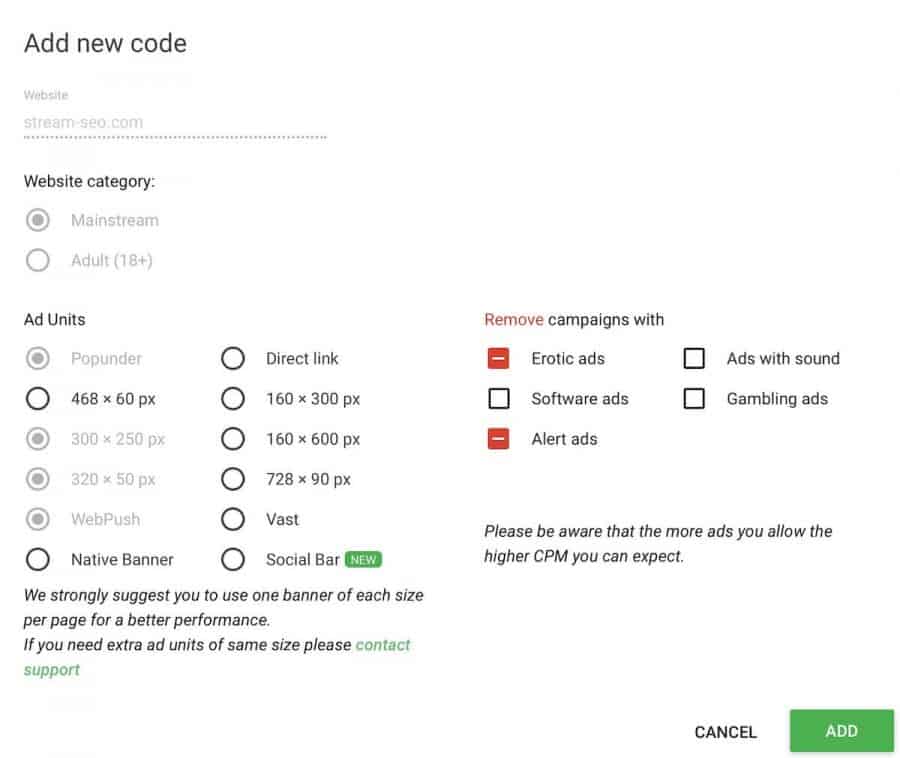 You can also decide to remove some type of ads, including erotic ads or other categories as you can see on the right side of the screenshot above. You have full control of what is being shown and you can always change this later (except for the category).
Once you have added a new website you'll need to wait for approval and once that's done, it will be time to implement your first ad.
You will find your approved website in the list of sites in your Dashboard and now you can click the "Add code" button to get the script to implement the ad on your site.

In this example, I created a popunder ad for my site and I got the JS (javascript) code to implement it on my website.

Implementing it is easy if you're a developer but even if you're using a website builder adding a code in the <head> tags is quite easy and it's a feature that most services include.
I use WordPress, so I just had to copy and paste that code into my theme settings. You can also use the Insert Header and Footers plugin to add the code to your site in just a few minutes.
I would like to mention here that you can also request anti-ad-block scripts so the ads are displayed for people using common ad-blockers. This could help you increment your revenue in some cases although the percentage of traffic coming from Adblock users is definitely much lower than the regular users without ad blockers.
Once you do this you'll see your ads implemented quickly on your site and they will start displaying some advertising after a few minutes. Now it's time to sit back, relax and let the system work so you can check the stats later and analyze your CPMs.
As a rule of thumb, I always recommend people test their websites for at least 2 weeks before deciding if the performance is good enough for them or not.
Many people start testing an ad network and then switch things or move the settings before 24 hours. You need to give the system enough data to find the best advertisers for your site and it takes some time. The more traffic you have though, the faster this will happen. I have explained this and other common mistakes in one of my recent articles.
Note: Keep in mind Adsterra strives to display clean ads. No malvertising is allowed at Adsterra. Malware, along with redirects, unsolicited downloads, and alerts, is strictly prohibited.
It's time to talk about payments…
Adsterra – Payment methods and proof
And speaking of payments, Adsterra offers different methods to cover most of the countries in a way or another. I like that the payments are made on NET 15. The minimum payment threshold is only $5 for Webmoney & Paxum, $100 for the rest of the payment systems.
Every 2 weeks I receive my payments without any issues so far (3 years). Their payment methods cover:
Bitcoin (BTC)
Tether (USDT)
Wire Transfers
Paxum
PayPal
WebMoney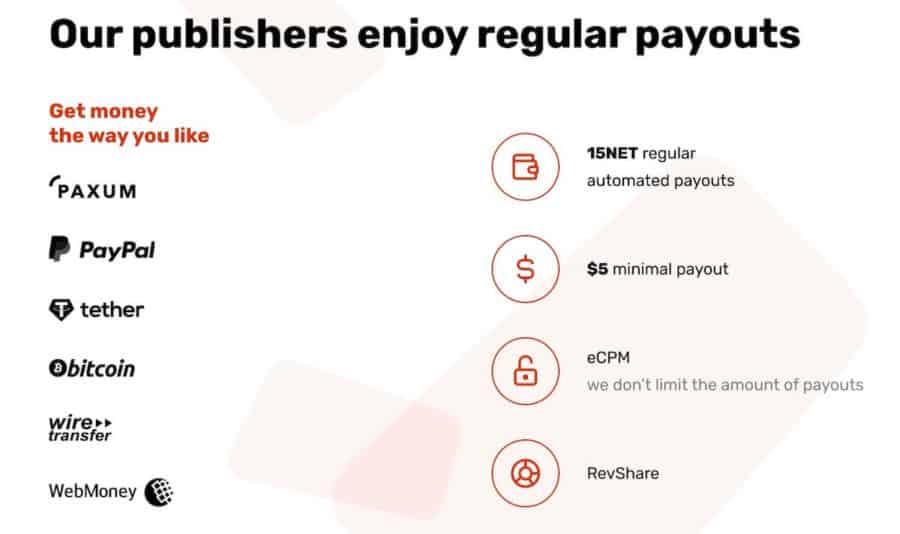 Here's proof of one of the latest payments I received before writing this review. Payments arrive under the name of Techbyte S.R.O. although I've noticed the company changed the name before.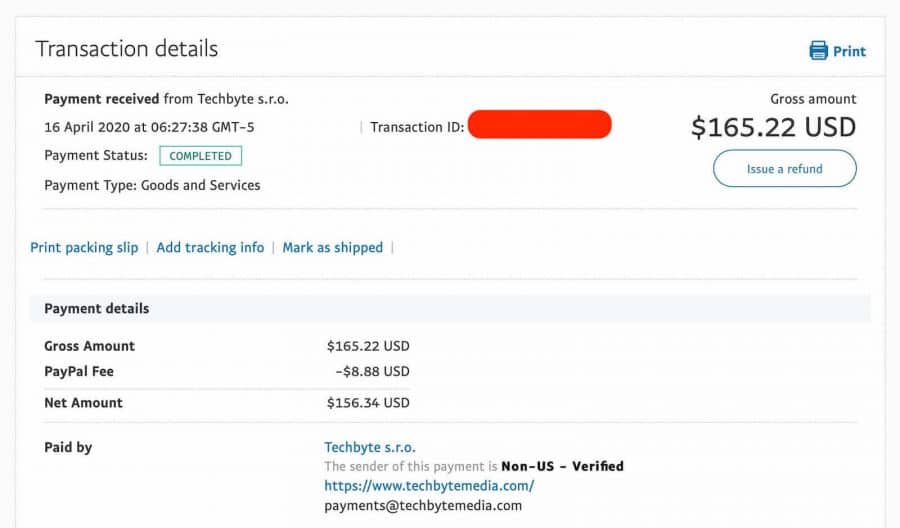 Anyway, as I mentioned before, I have been working with Adsterra for a few years already, so I'm pretty confident to say they have paid me on time every single month. To date, I've been paid over $20,000 from Adsterra alone in the years I've been using them.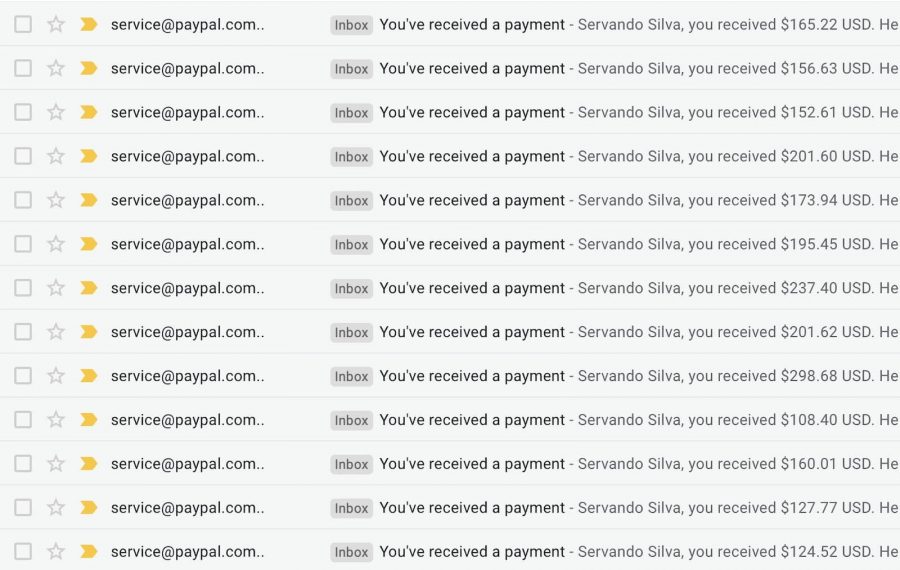 Their NET 15 payments usually arrive during the week. So if the 1st or 16th day of the month happens during the weekend the payments will be moved to Monday. If for some reason they think the payments could be delayed some extra days they always publish a note in the dashboard to let you know in advance (e.g. Christmas days or some worldwide bank holiday).
I can't really complain at all about their payments. Get started with Adsterra here.
My conclusions
I'm pretty happy with Adsterra and their performance and ads have been consistent for the years I've been using them. Here are a few points I'd like to mention:
Quality over quantity. No restrictions for traffic volume of the website. What matters for approving your website at Adsterra Network is your traffic quality.
Lifetime referral program. Each partner who joined Adsterra via your referral link will add 5% of their profit to your income. Forever.
Adsterra has a Partner Care training program that all our managers have to pass. As a result, their managers are usually skilled, caring, and interested in every client's success.
Their support is very friendly and I'm proud to say I have even made some good friends and connections with the managers on both the publisher and advertiser side of Adsterra.
Another thing is they are always improving their SSP platform and sometimes they add new payment methods, so I expect them to grow more in the future as well as add new ad formats later down the road.
If you have a site in the verticals I recommended above, or simply you have a website where you can't think of any monetization method or can't get approved, try Adsterra!