Not every day in my short but happy life I am able to say something like this. If you've been reading my blog you probably know I'm a big fan of great Wordpress themes and design. I've been trying different services including StudioPress, Elegant Themes, WPZoom and others, and I can only endorse those which really offer something valuable and different for me and my audience.
Ladies and gentlemen, let me present you my Squarespace review.
Update: Squarespace now supports e-Commerce. Great Addition!
The Apple of the Theme industry?
What makes Apple an important icon for the tech industry today?
Is it because of the great products? Well, perhaps.
Is it because of the tech support and customer service? Yes, it's also about it.
Is it because of the great Marketing and Design? A little bit too.
Is it because it offers the best products? Not really. This depends on your needs and your profile.
So, what's the biggest thing big enterprises like Apple and Google are offering today?
That is integration, my lovely readers.
Now imagine the following case: let's say you're starting a new blog, and while you're looking forward into your new journey, there are some simple and basic steps you need to consider before anything else. Those basic steps are:
Get a Domain Name ($1 a month or less)
Get a Hosting Service ($5 a month or less)
Select a theme from thousands of bazillions on the internet (varies from free and up to $100 – one time payment)
Select a CMS like Wordpress (free unless you're using something else)
That's aside from the common and very important researches and investigations about your niche and the content you're looking forward to produce.
Once you've everything, now you need to integrate them and make them all work like a unit. That is:
Pointing your Domain to your host
Installing Wordpress CMS on your host
Install a Wordpress Theme and customise your design
Repeat last step until you feel satisfied
And you've not even started to produce content yet!
Now imagine you can do all of the above in the same page including customisation for your blog's design, all for $8 a month.
Well, that would be Squarespace.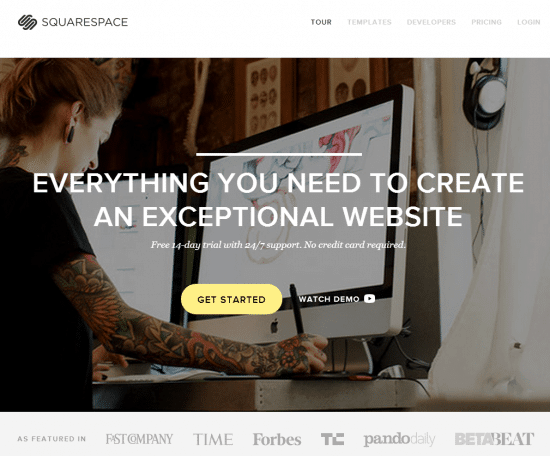 Squarespace is a company created by Anthony Casalena back on 2004. Squarespace aims users with low to 0 level skills of HTML and coding, and makes everything simple to start a website or a blog.
But even better, Squarespace takes this idea and integrates everything you need to start as soon as possible all in one CMS page. So, you get your domain, your theme and your host service all in the same pay check and finally you can focus on creating great content.
Compared to Wordpress, where you need to find 1-5 themes that really fit your blog from a sea of endless premium and free themes, Squarespace offers you a relatively small quantity of themes, all of which you'll end loving because the design is just stunning.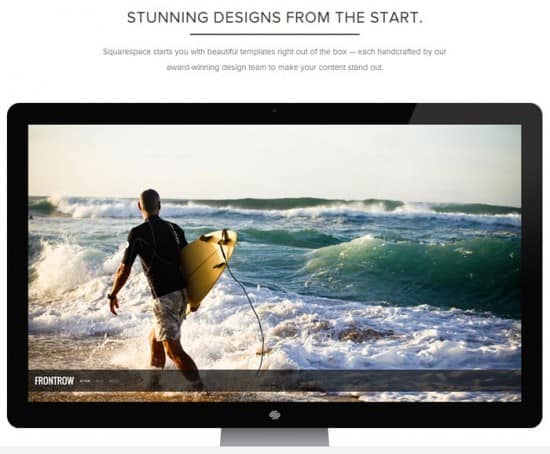 When I compared Squarespace with Apple at the beginning of this review I wasn't joking. Squarespace has some of the best Themes I've seen out there, and 90% of them are simple and elegant. That's it.
Squarespace allows you to create galleries, pages, posts and blogs within a click of your hand. The idea is to simplify any tech savvy process and focus on your needs, instead of fighting against your computer skills and messing up with the code. of course, there's a downside between all this, but for many people it just works.
A superb addition of Squarespace allows you to create and manage galleries in a way you've never seen before. Instead of looking for 1 (or perhaps 15) plugins to manage galleries on Wordpress, you have everything you need right on your dashboard. And the good thing is that all of your images are resized and submitted into different formats to make them available in different devices without eating your bandwidth.
So, if you're visiting your blog from your iPhone the image won't consume more than 10KB (example) but if you're in front of your computer it will take 50KB. This is especially good if your readers are visiting your blog from any mobile device.
Instead of messing up with jetpack, you have the analytics feature included right into your dashboard with Squarespace. Additionally, you can link your Google Analytics account and get the report in an stunning UI.
You'll get traffic sources, referrals, search queries, popular content and more right into the Squarespace dashboard.
Of course, Social Media couldn't be out of the game, so you've got Social integration with the biggest Social networks including Pinterest, Tumbler, Twitter, Facebook and more. This isn't a surprise at all.
If you're worried about not being able to control your in page SEO settings within Squarespace, fear no more. Squarespace comes with a lot of option configured so you can focus on your content. Even Rand Fishkin from SEO Moz recommends it because of its "SEO friendliness".
One of the biggest movements you need to consider for 2013 is Mobile Responsive websites. With more and more people jumping into the tablet / Smartphone wagon, the number of visitors reading our blogs on mobile devices is increasing very fast. All the themes on Squarespace are mobile responsive, and they combine the technology of their images to serve the best user experience.
Finally, here's a snapshot of the Squarespace dashboard to create and manage a blog. Everything you need is there already. I've already created an account with them and started using it for one of my blogs (which I'll reveal on 2013). I can tell you that it's really a pleasure to work with such a nice interface and tech support team.
Is Squarespace for me?
This is the 64,000 question of the day. And the answer is simple: YES and NO.
Why?
Well, if you're looking for an interface that allows you to create everything from scratch in a very easy way, without actually messing with code, HTML, CSS, Plugins and that stuff, then Squarespace is for you. I kind of see Squarespace as the iOS vs Android comparison.
If you want something easy, powerful and elegant, you can't go wrong with Squarespace. Also remember you'll need to pay a monthly fee (which I think it's a fair amount) to maintain your service. But this includes the hosting and domain name. And the Host is good enough to support and drive tons of traffic in a few minutes (something you normally don't get with shared hosting plans).
But…
If you're a Tech savvy person willing to learn some code basics and HTML, and you want to have full customisation for your blog including plugins, themes, hosting, domain and everything, you might be better off with Wordpress. This is why I compare Android to Wordpress.
It's your call, and it's a tough one. you really can't go wrong with both options, but it really depends on how far you want to go with your tech skills.
At the moment I'm using both platforms and testing it for you. I'm a tech savvy person and I'm loving both styles, but I'll definitely move to Squarespace if they really have all I need so I can focus on content production (Content is King, remember?) instead of "losing" my time with design, code and plugins.
Test Squarespace for free
Go ahead and give it a test. They have a 14 day trial (no credit card required) so that you can create and setup a website and design and finally decide of Squarespace is for you. This included tech support and full access to their themes. If you don't feel satisfied at the end, just drop it. But believe me, it's a hard decision.
You can actually extend your free trial a few times so you can get up to 1 month.
If you finally decide to get it, don't forget to use this discount coupon: GIMME10
This will give you 10% in advance and if you pay for 12 months you get 20% (plus 10% with the code) and 25% if you pay for 2 years in advance (35% total with the discount).
Meanwhile, let me know what do you think about it on the comments below!