Shopify has become the most popular and biggest eCommerce platform in the world due to its hard word in this decade. I still remember I used to recommend them back in 2013 for people who wanted to create their online store and they had way fewer features and clients 7 years ago.
When dropshipping and eCommerce exploded back in 2016-2017 we covered a lot of details you needed to know in order to create your first Shopify store, along with some huge successes from people literally building their e-shop empires with Shopify up to 6 or 7 figures annually.
However, I get it.
Shopify is NOT for everybody.
Whether you're looking for an alternative just to analyze your current options or you're searching for some alternatives to Shopify due to expenses or other factors, we've got you covered.
Sometimes it can be just that a client doesn't have the budget to work with Shopify. Or maybe they feel more comfortable using WordPress as their website is already built-in (WordPress owns 35% of the CMS market worldwide).
Or perhaps they've found another useful feature that can't be deployed on Shopify without an expensive plugin or proper coding. In this article, we'll cover the top 10 recommended Shopify Alternatives to building a successful online store, along with their pros and cons.
Let's get started 🙂
1. BigCommerce
You will notice most lists include BigCommerce at the top for a good reason. They're good. BigCommerce is a great alternative to Shopify with great features and a standard plan starting at $29.95 per month.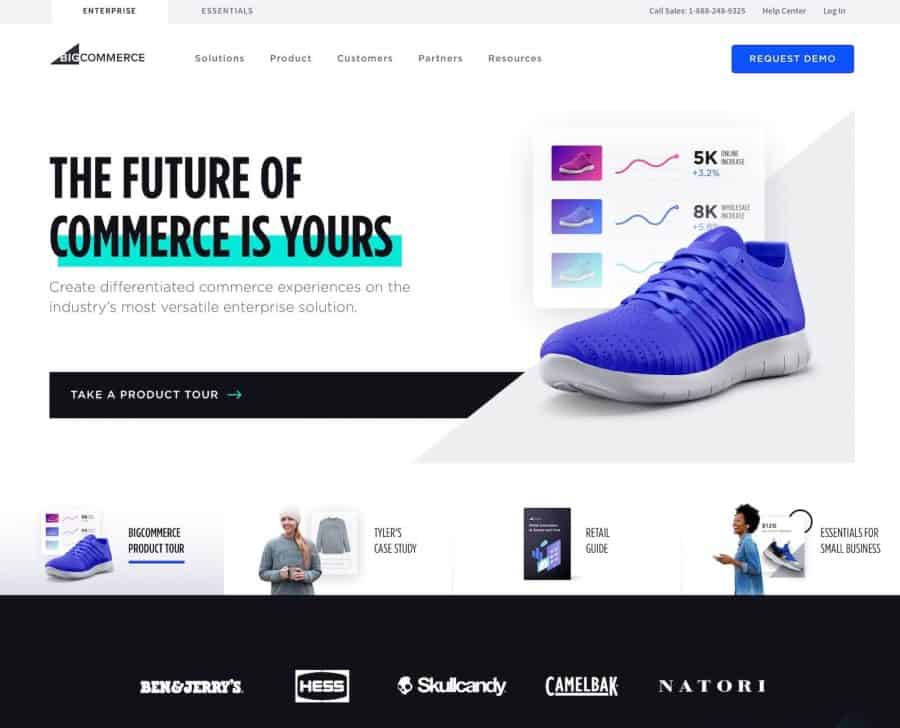 Their features make it a great contender and it's worth a shot if for some reason Shopify isn't for you.
They have a huge themes database and they are stunning, but you only get 7 of those and the rest are premium, which means you need to pay an extra.
BigCommerce has a lot of features so you won't need to spend money on them as you would with Shopify though. BigCommerce is user-friendly and they offer 24/7 support. Everything is cloud-hosted so you won't need to worry about coding or servers.
BigCommerce Pros
Good SEO performance
Unlimited Products
Great themes
No transaction fees
Multi-Channel Sales
Cloud Hosted
Tons of features
Cheaper than Shopify
International support
Single Page checkout
Unlimited staff accounts
Big Commerce Cons
Not as many designs as Shopify
Abandoned Cart Recovery only available at higher plans
The app ecosystem isn't as big as Shopify
Fewer clients than Shopify
Fewer developers focus on BigCommerce
BigCommerce Pricing
Standard: $29.95 (15-day trial) per month
Plus: $79.95 per month
Pro: $299.95 per month
2. WooCommerce
WooCommerce is another very popular option mostly because it's a plugin for WordPress that creates an online store. While you can install WooCommerce in just a few steps, the full configuration of the platform, payment methods, and design of your store still depends on how good you are at using WordPress.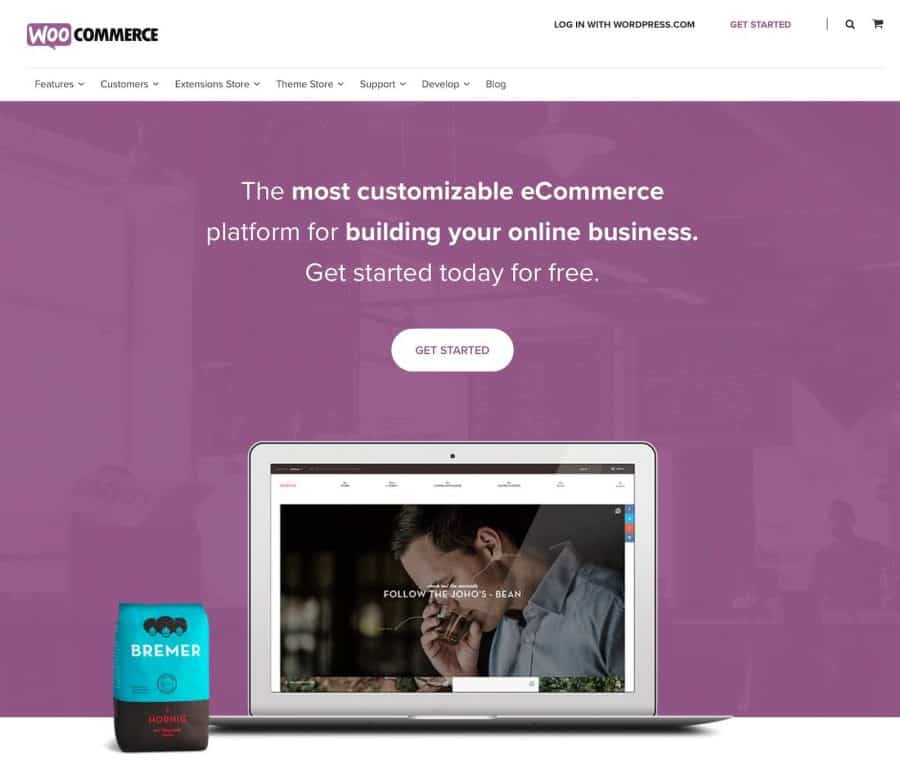 Because of that, WooCommerce is a great Shopify alternative if you feel comfortable building WordPress sites and you're good at maintaining plugins, databases, and have a decent performing server for hosting.
The plugin is free, which is another valuable benefit for people who already work with WordPress, but if you're not familiar with the platform it can get convoluted and difficult to use (also slow) so don't take this route just because we said it's free.
WooComerce also has a ton of plugins and add-ons you can install on your WordPress dashboard. They all end being less expensive than Shopify just because you normally pay for them once, instead of paying them in a recurrent membership subscription.
However, if you ever have problems with your WooCommerce install, start praying if you're not a WP developer because there won't be any support to help you. You can always check the communities online but everything is up to you.
WooCommerce Pros
No transaction fees
Free if you have hosting or a WordPress website
Setup in minutes
WordPress integration
Tons of apps available with a 1-time payment model
Great for SEO as WordPress usually is
No memberships or recurring fees
You have complete control of your code and server
Blogging is super easy with WordPress
WooCommerce Cons
Not self-hosted, so you still require a server and the knowledge to get started
It can be as slow as your server
Requires WordPress skills
Themes and designs are up to you (there's plenty of them though)
Slow out of the box
Compatibility with themes and plugins is up to each developer
WooCommerce Pricing
Free: Hosting and themes/ plugins cost not included
3. Volusion
Volusion is another Shopify alternative that has similar price ranges and a lot of features with great designs/themes available to create your store.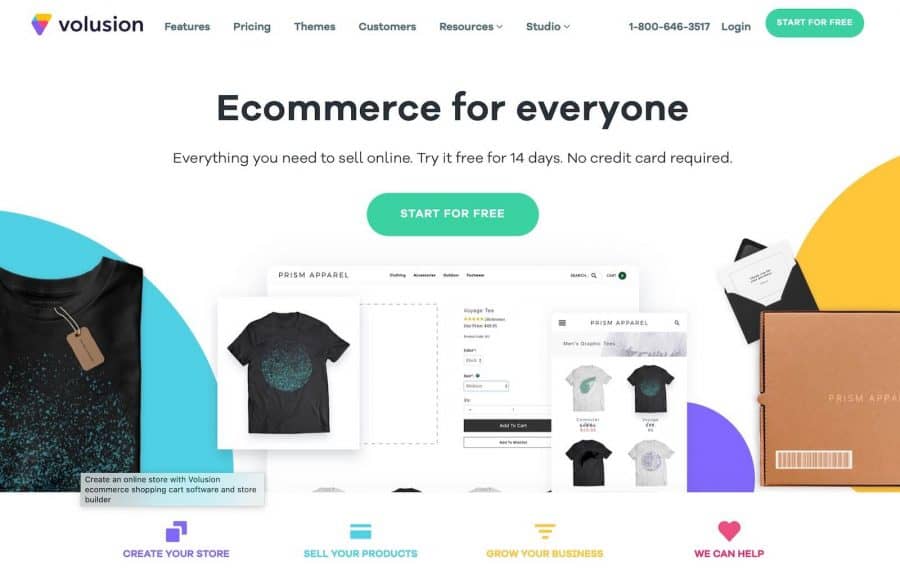 They have grown considerably in the last years and have moved from being a new brand in the market who nobody used to recommend, to a powerful eCommerce platform recommended by many people.
Volusion Pros
Easy to use
Unlimited products
No transaction fees if you use your own payment processor
Decent Themes/designs
Mobile App
Good website speed
Volusion Cons
Not as many features as other solutions
Monthly Bandwith limits (really?)
Coding skills might be required
No SEO focus
Lack of integration
Lack of apps and add-ons
Volusion Pricing
Personal: $29 per month
Professional: $79 per month
Business: $299 per month
4. 3DCart
Another player that a few years ago wasn't on the radar, yet 3DCart offers a ton of features besides the online store basics including affiliate programs, support for dropshipping and similar pricing schemes as Shopify and the other alternatives in this industry.
Prices start at $19 per month with basic functionality but can go up to $299 per month.
3DCart Pros
Supports external payment gateways
Unlimited products
Great loading times
No transaction fees
Tons of features
Starts at a lower price than Shopify
3DCart Cons
Themes look outdated. They offer in-house design services.
Mobile UX not as good as Shopify
Support doesn't seem to be as good as other options
Not great for DropShipping
Some coding skills needed
3DCart Pricing
Startup: $19 per month
Basic: $29 per month
Plus: $79 per month
Power: $129 per month
Pro: $229 per month
5. PrestaShop
PrestaShop is an eCommerce platform that has been available for a while and it used to be one of the top contenders before Shopify's days of glory. Today, it's still a good alternative and they offer a self-hosted service or you a cloud service with everything done and managed for you. It could still be one of the best Shopify alternatives for you.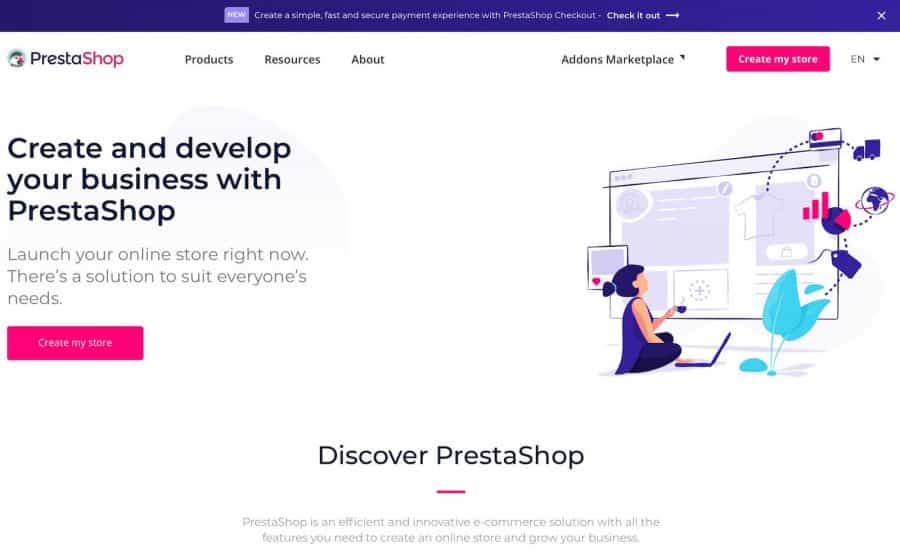 The basic platform is free to use, although you need to start throwing money at it once you want to add plugins and improve your online store with the add-ons.
Prestashop only includes a pre-installed theme but you can install more from third party providers.
PrestaShop Pros
Free if you self host
Easy to use
No transaction fees
A good set of features
Good support
PrestaShop Cons
Few available templates unless you pay for one from the marketplace
Requires tech skills if you're going to self-host it
Not as many features as Shopify
Expensive integrations
PrestaShop Pricing
Free is you self host it. Plugins, themes, and integrations not included.
6. Squarespace
Squarespace started as a simple blogging platform almost a decade ago. I even reviewed it in the past when I was considering the switch from WordPress mostly because they really have gorgeous, minimalist themes.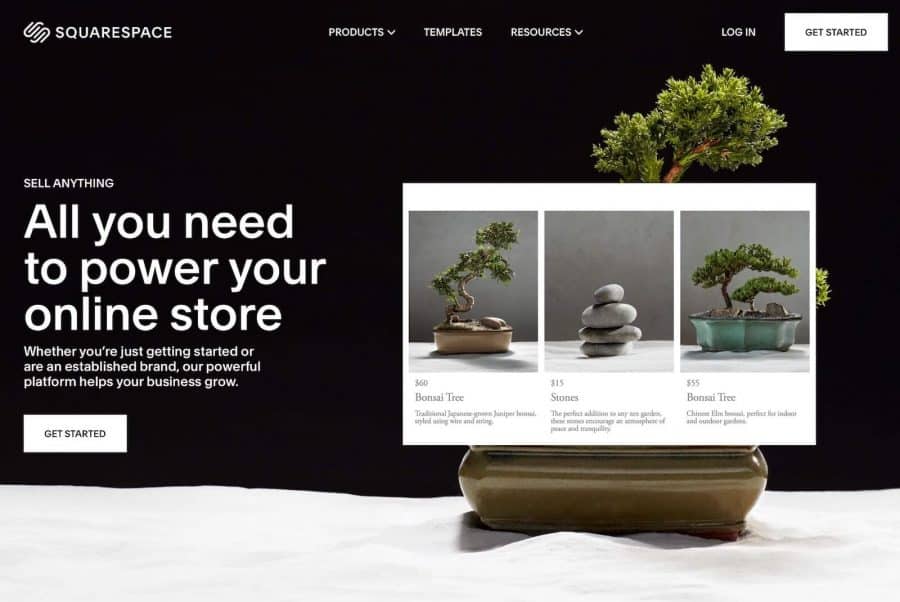 A few years ago they added eComm functionality and they have been improving in many areas to offer fully-fledged websites for everyone and not just simple bloggers, making a great Shopify alternative. They still market themselves as website builders for Musicians, Artisans, Bloggers, etc., but their integrated analytics and eComm features make it a very appealing alternative if you're willing to pay the price, which by the way, is on par with most options out there in the industry.
While their websites look great, you have limited options compared to other solutions so if your end goal is to increase conversion rates maybe SquareSpace isn't for you.
Squarespace Pros
Easy to setup
Beautiful designs
Ideal for minimalist and simple stores
No transaction fees (only 3% in the business plan)
Easy to edit and build sites without coding skills
Great for blogging
Strong SEO foundations
Engagement features
Squarespace Cons
No multi-channel sales
Add-ons and extensions are limited
No apps store or marketplace
Limited plans available
Squarespace Pricing
Business: $26 per month
Basic Commerce: $30 per month
Advanced Commerce: $46 per month
7. BigCartel
BigCartel is another Shopify alternative that has gained traction in the last few years. They are an alternative targeted for artists, with unlimited inventory and bandwidth and at a cheaper price.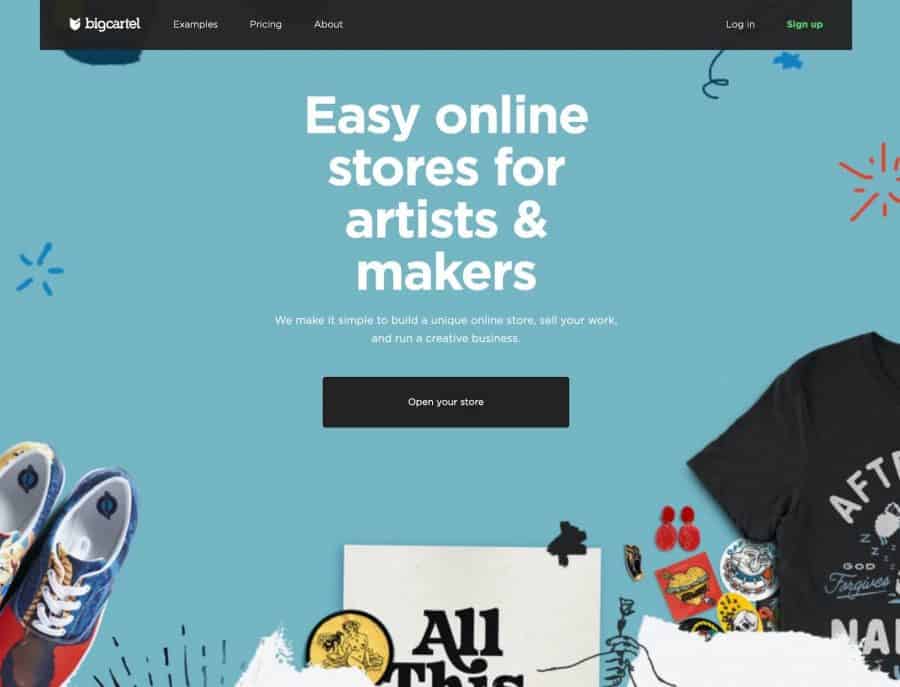 BigCartel is limited if you compare it against Shopify, but it's perfect for people who are just getting started or the classic mom and pop stores as side hustles.
You can try the free plan and then switch to the paid plans starting at $9.99 to see if it fits your needs.
BigCartel Pros
No transaction fees
Free plan for starters and lower pricing
Easy to use
Budget-friendly
No coding required
BigCartel Cons
No support or lack of it
Not ideal for large stores
A limited set of features
No search function
BigCartel pricing
25 products: $9.99 per month
100 products: $19.99 per month
300 products: $29.99 per month
8. Magento
Magento is an open-source platform that has been helping people build online stores for several years. It's one of the original gangsters along with PrestaShop and WooCommerce.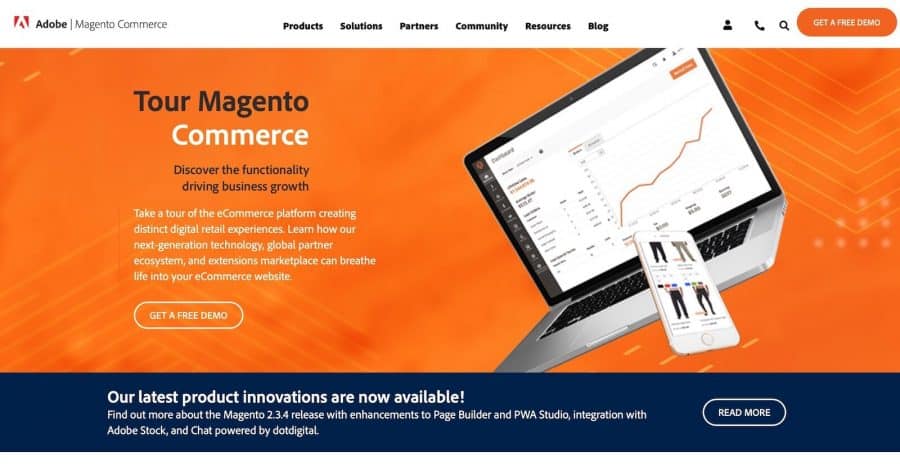 That platform allows a ton of customizations if you know how to code, which makes it very powerful but at the same not as popular as other platforms as many people who build stores want to focus on selling and marketing instead of coding and developing.
You need to download Magento and host it in your own server, which also means it's similar to what you need in WordPress but their client base is not as big (not even close).
If you're a developer or tech-savvy and like this type of challenges then it might be a good fit for you though.
Magento Pros
Strong SEO foundation
Free. No monthly payments
Responsive designs
No transaction fees
Advanced customization
3rd party support with tons of extensions and plugins
Magento Cons
Requires coding skills
Needs your own hosting
Not for newbies
Enterprise edition is expensive
Magento Pricing
Free: Open Source but some paid extensions and themes not included
9. Wix
Wix is one of those website builders that have gathered a lot of hatred amongst SEO and coders because of the simplicity and lack of customization, yet they're still thriving and growing because they know how to target a segment and market themselves.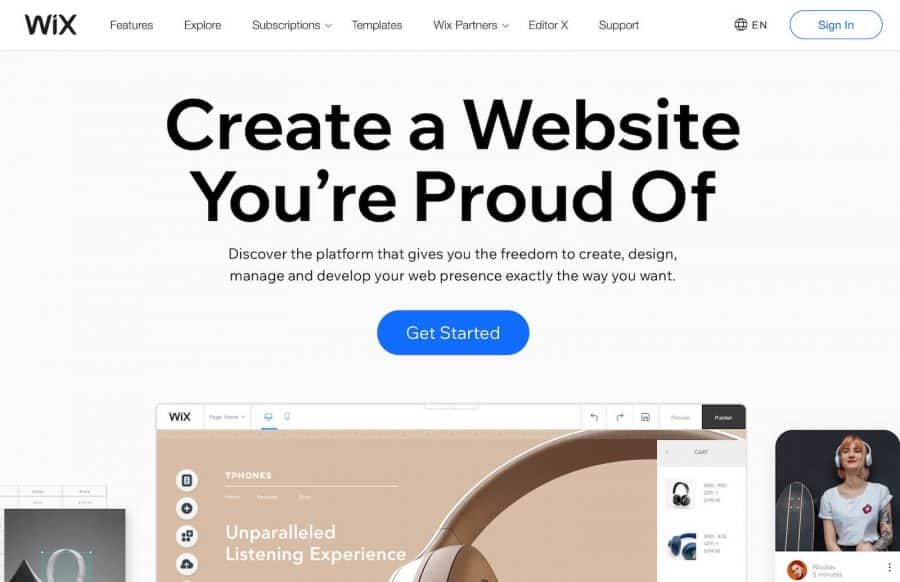 Wix went from being a simple layout website builder to being an actual robust website builder to offer also online store creation in a few years. Similar to what happened with SquareSpace, they allow you to create beautiful websites with no coding skills needed and they provide the whole cloud platform for you.
You can add tons of apps, add-ons, and plugins to your website at very affordable rates, giving them an edge over Shopify and making it a great alternative.
Starting at $16.5 per month, Wix offers enough to get started in your eCommerce career.
Wix Pros
Easy to use editor
Great set of features
Hundreds of templates
No transaction fees
Free plan with Wix branding
HTML customization
Scalability as it's cloud-hosted
Wix Cons
Bandwidth/traffic limits (really?)
Limited apps compared to Shopify
SEO is not their forte
No multi-channel sales
No 1 click upsells
No abandoned cart recovery
Starter plan includes ads
Wix Pricing
Business Basic: $11 per month
Business Unlimited: $14 per month
Business VIP: $16 per month
10. Weebly
Similar to Wix and SquareSpace, we have Weebly. Weebly is another website builder with their tech being behind SquareSpace in my opinion, yet it allows you to build an eCommerce store if you need it.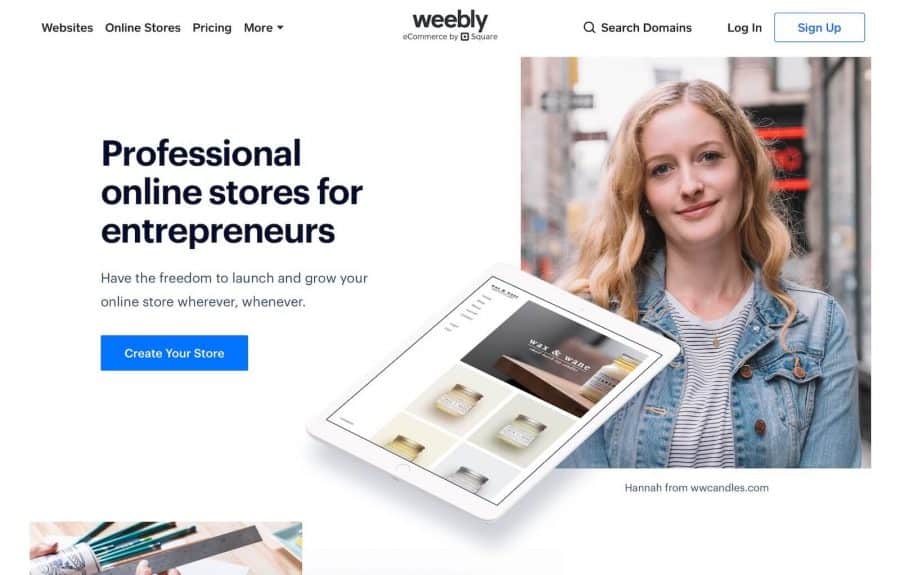 The platform started as a website/blogging platform, yet it has also grown a lot and their plans are very affordable.
Weebly Pricing
Pro: $6 per month
Business: $13 per month
Business Plus: $19 per month
Are these Shopify alternatives good enough?
For most people, yes. There's practically an option for every person based on their needs and budget.
However, Shopify has been the defacto app for eCommerce lately because it's easy to use, has a ton of apps and simply offers great extensions to increase your conversion rates. At the end of the day, more sales and more revenue beat pretty much anything else.
For everybody else, there's a solution available whether you're a skilled coder or a simple mom trying to make some extra income on the side.