Let me show you how I went from position 20 to position 3 in a post that had been stuck for 12+ months without any additional backlinks just by applying a simple and well known on-page SEO strategy.
I said it's a well-known strategy because if you're into SEO you've probably heard about the basic tips to do proper on-page SEO. Things like:
Create a strong interlinking between posts (or create silos or other similar strategies)
Avoid duplicated and thin content
Don't focus on just 1 exact keyword and over-mention it in the article
Fill your meta tag descriptions
Put keyword in images, alt text
etc.
I'm sure you've read many times stuff like this and perhaps even applied it when starting a new website, but the truth is the difficult part about SEO has always been backlinks (off-page SEO).
Also, there aren't many public case studies about this, so many times for people getting started this (on-page SEO) sounds more like just theory and they're not able to put it in action because they're lacking in the off-page SEO department.
Google thought this well as backlinks are the most difficult part of an SEO strategy and since it goes out of your own control Google has decided to make it the most important factor.
Of course there are people who control and manipulate off-page SEO to their will, but it would be so much easier if on-page SEO was the 80/20 of the efforts you need to rank.
Because of this, many webmasters forget about on-page SEO and focus on backlinks while building their authority. Sometimes we just need to go back to the basics to prove things work and so I prepared a simple case study to validate that a strong interlinking can do wonders if you've got some authority on your site already.
We couldn't break position 20th (page 2)
In one of my sites (I'll not reveal the domain for obvious reasons) I had a post ranking in the position 15-25 of for about a year or more for a low competition but profitable keyword.
After all, the site was ranking for many other keywords and making good money, but I decided to revisit its internal linking to see if I could improve the rankings for 2-3 posts that hadn't been able to break page 2 of Google.
Here's how the keywords (2 keywords but pretty much the same term) went from position 20 to 3 after 2 weeks of making this small on-page SEO change:

As I mentioned before, the keywords itself were considered easy, yet my site with its low authority couldn't break into page 1 and the URL had just a few external backlinks.
Ahrefs considers the keyword to have a difficulty of 6 with a search volume of 600 in the USA and around 1,000 worldwide.

The website I'm using to rank those keywords itself has a Domain Rating on Ahrefs of 15 so it's not a new website but it can't be considered a high authority website either.

Based on this website's ranking, if we add posts focused on keywords with super low competition (keyword difficulty 0-5) they will get ranked in the first page most of the times, however keywords with higher difficulty won't make it to the first page without additional backlinks and that was the case of the keyword we're analyzing in this case study. We just couldn't make it past position 15.
On-Page SEO was the answer
I decided before trying to earn some additional external backlinks to see if we could get this keyword to move into page 1 by applying some basic SEO tactics.
The post had been published over a year ago, so I decided to make an update and add a couple more paragraphs for a total of 2,500 words. I also double checked everything to see if it had the correct meta descriptions and it was indexed in the SERPs without duplicated/thin content.
After that we decided to analyze its internal backlinks and we found it only had 1 mention from another weak post in the site. It also had a few no-follow posts from the comments section where people asked about something and we recommended them to read the article.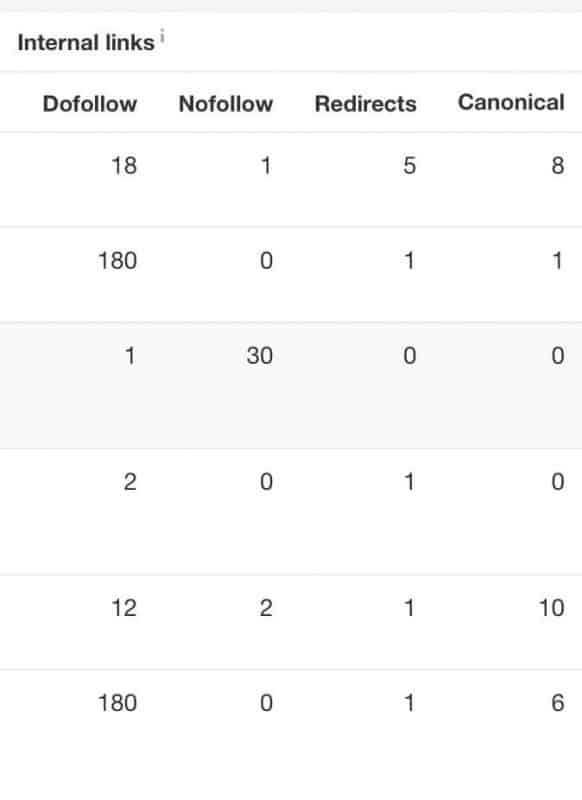 While I'm using the Ahrefs internal backlinks tool to check this, there's an easy (free) way to check internal links. If you use the Yoast SEO plugin just go to your posts section inside the WordPress dashboard and check out this column: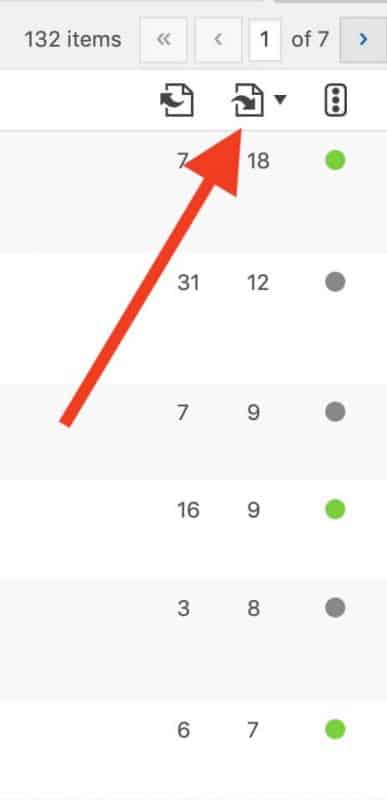 There you will be able to see how many internal links at coming to each post. If you find out that a post that's not ranking has 0 or less than 2-3 links you might be able to improve its rankings just by interlinking to that post from additional pages.
The best way to do this is by using some of your strongest pages (the ones with more backlinks and authority) and not just several random pages.
I decided to fire up Ahrefs again to analyze the top pages of that website by links and URL rating. As you can see in the following picture most of the pages will have a UR (URL rating) of 11 or less. However, there's a few pages with higher ranks based on their authority and in this case the page with the highest UR is the homepage with a UR of 25.
So, we pretty much selected 3 of the top URLs with the highest rank (not the homepage in this case though) and we conveniently linked from those pages to boost the rankings of the post we wanted to rank.
Needless to say, you should do this process by linking to your desired page when it really makes sense. Since it's your own website you should be able to add a paragraph or two and make the link relevant to the original post.
Also, if you have a large website with a ton of authority and hundreds of indexed pages you shouldn't use the same anchor text as it would be suspicious.
Let's say you want to create 7 backlinks from other high authority pages within your website to a post ranking for the term: top 10 drones 2019.
Instead of linking with that same anchor text from all of the 7 pages you can use anchors like:
top 10 drones
best drones available
our top drones listed here
check this list
top drones 2019
out best drones for 2019
top drones 2019
If you're creating just a couple links it might be OK to use the same anchor but if you're creating several new internal links it looks suspicious if they all have the same anchor even within the same website. I've overdone this a few times and noticed the links weren't as effective as when the anchors are distributed with different keywords.
I made this change around the end of October and then just left the website alone to see if anything would happen.
After almost 2 weeks we noticed a sudden spike of traffic and our keyword rank tool notified us of a sudden change from position 15-20 to position 3-4.
Based on Google Search Console Data, the keyword had an average position of 22.4 and 61 impressions per day.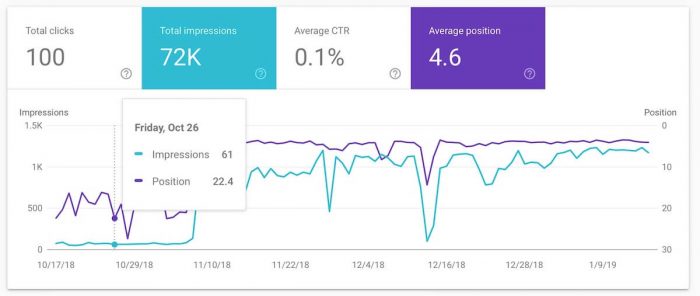 After the change, the keyword had an average position of 3.8 and 1,200 impressions per day (the number of impressions changes a lot when your position goes from page 2 to page 1).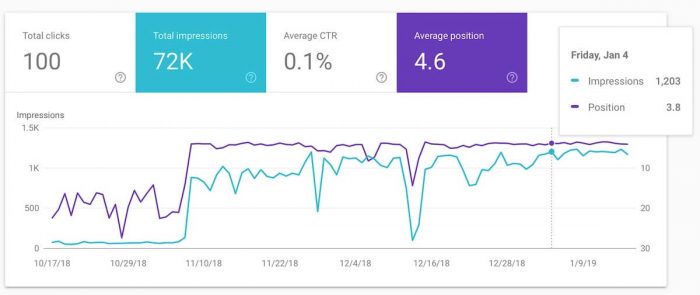 As you can see from the screenshot above, there were a couple days were the rankings went back to position 20 or so but they came back the next day.
This keyword by itself only drives a few dozen visits to the website but the conversion rate is good and generates a few hundred USD per month. It could potentially generate thousands if he hit position 1, but this is also a keyword where ads take up the first spots and a good chunk of traffic clicks through those and get their problems solved without clicking the organic results.
Is the keyword still ranking after 3 months?
I kind of spoiled the last part of the article with the screenshots from Google Search Console, but as you can see, the keyword is still holding its rankings after 3 months. I've noticed the keyword now dances between position number 3 and number 5, but overall, it's steady with an average position of 4 (both keywords are represented with the blue and green lines):

What interests me even more is the fact that making this quick change that literally took me 10 minutes also helped another keyword (see orange line in the graph) in the same post to get ranked that went from position 40-50 to position 10-15.
While it's taking time to break into the first page of Google, that keyword alone has almost 10,000 searches per month so it's driving a good amount of traffic from page 2, and it could send a ton more once it consolidates in page one. However, I don't expect that to happen without some additional external backlinks so I better start working on it.
What can you learn from this?
The message of this case study is simple. Don't forget about the basics and check your on-page SEO at least every few months.
Interlinking old articles from new articles and new articles from old articles as well as making sure you don't have any on-page SEO problems can really give you a boost in your rankings when your site has some authority already.
If your website is new, you probably won't see any changes as all of your pages will have the same authority (zero). Unfortunately, new people are the ones that focus more in their on-page SEO instead of focusing on off-page SEO and content.
But if you have been working on your site for a few months and you've got some authority and pages already ranking in Google it might be a good time to re-check your content and make sure you have a strong internal linking strategy to make the most out of your link efforts.
If your site has a medium or high authority with hundreds or thousands of indexed pages this could pack the juice you need to improve your keyword rankings and it only takes a few minutes to implement the changes.