What is AdSpyglass Media Kit maker?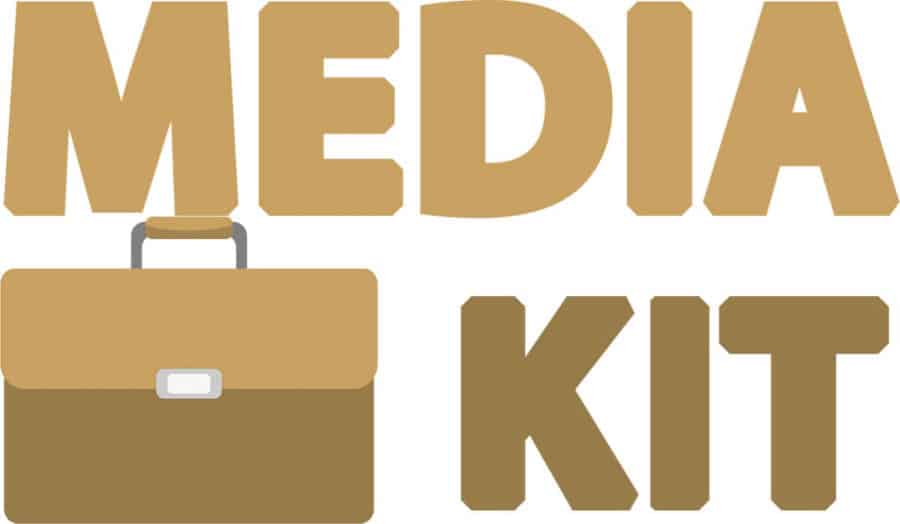 Recently, AdSpyglass which is a well-known company in the world of webmasters and advertising released a breakthrough product that is going to turn over the understanding of how to sell traffic profitably
In this overview, we'll tell you about the key aspects of the new solution, dive deeply into the principle of working and its innovativeness, and find out who can really benefit from using the AdSpyglass Media Kit feature.
Let's go.
What is a Media kit and why do you need it now?
The definition of advertising media kit
A media kit is a section of your website which is needed for displaying your advertising capabilities and traffic performance. Every direct advertiser is interested in viewing the page to learn more about your traffic and the potential of direct cooperation with you.
Until recently, media kits were popular among large websites and media holdings only. But, with the launching of the AdSpyglass product the opportunity of owning your personal media kit is opened for everyone.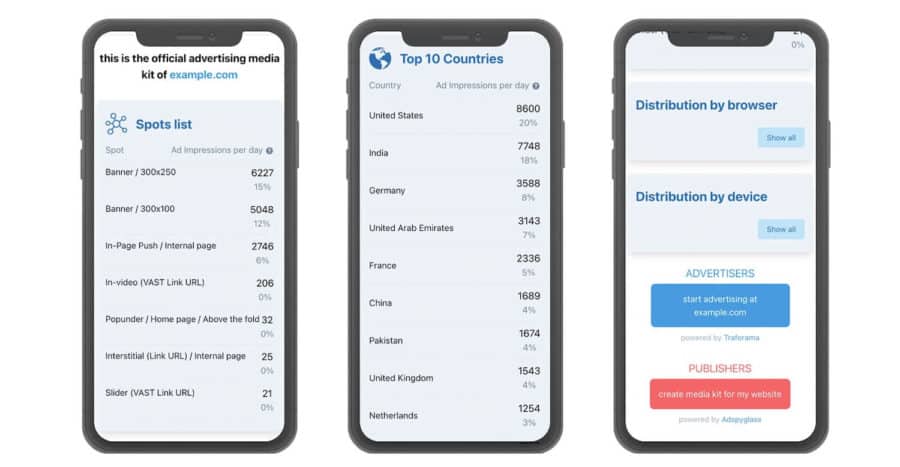 Why do you need to create a media kit for your website?
Let's look at why we think that having a media kit is a "must" and not some sort of whim anymore.
Media kit presence is a bright indicator that signals that you're completely ready to work with ad vendors and advertisers directly.
Also, it shows that you have established all the needed arrangements for proper cooperation in terms of selling direct traffic.
You're highlighting the gravity of your resource and your personal solidity. Basically, it's some sort of proof that you're able to conclude a business deal. (And it's crucial)
Save the time that you spent on empty talking with Ad Networks, Vendors, and advertisers when they ask about some specifications of your traffic. Now, all of them may be forwarded to a single webpage with answers to all of their questions.
As you can see, this list is full of important things and each point can barely be determined as optional. The paradigm has changed, and now having a media kit even for small projects is a market's standard.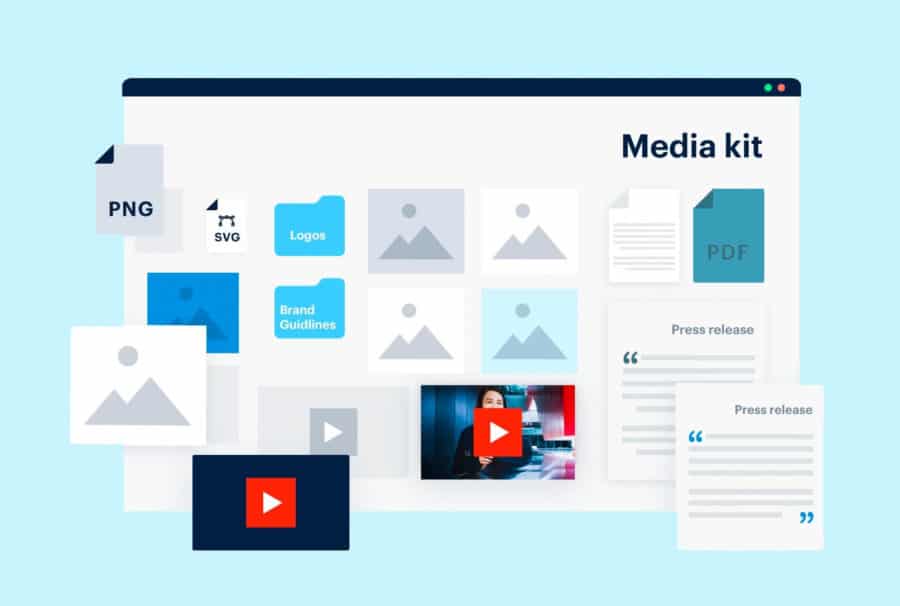 How to create a media kit using AdSpyglass?
The main value of AdSpyglass for media kit-making purposes is its simplicity and fullness in the matter of complement tools that are needed for selling your traffic. In a nutshell, it means that with AdSpyglass you may not only create the media kit but also manage and sell your traffic with advanced flexibility. Let's learn what stands behind these words.
Link: adspyglass.com/media-kit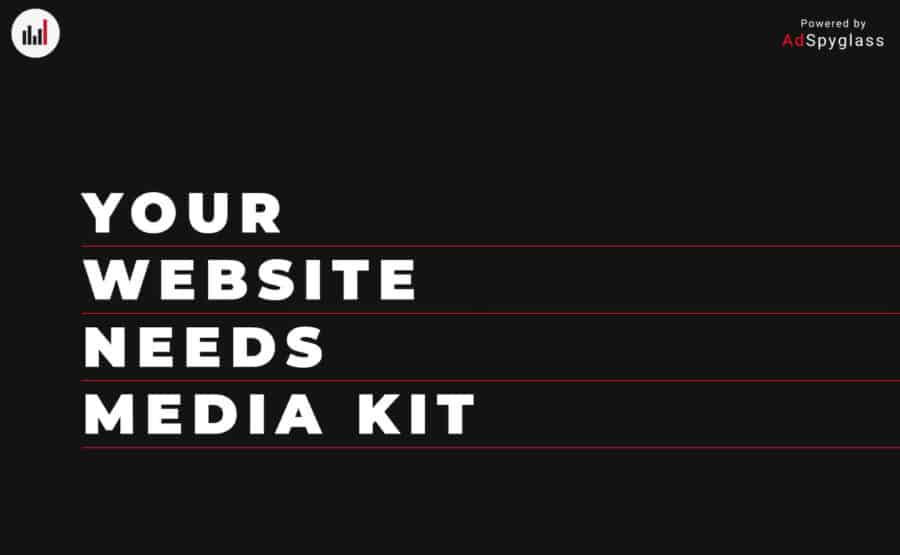 The process of composing a media kit
To use the service you need to be a registered user. So, we recommend starting by visiting the AdSpyglass Media Kit landing page and familiarizing yourself with the full list of features of the platform. Then, you need to sign up and create your account.
Then, you need to go through a brief configuration procedure. There is a great customer support widget, so you won't get lost in the system in case something is not clear. Afterward, you can access your website settings and create Media Kit.
As soon as your media kit has been created, you will be able to customize it to ensure the one is aligned with your website design. Adding a branded logo and background color changing is available for these needs.
Then, you just need to make your media-kit visible for your visitors by adding a link to your website. You may add a special website section that will lead advertisers to the page, or add a link to your footer. That's up to you.
That's it! Get ready to receive inbound advertising requests and handle those queries much more effectively. In the meantime, the AdSpyglass account will be helpful for you to sell your traffic in accordance with the advertiser's targetings.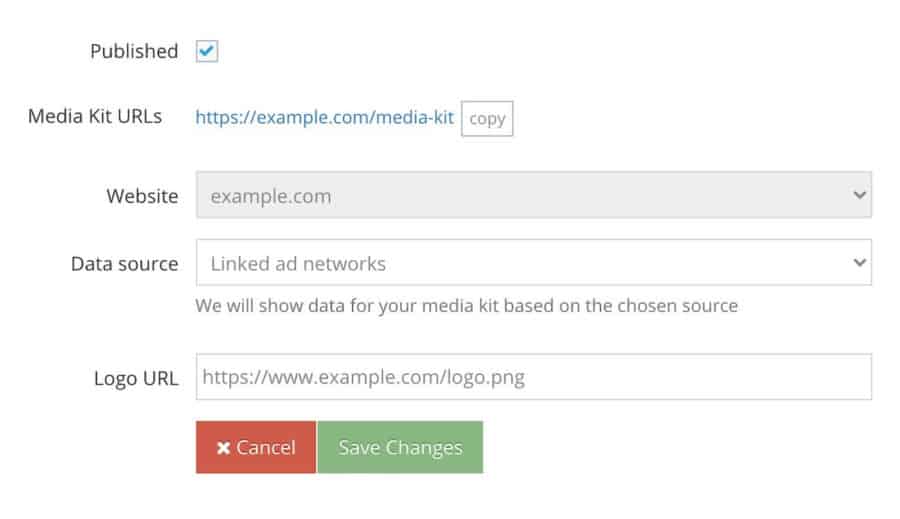 How will you benefit from having a media kit created with AdSpyglass?
As it has been already mentioned, AdSpyglass Media Kit is not only about visual appearance or creating a fancy web page. What is also greatly important is the platform's abilities from a traffic-management standpoint.
Working with direct advertisers via AdSpyglass
Once you've made your media kit and walked through the configuration process you'll get ready to use AdSpyglass as an Ad Manager and get all advantages of direct cooperation.
Technology and Infrastructure behind AdSpyglass Media Kits
Media kit technologies
You don't need to worry about the technical bottlenecks of implementing new technology for your website. AdSpyglass Media kit is a ready-to-use solution that doesn't require any technical experience.
Our pre-built media kit templates are already optimized for all devices and developed following the best practices of modern UX and UI.

Traffic Management System
In addition to the Media kit itself, AdSpyglass will provide you with the whole infrastructure needed for direct cooperation with advertisers.
You'll get full control of your traffic and get detailed stats about your website's performance. You'll also get the ability to slice your traffic to sell specific targetings to your advertisers.
You don't need to worry anymore about reports, statistics, and billing stuff – required by almost all serious advertisers. AdSpyglass will take care of all of these things for you.

Summary
As we figured out, there are new standards that appear in the market. And it is extremely important to keep your website updated and aligned with new rules.
Media Kits are just a perfect example of the technology that is aggressively pursuing the market and engaging webmasters to actively use it.
However, we can boldly state that mass implementing media kits for mid-sized and small websites is a positive aspect that is pushing progress in the market forward.
Especially, you may benefit from the new trend if you're using AdSpyglass Media Kit. As we learned, the solution lets you not only create media kits for all of your websites but also manage your traffic and cooperate with advertisers directly.
We recommend starting your experiments with Media Kits specifically from AdSpyglass. Good Luck!