Ahhh. Twitter Ads. That untapped source a lot of people are just ignoring because it's not as famous as other ad platforms like Facebook, Instagram, or Google Ads. For years I've been just ignoring Twitter Ads as well as we already have learned and kind of dominated many traffic sources and we can't really learn more than 1 or 2 per year. But a couple of months ago I started wondering: How much do Twitter Ads cost? Are Twitter Ads worth a shot?
And now I'm here writing this post after 2 months of testing so you don't have to spend your own money to figure it out.
Let's get started!
First of all, keep in mind I've been using Facebook Ads since 2013. My first approach to paid traffic happened after one of the algorithm updates where Facebook decreased my reach from 10% to less than 1% of the fans on one of my viral pages. Not surprisingly, they still do this from time to time as they tune their algorithm every 6 months or so.
Stream SEO has always been a site focused on organic traffic, so while I have spent 6 figures with FB ads in the last years running affiliate marketing or simply building and growing other websites for me or my partners, I have never focused that much on running FB ads for Stream SEO directly.
I have used Facebook Ads in the past to sell eComm products like T-shirts, Print on Demand products (read here), and running affiliate offers. We even used FB Ads to launch a course in 2017-2018 and it's my favorite traffic source to kickstart a project.
It is also the most competitive social ad network to work with, and the prices have risen every year since 2013. Yet many people ignore other sources like Twitter Ads or Linked in because we know they aren't the biggest players and there isn't a ton of information around to learn how to master those paid traffic sources.
I am one of those who ignored Twitter Ads for the last 6 years but finally in 2019 I decided to start testing them. My goal in this post is to simply make a test to see how good of a fit can Twitter Ads be for bloggers and small entrepreneurs that want to learn how to use Twitter to start getting traffic.
Here's a view of Stream SEO's traffic sources distribution according to SimilarWeb:

SimilarWeb isn't 100% accurate but it gives you a good idea of where my traffic is coming from in Desktop devices.
Social represents only 2% of my traffic according to them, and that's pretty low. Even email has a higher percentage but I send emails every time I write a new post so it shouldn't be a surprise.
Close to 70% of my traffic comes from organic searches and that number is close to what my Google Analytics reports say.
Am I a Twitter hardcore fan?
The answer might be obvious but in case you haven't noticed, I'm NOT a super fan of Twitter.
The social network I use the most is Facebook since I also use it to keep in contact with my friends and family with the messenger application.
After that, it's probably a match between Instagram (which is completely connected to FB), Twitter, and Reddit.
But I use Twitter for a very different reason than Instagram and FB. I use Twitter mostly to learn and contact people in the industry. That means I'm not watching videos of cute cats on Twitter as opposed to Instagram and I'm not watching the latest photos of my parent's trip as I do on Facebook.
They all have different purposes, and for me, Twitter is a place to learn and keep up with industry-related stuff and also a place I lurk every day for 15-20 minutes.
Just to give you an idea, I almost never tweet and my average number of tweets per month is close to 0. Some months I tweet a couple of times. Some months I don't tweet at all.
I'm mostly a lurker…
My Twitter account had around 2,100 followers in December 2018 and between a Tweet and maybe a couple of Retweets from people mentioning me I reached 1,597 accounts and got 7 new followers.

Some months I get 5 new followers. Some months I get 1 new follower. All because of my inactivity. In fact, I wouldn't have 2,100 followers if it wasn't because of I link to my account here at Stream SEO's sidebar.
Now I don't know about you, but if you compare a reach of 1,600 having 2,100 followers, you'd know Twitter has potential if you compare it to Facebook Fan Pages, where my organic reach could be 100 persons from 6,000 followers.
So, I decided to make a test and be a bit more active in January 2019 just to see how good was the reach in my account. I posted about 4-6 tweets (although later I had to delete some of them due to a plugin error from WP). And also commented and retweeted a few more times than normal.
The result:

22 new followers and a reach 3 times higher than my follower's number. It's like going viral on FB back in the old sweet days where you didn't need to pay for ads!
And so, I decided to make a simple experiment with Twitter Ads to see how it could affect my follower's account and engagement, as well as if I could use it to drive traffic to my website (Stream SEO).
At the end of January, I started running Twitter Ads and so far, I've spent almost $100 in the last couple of months, with a total of over 20,000 impressions JUST from the ads.

Now I wanted to keep this test small and simple because, for bloggers who want to take a shot at Twitter Ads, they probably won't spend 4 figures per month in the beginning. Most bloggers could spend a few dollars per day and then if they see good results it would be good to consider scaling things up.
$100 is a small budget that I think most bloggers can set aside for their blogs on a monthly basis as long as it's already making some money.
But this limited budget also means I can't run as many tests as I'd like to. I'll be updating this post in the future with more tests in different countries, devices, twitter types of ads, etc.
My main focus in this 2 months test with a $100 budget was mainly to drive traffic to a post, as that's what most bloggers would probably focus on (either that or lead generation).
Twitter Ads Cost – The results
According to Google Analytics, I received 7.9% of social traffic here at Stream SEO in the last 30 days. That's quite an increase from 2% if we remember what SimilarWeb said about my site.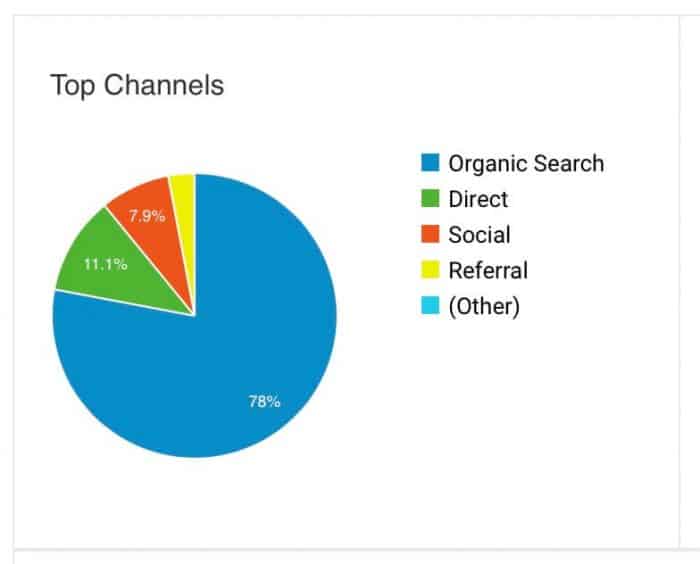 If we see the detailed information per social network you'll notice Twitter is at spot number 3, with 259 visits in the last 30 days. Blogger (I don't really count it as a social network but whatever) has sent a similar amount of traffic and then a similar amount comes from Youtube and Reddit as well. I don't focus on Reddit or Twitter though.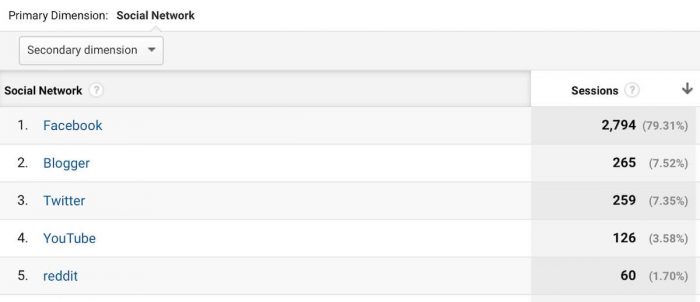 Facebook has 10 times more traffic than Twitter in the last 30 days because I decided to make a test with FB ads so we could compare them to twitter, but I'll explain that later.
In this test, I decided to keep it simple. Once you have a Twitter account and depending on which country you live, you'll see twitter asking you to promote posts automatically by using their "Promote Mode" where pretty much every Tweet you publish, no matter what it is about, gets an impulse and reaches more of your followers.
This feature is similar to Facebook's automatic Boost post that promotes all of your posts to your fans and their friends. While this strategy sounds interesting on paper, in reality, is mostly sucks and it's a way to make Twitter and FB more money in the long run.
If you really want to start harnessing the power of FB or Twitter, you need to go into segmentation and prepare the post for your audiences.
In the case of Facebook, you add interests and segment your audience by gender, ages, devices, and other filters.
With Twitter Ads, you add twitter accounts so you can promote the posts to their followers and you can also filter things like devices, countries, carriers, etc.
To keep it simple in this case study and considering most bloggers will get started by sending traffic to their posts, I selected one of my latest case studies published in the blog around SEO and boosted that post in my accounts.
Here are the results and costs for Twitter Ads:

With close to $100 spend, the results are:
20,798 impressions
Average CPM of $4.6 (not so expensive)
385 clicks
1.85% CTR (pretty average number. I wouldn't consider it good)
$0.25 CPC or cost per result
Keep in mind this is a campaign I targeted in the USA, and we all know how the USA is one of the most competitive geos in every ad network.
I added several twitter accounts in this case of people who could be interested in the SEO case study including ahrefs, smartpassiveincome, mattdiggity, semrush, etc. I also left both mobile and desktop traffic for this campaign enabled.
That's around 4 clicks per buck, which isn't that bad if the traffic is well segmented and targeted for the USA.
Here's the ad and the results it got besides the traffic we received during these days: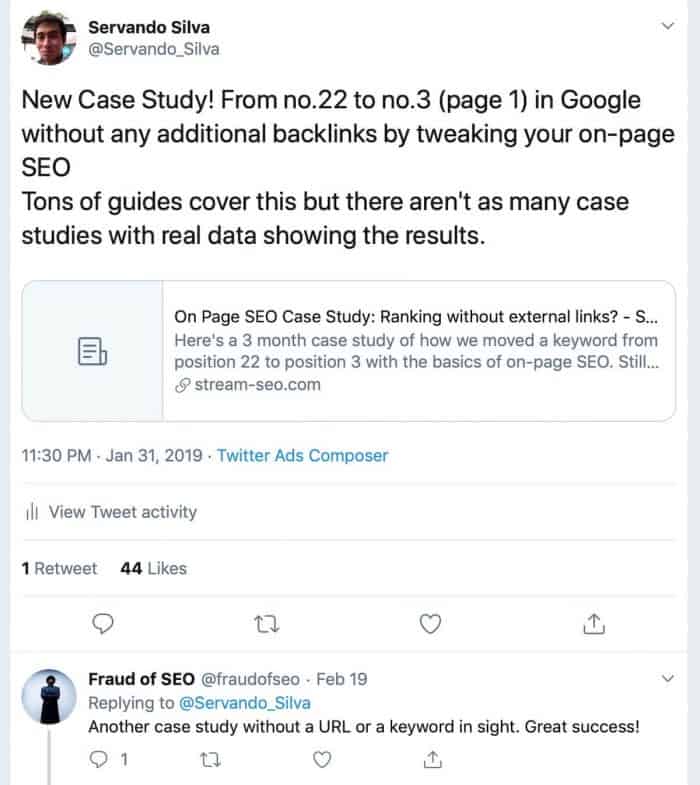 I left that comment on purpose because from the 385 clicks I received, only 1 person retweeted the post and 44 liked it, yet the only comment we got was one implying I'm a fraud LOL.
I wonder if the tactic of calling someone a fraud so they feel chickened and reveal their URL works for real, but obviously I wasn't going to reveal the URL if the case study to get much more competition. It's just plain dumb.
Overall, my Twitter account did notice a good change of impressions and also profile visits.
We went from 6,000 impressions per month in January to 16,400 impressions per month in March:

Twitter also says I got 459 profile visits, which is a lot but only increased 6 followers, which is weird because I've been getting 2-3 new followers every day in my account since I started running ads. We went from 2,100 followers to 2,308 followers as of now in the last 2 months, which means we got 200 followers in the last 60 days.
Like I said, around 3 new followers per day… yet Twitter says I only got 6 new followers???
Twitter Ads vs. Facebook Ads for Bloggers
As I mentioned above, having an idea of the actual cost per follower you can get on Twitter Ads is one thing, but comparing it to other platforms helps you get a better idea in case you want to get started with any of them for the first time.
Since I've been running Facebook Ads for 6 years, I obviously selected this platform to run against Twitter and we got some interesting results:

First of all, let me be clear and tell you that we ran the same case study to my audience with FB Ads. I spend around $136 but around 40% of that test came from India, which represents another huge sector of entrepreneurs that read my blog on a daily basis.
In the future, I will be testing more and more countries, including Canada, UK, some other tier 2 European country and another tier 3 country like India to gather more data and results for this case study. Make sure you subscribe for future updates in the opt-in forms!
Back to the results, my setup was very similar to Twitter. We targeted the audience by interests to people who were passionate about SEO or followed bloggers and tools in the space. Other than that, we just selected the country and we left both mobile and desktop traffic enabled.
If the image isn't very clear here are the final results of running with Facebook Ads in the USA (same as Twitter):
USA – Interest Targeting: $0.37 per visit – $9.6 CPM – 140 landing page views
USA – Retargeting test: $0.8 per visit – $1.4 CPM – 27 landing page views
And for the same test in India:
IN – Interest Targeting: $0.03 per visit – $0.73 CPM – 1,174 landing page views
IN – Retargeting test: $0.1 per visit – $2.5 CPM – 203 landing page views
The retargeting test was just trying to reach anybody who would have visited my blog in the last 30 days and it had a way lower impact with more expensive results. I made that just for fun.
However, the interest targeting in the USA got a CPM twice as high as the one we got with Twitter ads and the cost per visit was 50% higher as well.
So, in this case, Twitter Ads wins because it's less expensive and generated more clicks per dollar spent. $0.25 on Twitter vs. $0.37 on Facebook.
I would also say Twitter wins in the follower's area because the reach on Twitter will be several times higher than the reach a Facebook Fan Page can do organically, so a Twitter follower is much more valuable than a Facebook Fan.
I would also like to point out that my Facebook traffic tests are not focused on website clicks but on landing page views. Usually, when somebody clicks your ad it's pretty likely they'll end up in your site unless your site is very slow to load or they tapped on your link by error (this can happen much more often in mobile phones).
Because of this, Facebook has a better metric called landing page views which only counts traffic that actually got into your site after clicking your ads, using their Facebook pixel. In theory, this means Facebook results have a bit higher quality than Twitter Ads, but who knows for real.
Finally, here's the result of my post on FB: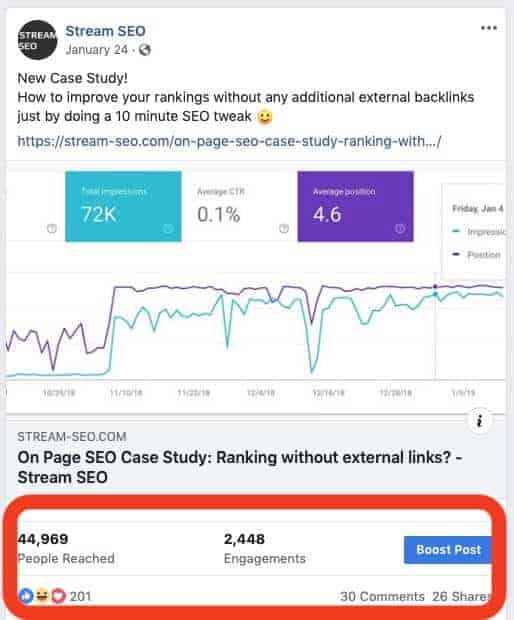 Contrary to Twitter, Facebook got a lot of engagement, comments, and even 26 shares. The Fan page also grew 110 fans in the last 30 days as a result of this ad.
However, we all know how reaching those 100 fans is a pain in the butt if you don't pay for it later.
Digging in the advanced reports allowed me to notice that most of the comments and shares in these posts come from India. 90% of them actually, which means the results of running just in the USA would have been 10 times lower (i.e. around 20 likes, 3 comments, and 3 shares instead).
Conclusions – Are Twitter Ads worth the cost?
In my opinion, it's a traffic source that's worth testing. Obviously, every niche is different and we'll get different results, however, you now at least have an idea of how much do you pay per visit.
Overall the results seem to be similar on Twitter, maybe even lower than Facebook and that's always good. There are many things I still need to split test in the future.
First, I want to run ads in different countries just to see if there's a huge price difference as it happens with Facebook.
Also, I'd need to test a bit more on how much you can scale them based on your audiences, but this time I wanted to keep it real and use a budget that most bloggers could test.
Twitter also has a pixel and a ton of features I haven't tested but I'll keep learning how to use their platform in the following weeks and keep you posted.
Is there anything you'd like to see in an updated version of this case study? Please let me know in the comments!