Hootsuite has been one of the top contenders for a few years for people and businesses trying to automate their social media strategies. However, if you're reading this article it means you're tired or Hootsuite or you're just looking at other options. Let me show you some Hootsuite alternatives you should really consider and how they compare against the former.
Do I hate Hootsuite?
No, I don't hate it or even dislike it. I just feel like there are some really good alternatives and I love split testing them to see their features and performance based on pricing. Hootsuite does the job in most cases but you might find something better in this list (or maybe not).
The problem is when you start searching for alternatives a lot of the listed options are being promoted in the blogs of Hootsuite competitions, making the results a bit biased and ultimately promoting their own solution.
Since I'm just a regular blogger that uses Social Media in my own day to day business I can provide a neutral list of the advantages and disadvantages of each platform.
I started using Hootsuite in 2013 when I had to learn how to automate my social media posts on Facebook and later on Twitter. Hootsuite was good, but it didn't perform everything we wanted it to do and the search for a perfect (nonexistent yet) alternative began.
If your company or project is looking for the best solution to automate their social media efforts you should definitely consider these Hootsuite alternatives before taking out the credit card.
Here are the top contenders (without any specific order) in my opinion.
Top 6 Hootsuite Alternatives
Buffer was the first alternative I tried to compare it against Hootsuite. I have been using their sharing plugin in my blog so it was the first one that came to my head.
Buffer allows you to schedule content across Facebook, Twitter, LinkedIn, Pinterest and Instagram. All of them at the same time so you don't have to do it individually.
I like that Buffer has its own apps for iOS and Android as well as a Google Chrome Extension. This helps sharing content an easier experience.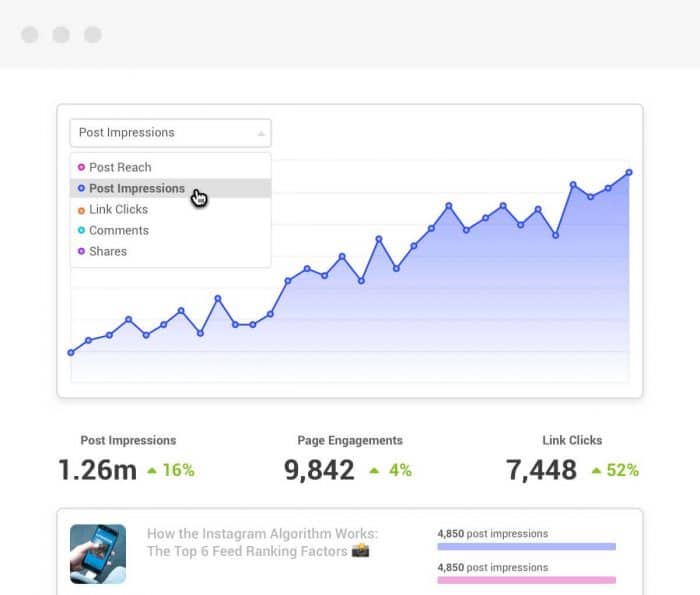 Buffer also tries to post at the best times of the day to get the best reach and engagement (super important for some social media networks) and gives you complete reports with insights to understand what to do next and how to improve your marketing efforts.
If you're a one man army Buffer has a pro plan or the awesome plan that starts at $15 per month. They also have plans for companies including more features like being able to handle teams of 11 users and 50 social accounts for $199.
Buffer works great with RSS integrations, which is why a lot of bloggers used it in the past for their WordPress blogs.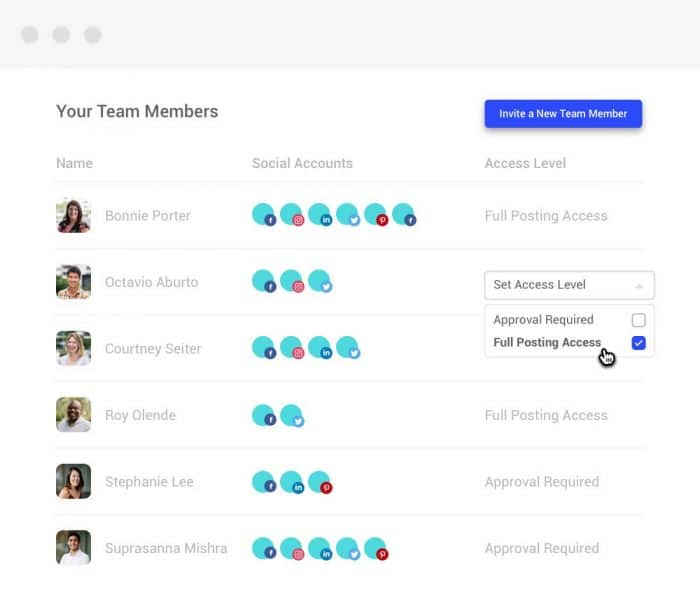 Considering all, Buffer is a good alternative to Hootsuite that does the job and has a freemium version with more than 2 million active users. Their functionality is a bit basic though.
AgoraPulse is another Hootsuite alternative that allows you to manage your social media posts from one single place. It works similar to an email inbox and you retain your conversations there.
In their dashboard you get updates for every like, tweet, comment or whatever you receive and you can reply it, review it or tag it to get to inbox zero every single day. It also allows you to identify angry or aggressive comments as well as trolls, which allows you to easily take care of before it hurts our brand.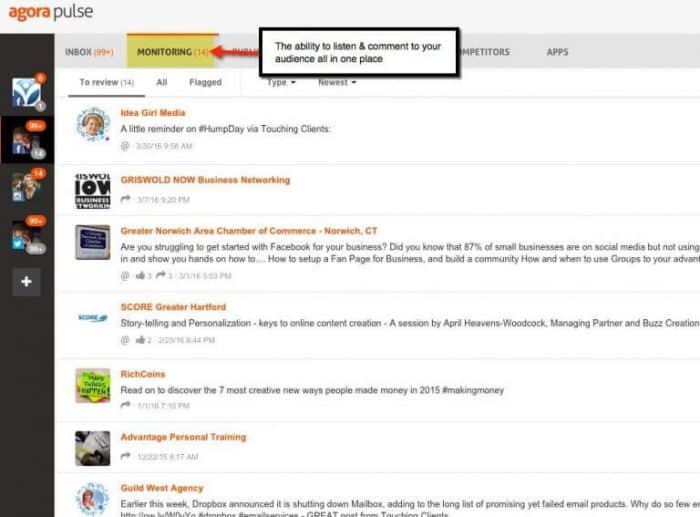 For Facebook AgoraPulse allows you to repost content that has the most engagement and it also allows you to run quizzes, sweepstakes, giveaways and more.
AgoraPulse has different business plans starting at $99 per month (10 social profiles and 3 users) up to $499 per month for enterprises (30 social profiles and 20 users). This is an expensive option to consider for solopreneurs.
AgoraPulse has analytics that are easy to understand with graphics and allows you to categorize audiences based on engagement by manually tagging your users.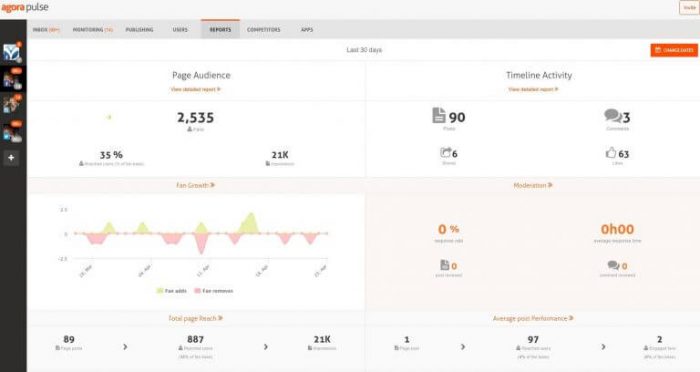 AgoraPulse doesn't support Pinterest but other than that it's a great alternative. They currently support: Facebook, Twitter, Instagram, LinkedIn and Youtube.
Sendible is one of the top Hootsuite alternatives and most people agree with that. The user experience and everything about Sendible is top notch.
Sendible is a complete digital marketing platform that allows you to manage your social media efforts and daily tasks and integrates with all mayor social networks including: Facebook, Twitter, LinkedIn, Instagram, Pinterest, Youtube and more.
Sendible easily integrates with blogs like Medium, WordPress, Blogger and Tumblr which is a plus if you're into content marketing or you're a blogger.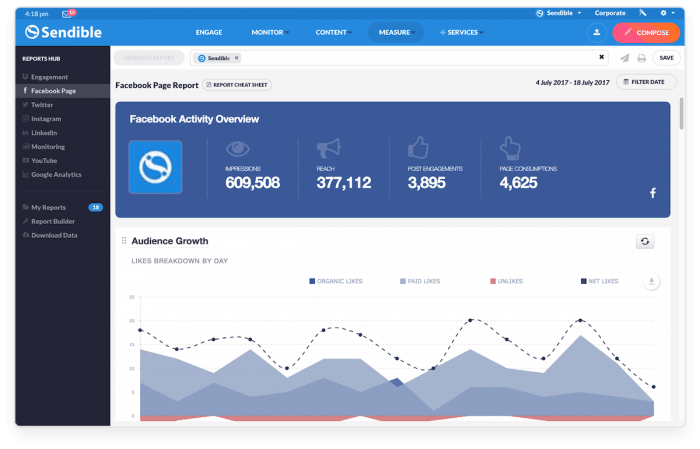 Sendible allows you to bulk upload content via CSV which is quite convenient if you don't want to prepare each post individually. Their reports can be created in minutes and are graphically stunning and allow you to understand what's working to do it more.
Sendible has mobile apps for Android and iOS, which is great for today's mobile world.
As for the pricing plans, Sendible has a 30 day trial but no freemium. Their micro plan starts at $29 per month (1 user, 12 social account services) and goes up to $299 per month (12 users, 192 social account services) according to your needs.
I liked Sendible's dashboard and way to present things a lot. It's probably my top Hootsuite alternative so far and with a fair price to get started.
SocialPilot is another good contender that does the job well with similar features. Their user interface works well and overall, it's all good without anything being supreme or excellent in my opinion.
Compared to Hootsuite Social Pilot does a better job, but it's still no match against AgoraPulse and Sendible in my tests.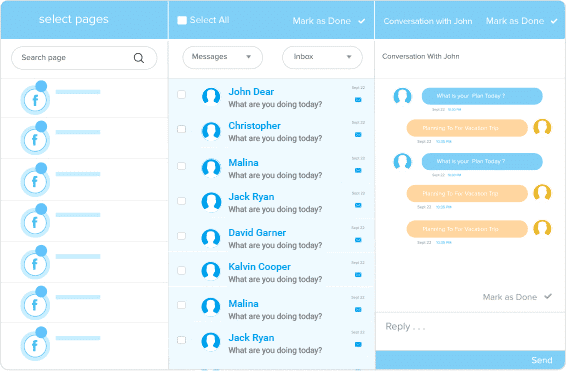 SocialPilot offers a dashboard to manage Facebook, Twitter, LinkedIn, Pinterest and Instagram. From here you can post in different time zones and automate everything with RSS feeds as I've mentioned with other alternatives as well.
SocialPilot allows you to post a single update to all social media platforms so you don't have to do it individually. It offers bulk upload scheduling via CSV or TXT file and multiple team members can manage it together.
SocialPilot has Android and iOS apps and a Chrome extension to help you schedule content no matter if you're in your computer or mobile devices.
SocialPilot has 3 pricing plans starting at $50 per month (50 social media accounts, 5 members) and a free trial which offers the basics if you want to test it but without analytics report and a pretty limited number of posts per day allowed. The pricing increases up to $100 per month (100 social media accounts and 10 members).
Sprout Social is another Hootsuite contender that helps you manage your social media efforts with a unified inbox so you can track and engage with your audience.
Sprout Social measures all of your activities and analyzes results so you can focus on your weekly reports and improve over time. The dashboard isn't something I love but it does the work.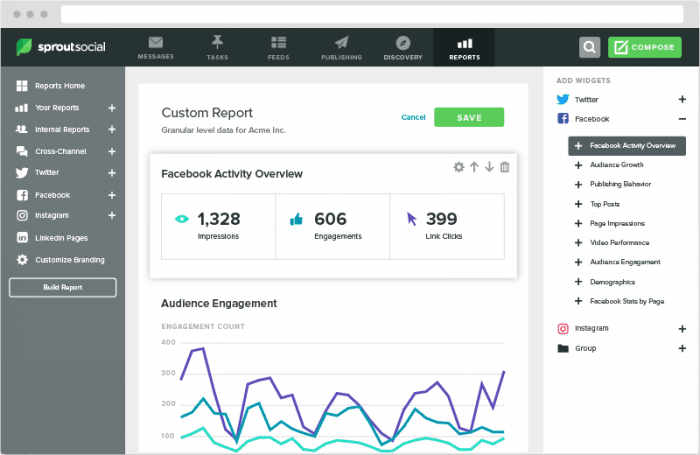 Sprout Social has 3 different plans starting at $99 per month (5 social profiles) and up to $249 per month (10 social profiles), so it's definitely not for starters or solopreneurs. There are better options available at lower prices.
On the other hand, if you want to add custom logos to the reports (useful for agencies) this tool does the job for you. Sprout Social also has iOS and Android mobile apps.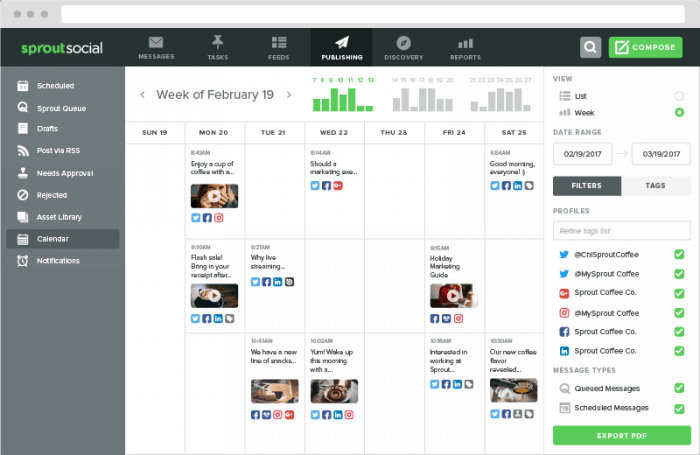 Unfortunately Sprout Social only works with Facebook, Twitter, Instagram, LinkedIn and Pinterest and currently have they have over 25,000 customers.
6. Hootsuite Alternatives FREE – SocialOomph
SocialOomph was originally a Twitter automation tool but later it changed its name and allows you to do a lot of features including: keyword searches, tracking of mentions and tweets, follow people who follows you and publish posts to social media via email.
SocialOomph allows you to schedule posts on Facebook, Twitter, LinkedIn, Pinterest, Discord, Pinterest, Reddit and more. You can also manage blogs in Tumblr, WP and others via RSS feeds.
One thing they have that's interesting is self-destructing posts, which means posts get auto deleted after some time. But their interface is the less refined of them all: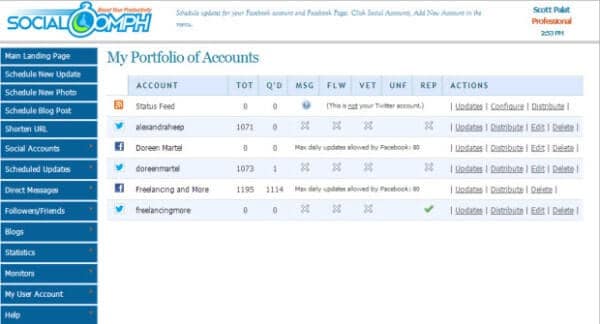 The thing is because this tool was originally built for Twitter, most of its advanced features are still narrowed to that social network in particular, which might be a turn off for many companies and entrepreneurs.
They do offer bulk upload though, which is great via CSV file but their analytics aren't great.
SocialOomph has a free trial for 30 days and it's the less expensive option in the list having plans between $0 (free for 1 social profile) to $55 per month (20 social profiles).
Are you ready to make the move?
There are some other options I didn't mention in this list because I haven't tried them or simply they don't have the full features you might be expecting for an agency.
Some of the other Hootsuite Alternatives are:
MeetEdgard
Cision
ViralHeat
Tailwind
TweetDeck
Social Clout
Social Booster
eClincher
etc.
The good thing about getting tired of something is that it always opens new doors to find better alternatives. In this case there are 6 alternatives to Hootsuite you can try.
Whether you're here because Hootsuite doesn't have enough features to justify its price, or you're just looking for a better/faster/cheaper solution we've got you covered.
Overall there are better Hootsuite Alternatives so it's just a matter of testing them and deciding which one works better for you and your company. My personal favorites are the top 3 but everybody have their own needs.
Which one do you prefer?