In many ways, affiliate marketing is kind of like a sales job.
Promote a company, and receive a commission.
But in exchange for having no boss, and never attending company meetings, you get a lower commission rate than a salesperson.
What if I told you that you could still have the flexibility of an affiliate marketer, with the commission rate and deal size of that of a sales job?
That's what this blog post is all about:
Our favorite high ticket affiliate programs.
Rather than list sites all in the same niche, we picked a variety of sites allowing people of all backgrounds to promote these offers.
If you'd like to track and view all of your big-ticket affiliate commission data in one place, be sure to try Afflytics.
Best High Ticket Affiliate Programs

First up on the list, is eToro's affiliate program. eToro is a stock brokerage and cryptocurrency exchange that serves nearly every country in the world. The services offers a pretty high commission between $200 and $600 depending on the country of the referral.
Keep in mind that US users have an entirely different platform than the rest of the world, due to laws and regulations involving cryptocurrency and stock trading. So make sure to refer your audience to the right version.
eToro does not allow APIs or scraping, so unfortunately we're unable to support them on Afflytics.
Commission Rate: $200-$600 CPA
EPC: Unknown
Cookie Length: Unknown
Platform: In-house
Affiliate Manager: Yes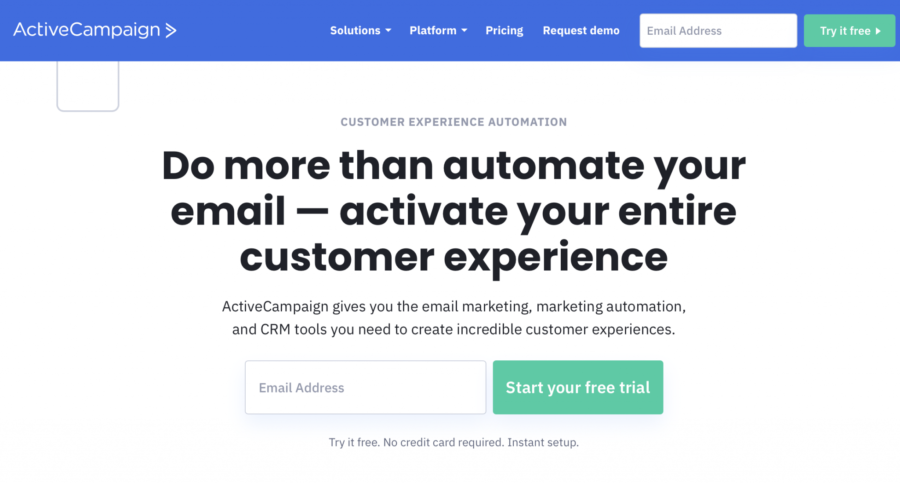 ActiveCampaign is likely a company you've heard of if you've spent time in the digital marketing world. They're a leading email marketing SaaS company, that Afflytics even uses ourselves. The lifetime value of an ActiveCampaign customer must be pretty high, as they boast an average referral value of $1350 for a single sale.
Here are their commission rates broken down:
Silver: For new affiliates. Affiliates that have referred $100 worth of new business in the last three months earn 20% commission.
Gold: Affiliates that have referred $100 worth of new business in the last 3 months or have $500 of active accounts earn 25% commission.
Platinum: Affiliates that have referred $500 worth of new business in the last 3 months or have $2,000 worth of active accounts earn 30% commission.
Commission Rate: 20%-30% Lifetime
EPC: Unknown
Cookie Length: Unknown
Platform: In-house
Affiliate Manager: Yes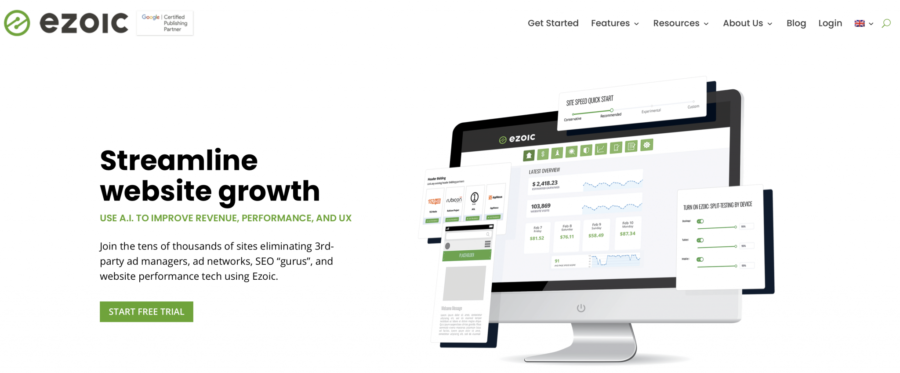 Ezoic is the leading ad platform for monetizing website traffic. They use artificial intelligence and machine learning, in order to maximize each customer's ad placement. While Ezoic isn't necessarily "big ticket", as it pays 3% lifetime, but the lifetime commission can really start to stack up over time.
I used to own a website in the travel niche, that had around 30,000 sessions a month and earned around $400/m from Ezoic. So if someone had referred me, they would have earned $12 every month.
It may not seem like much, but 30,000 sessions a month isn't that much. As the site grows, it can really add up.
If you referred a larger site, with say, 300,000 sessions a month, and assuming the EPMV stayed consistent, you'd be earning $120/m.
Not bad!
Commission Rate: 3% Lifetime
EPC: Undefined
Cookie Length: 30 Days
Platform: In-house
Affiliate Manager: Yes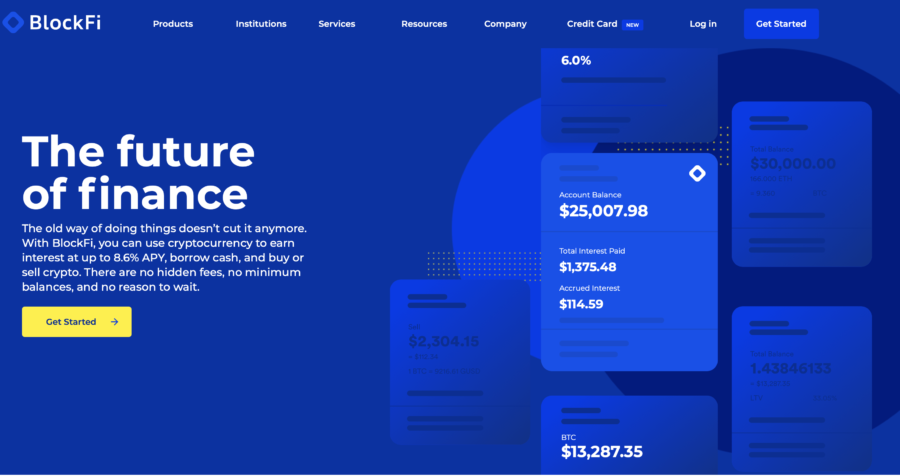 BlockFi is a centralized finance platform, that allows you to earn interest, trade, and receive loans using fiat and cryptocurrencies. BlockFi pays are commissions based on the deposit value of a referral.
Considering BlockFi offers some pretty insane interest rates on USD (8.6%-9.3%), they are a pretty easy sell to anyone, regardless if they own cryptocurrency. On top of that, they also allow you to cash flow your cryptocurrency holding anywhere from 4.5%-5.5% compounded monthly.
Any referral that deposits under $5000 will receive $25 commission. But if they deposit more than $5000, then the affiliate commission becomes .5% of the deposit value. BlockFi offers some pretty crazy interest rates, so don't be surprised to see some monster deposits.
I recently referred someone to BlockFi who deposited an entire Bitcoin (worth $62,000 at that time), and I earned a $310 commission on that.
Commission Rate: .5% of Deposit
EPC: Unknown
Cookie Length: Unknown
Platform: Impact
Affiliate Manager: Yes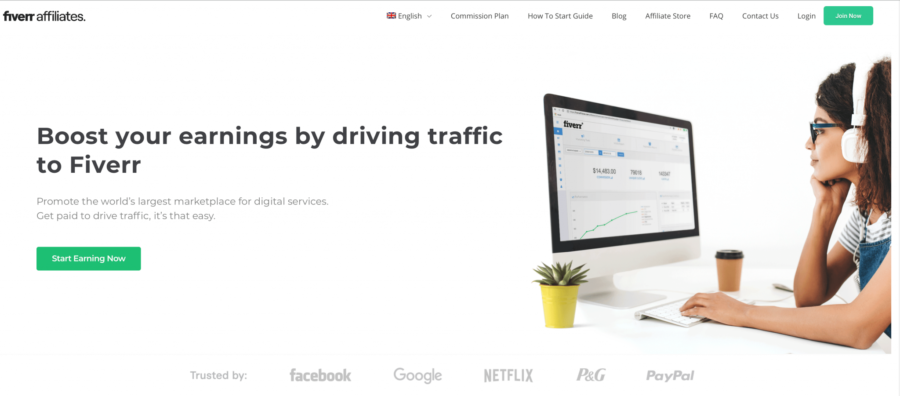 Fiverr is like the Amazon and eBay of digital services. If you've spent any time at all on Fiverr, you know it's an interesting place. From silly and spammy $5 offers all the way to $100 gigs, the platform has something for everyone to promote.
When it comes to Fiverr's affiliate program, they allow you to choose a dynamic commission structure of $150 CPA, or a $10 CPA with a 10% lifetime revenue share.
Depending on your time preference, one option is better than the other. High commissions can be appealing but you'll want to begin thinking long term if you want any success in the online business world.
Commission Rate: $150 CPA/$10+10% Lifetime
EPC: Unknown
Cookie Length: Unknown
Platform: CELLXPERT
Affiliate Manager: Yes

SEMRush is a leading online marketing SaaS tool. They help you crush SEO, content marketing, social media, and more, via incredible analytics and reporting. In my experience, if you're doing anything SEO-related, you need the tool or at least one of their competitors like Ahrefs.
The affiliate program used to be on BeRush with a controversial first-click attribution model, but has since switched to ShareASale. On top of the $200 CPA for a new customer, they also pay $10 for a 30-day trial, even if the referral doesn't end up paying.
Commission Rate: $210 CPA
EPC: $32.25
Cookie Length: 120 Days
Platform: ShareASale
Affiliate Manager: Yes

WP Engine is a popular managed web hosting service, based in Austin, Texas. Compared to most other hosting services, WP Engine is expensive. But it's not expensive for nothing.
It offers top-of-the-line 24/7 customer support, managed server hosting, a free SSL certificate, and plenty more. Your basic WordPress blogger won't need this hosting, but anyone blogging seriously will want what WP Engine has to offer.
Refer someone to WP Engine, and you'll earn $200, or 100% of the first month, whichever is larger. What's nice about the program is their cookie duration is 180 days, so you have plenty of time to capitalize on your traffic.
Commission Rate: $200 or 100% First Month
EPC: Unknown
Cookie Length: 180 Days
Platform: ShareASale
Affiliate Manager: Yes

Shopify is the king of e-commerce store-building platforms. They make it easy, regardless of their niche, to set up a shop in no time. Again, due to the nature of the Shopify platform, it's not specific to a niche, which is what makes it such a great beginner affiliate program.
Their affiliate program is entirely in-house and pays 200% of the referral's monthly value. So a basic Shopify plan would pay affiliates $58, the middle plan $159, and so on.
Shopify does payouts via Paypal as well, which can be an attractive and smooth options for those with an account setup.
Commission Rate: $58-$2000 CPA
EPC: Unknown
Cookie Length: Unknown
Platform: In-house
Affiliate Manager: Yes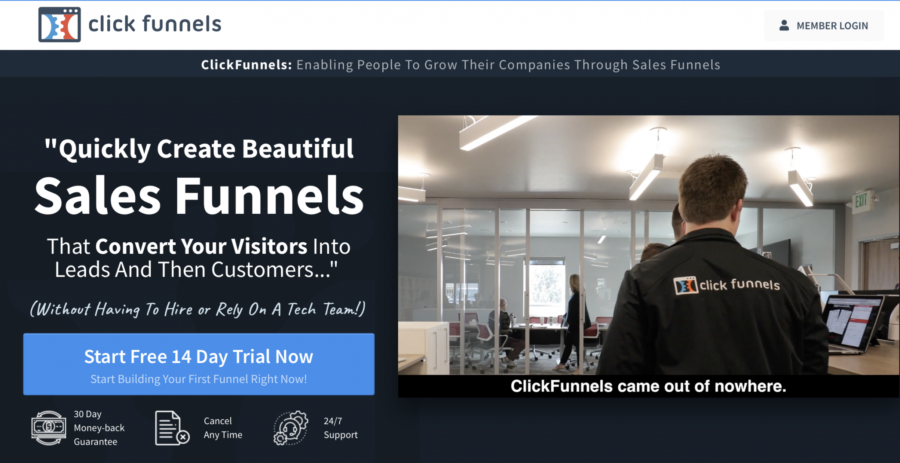 ClickFunnels is one of the most popular sales funnel builders on the planet. Without any web development or tech experience, anyone can create a professional sales funnel and start directing traffic and converting customers.
What's great about ClickFunnels affiliate program, is how dedicated they are to seeing their affiliates do well. Between their dedicated affiliate managers and even a Facebook Group they call the Affiliate Avengers, which has hundreds of other like-minded affiliates.
Commission Rate: $200-$600 CPA
EPC: Unknown
Cookie Length: Unknown
Platform: In-house
Affiliate Manager: Yes

Next up, is Ashley Madison's affiliate program. Ashley Madison helps married people find someone to have an affair with, discretely. While we don't support having an affair or cheating, it's not our call what you do in your relationship.
We're here to list the best big-ticket affiliate programs.
And with over 50 million active users, it's clearly a pretty popular activity.
Ashley Madison pays a $140 CPA whenever someone signs up, and it's in a pretty interesting niche, so we felt it was worth the mention.
Commission Rate: $140 CPA
EPC: Unknown
Cookie Length: Unknown
Platform: Tune
Affiliate Manager: Yes
Frequently Asked Questions
What's Considered High Ticket?
For the purposes of this article, we consider a high ticket to be an affiliate program that has the potential to earn $100+ from one conversion, but preferably over a few hundred to $1000. We also included some powerful recurring commissions affiliate programs, as these are awesome for creating passive income.
What are the Best Beginner Affiliate Programs?
If high ticket affiliate programs arent you're thing, you may want to take a look at our list of beginner affiliate programs. These programs typically aren't specific to any niche, like Amazon's, and have extremely high conversion rates in place of high commissions.
Conclusion
Hopefully, some of these big-ticket affiliate programs will show you just how much potential there is in the affiliate marketing world.
While we don't recommend picking an affiliate niche purely off of the affiliate offer landscape, having an idea of the offers there before entering can be very helpful.