Last year I wrote a case study about how I was able to make $22,000 dollars in one single month using Facebook Instant Articles and some of my viral sites, it was published here and it received a lot of engagement. More than 700 comments to be precise!
Thank you for that 🙂
We also know there have been many changes going on with Facebook over the last couple months, especially after the big scandal with Cambridge Analytics, and that also affected Instant Articles & Facebook Audience.
Unfortunately, many people have lost access to Facebook Instant Articles and most of the time they don't even provide a clear explanation of what is the reason behind it.
They're just telling people that "You've lost access to Facebook Instant Articles because you have violated the Monetization Eligibility Standards", which clearly doesn't explain anything.
If you've seen something like this, then you know what I'm talking about:

We've seen many questions about this matter and also about the fact that Facebook has become extremely strict when it comes to accepting new applications to Instant Articles & Audience Network.
That's the reason why we've done a lot of research about this matters in order to provide you with the answers to all of your questions, right here.
Let's get right in…
What are the Monetization Eligibility Standards for Facebook Instant Articles?
Although many people might feel like Facebook is never going to be clear enough about their guidelines and standards, they do have what they call "monetization eligibility standards" for instant articles & Audience Network and they explain what type of things may cause you to lose access to these products.
Facebook allows Instant articles publisher to earn money by using their platform but not at the expense of compromising the family-friendly social network that they've created and the integrity of their advertisers.
This is why they've established formal rules for what type of content cannot be monetized with Instant Articles, and mid-roll video Ad Breaks. These include content that might show violence, death or incendiary social issues even if is part of news or an awareness campaign.
Here's specifically what they state.
To access monetization features, content creators and publishers must comply with Facebook terms and policies, which includes the following.
Comply with our Community Standards
Comply with our Payment Terms
Comply with our Page Terms
Adhere to our Content Guidelines for Monetization
Share Authentic Content
Develop an Established Presence
What Can I do if I've Lost Access to Instant Articles?
If you've already lost access to Facebook Instant Articles, the first thing you want to do is to find out what is the reason why they blocked you from accessing monetization features. Depending on the severity of the issue, you may be eligible to submit an appeal.
Here are the most common reasons why they've been blocking publishers lately:
1. Inactive Publisher
You might have lost access to Instant Articles because they consider you an inactive publisher. Facebook now requires publishers to publish at least one article every 90 days.
Solution:
If you've been blocked because of being an inactive user you can reapply for access to Instant Articles, you'll need to create at least 10 new articles in your production library, and then submit them for review.
Once you've created at least 10 articles and those are loaded to your production library, they will enable this option for you.
2. Low Readership
You've been blocked because your articles either have a minimal readership (Which they've never explained) or are not currently meeting the content policies for Instant Articles.
Solution:
Review the content policies carefully and make sure your content is in compliance. You can reapply for access, submitting your page for review when you have at least 10 new articles in your production library and have also increased your traffic.
3. Non-compliance with Monetization Eligibility Standards
You've lost access to Instant Articles because your Page does not comply with Facebook Monetization Eligibility Standards. In order to use Instant Articles, your Page must comply with their standards, even if you're not monetizing your Page.
Solution:
Carefully review Facebook Monetization Eligibility Standards in order to make sure you are in compliance. You can submit an appeal to be eligible for Instant Articles again, using this form.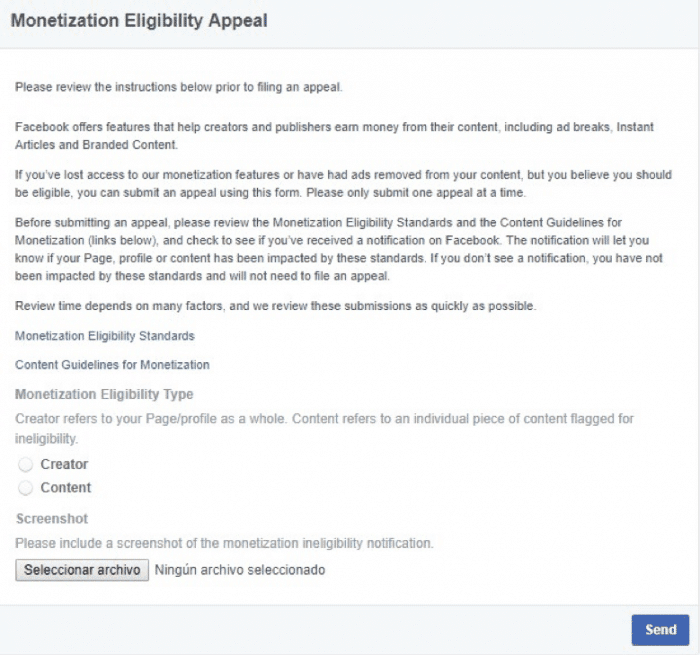 Keep in mind that they may take their time before they review your particular case and provide you with a response, so be patient and hopefully you'll be able to gain access one more time.
What happens if I'm not able to gain access to Instant Articles again?
If after following the steps that I've mentioned above, you are still unable to recover your access to Instant Articles, that's fine, it's not the end of the world.
We didn't have Instant Articles before and we were still able to make money online, either using our Facebook fan page or any other resources.
Indeed, I've recently published a huge guide with 30 ways to make money online legally, which includes many options that are very simple and don't require a high level of expertise.
Also, Servando has shared many resources here to help you make money online. Here are some of the most popular resources he has published on Stream SEO:
That's it for now. I hope this article can be helpful to you, and if it is helpful then please share! Don't forget to leave your comments and questions down below, I'd be happy to help you as much as I can.
Author's Bio: Ronald is the founder and CEO of Web SEO Marketers. He is a young entrepreneur who graduated in Computer Science. He is specialized in online marketing and SEO with more than 3 years of experience. He is also WordPress and Social Media expert. "Living the dream of being my own boss, working from home and spending quality time with my family is what I love the most".