Being an Amazon Affiliate has been a popular trend for many years mostly because of the Amazon Associates program that pays a referral fee for each product people buy on the websites.
It's not impressive to see websites making 5 or 6 figures per month for sale listed on website marketplaces like the EmpireFlippers and it all comes down to a reason:
Amazon is the top eCommerce platform in the world.
Although the Alibaba group has been growing a lot in Asia and some other parts of the world as well.
If you consider North America and Europe, Amazon wipes out the competition and simply offers too much value with great delivery options and the biggest portfolio of products ever available online.
People already have their credit cards loaded and ready to spend when they see something they love on Amazon.
But referring people to Amazon isn't as easy as it sounds. Besides the premise of actually having traffic on your website, you need to rely on getting them to click your links and buying stuff in a 24 hour period.
Also, Amazon has been cutting their fees in different product categories every few years and you end up competing with huge websites with great budgets to spend that have super high conversion rates in their product reviews and comparisons.
Linking to a product on Amazon is super easy once you get your account approved. It works like any other link to an external site. However, the key to making money with an Amazon affiliate site also depends on your CTR (click-through rate) and CR (conversion rates).
So for a while, we have seen many bloggers and publishers use nice designs to showcase the products they review/compare like this: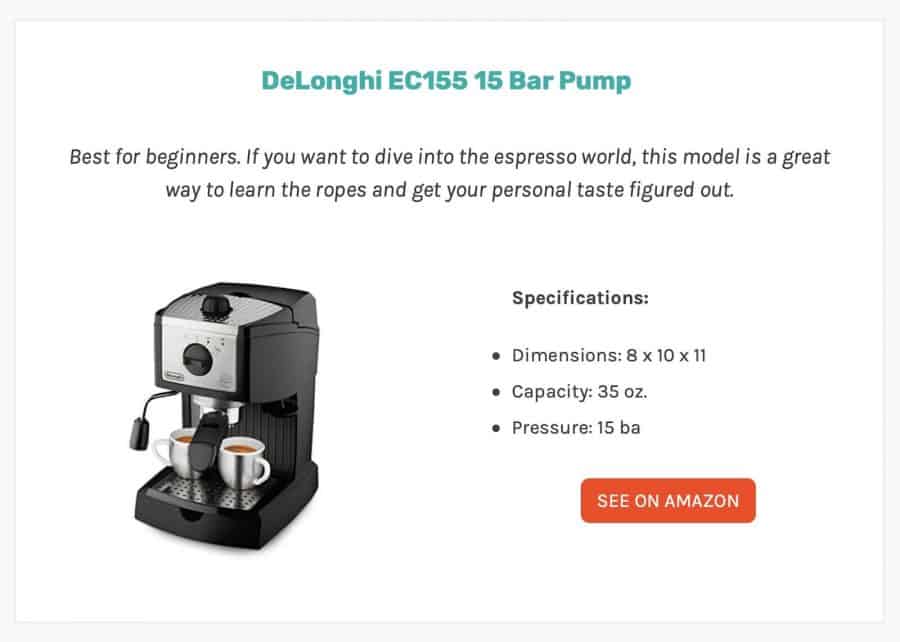 Using plugins like AAWP or EasyAzon you can easily build showcase boxes that are eye-appealing and increase your clicks to Amazon while also pulling data from the Amazon API to avoid breaking the rules.
Once you break the rules it's hard to get your account back and no other program converts as well if you're promoting regular eComm products.
Although you can make money being an affiliate, showing ads or using other affiliate methods as shown in these examples, if the focus of your content was a product site without an affiliate program, you definitely don't want to lose your Amazon Associates account.
Here's another example of a website with huge numbers comparing vacuums online and how they showcase every product in their top 10 list: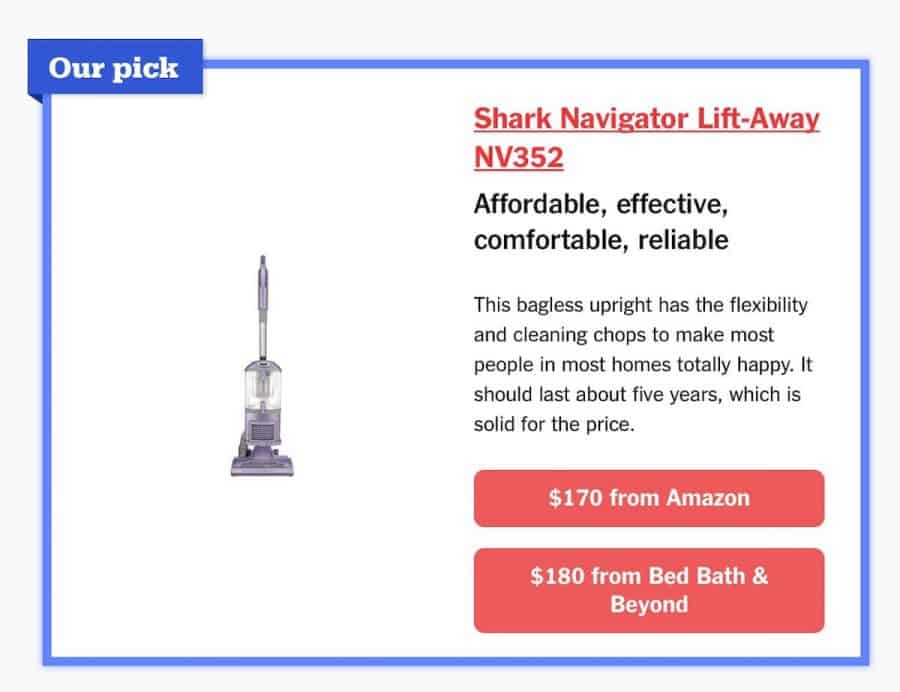 Besides showcasing products like that, we also get to see a ton of sites using tables to compare products or show a quick summary of the list with the product description and features linking to Amazon to summarize the data from the article and help your readers make a quick decision: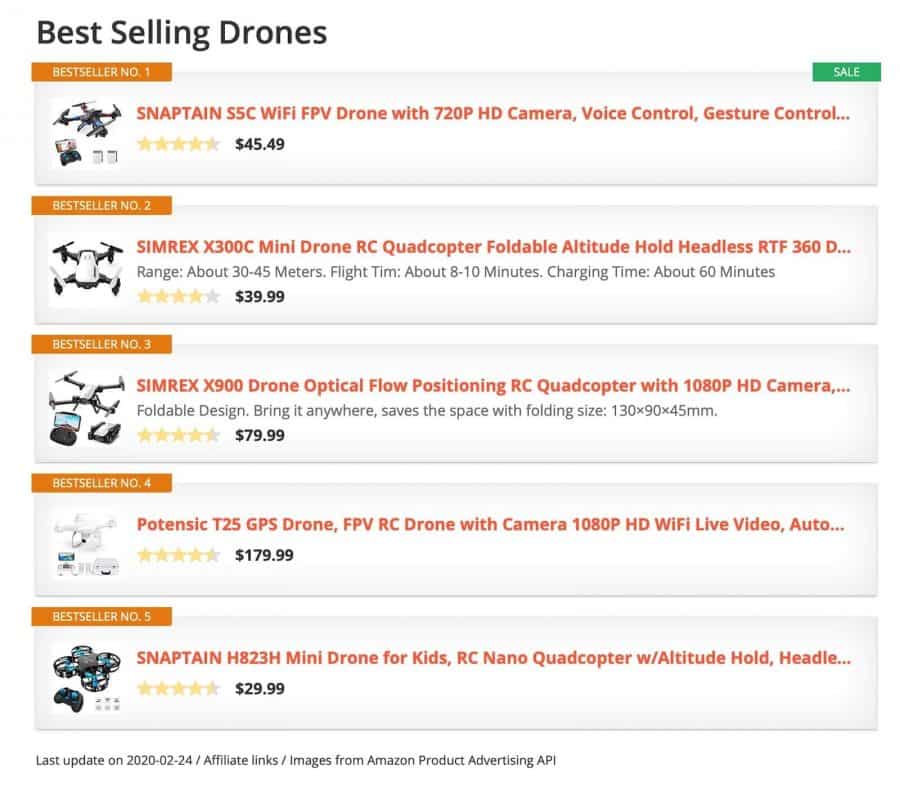 All those tables and product boxes look great and can definitely increase your conversion rate against a simple link or an image with a link.
However, Amazon has been making the API access more and more difficult to get since 2019. In fact, in just a few days (March 2020) Amazon is going to discontinue their API 4.0 and migrate everything to the new API 5.0 version.
Every person with an Amazon Associates account had access to the API and could pull out the data to build beautiful, high-converting boxes and tables in the past.
But now the API access is restricted to those who get an account and makes some sales every 30 days or your API access gets shut down.
How do you recover it?
By making sales, duh.
However, how are you supposed to make sales when you can't get access to the API to build high converting affiliate pages?
Does this sound familiar?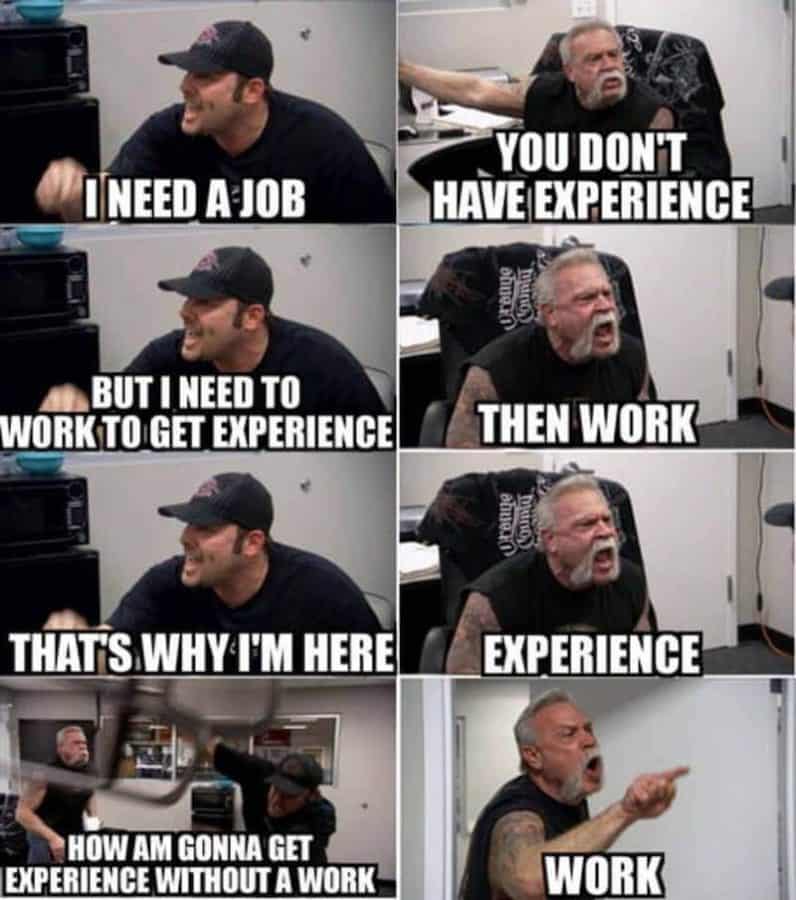 Of course, if you have a website with traffic or enough money to invest and make a few sales every month while your website grows, you can do that and get access to the API again.
But if you're getting started with the Amazon Associates program, or you're completely new to the blogging business, you probably won't have access to it.
And so, you're left with the Amazon SiteStripe bar. A simple tool that allows you to create affiliate links in the form of Text, Images and even a Native Shopping widget which by the way many times isn't shown to your visitors…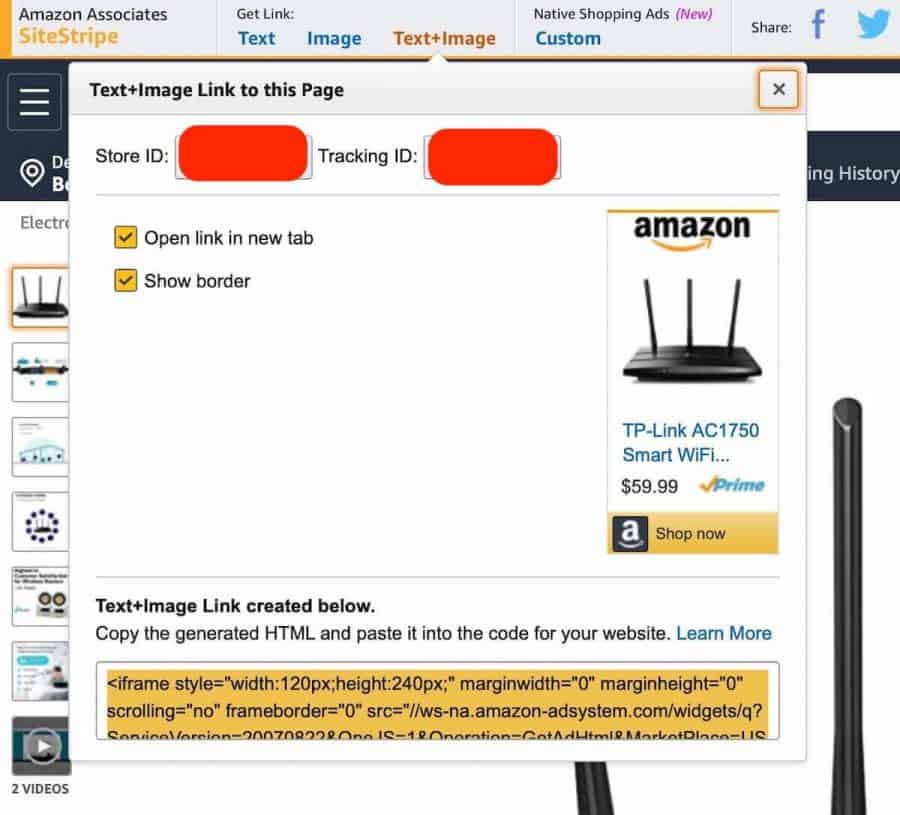 The ads you can create with the Amazon SiteStripe are simply not good enough. They look like they got stuck in the 90s or early 2,000s in terms of web design.
If you don't have access to the API you can't work with plugins like AAWP or EasyAzon and you're left to build your tables manually or simply use the SiteStripe bar and pray for conversions.
However, there's a new plugin that was launched several months ago yet people it is still not as well known as other Amazon plugins.
Amalinks Pro – Perfect WordPress plugin for starters and new Amazon Affiliates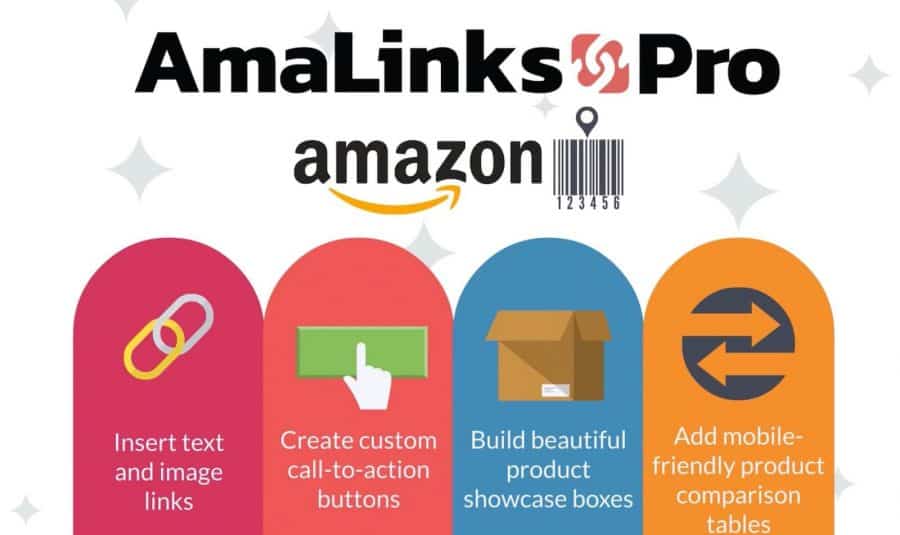 Amalinks Pro is a WordPress plugin actively co-developed by an old friend in the industry, Matthew Allen.
Matthew has dabbled in the Amazon Associates space for a while and I met him back in 2013 or 2014.
Amalinks Pro, like other plugins, allows you to create a beautiful call to action button, product showcases, and even tables to compare different products.
However, one great feature this plugin has is that it allows you to build those nice things WITH OR WITHOUT access to the Amazon API. This makes it very different to other plugins and a great alternative for bloggers who lost their API access or are just getting started as Amazon affiliates.
We'll talk more about that in a minute.
Here's the pricing scheme: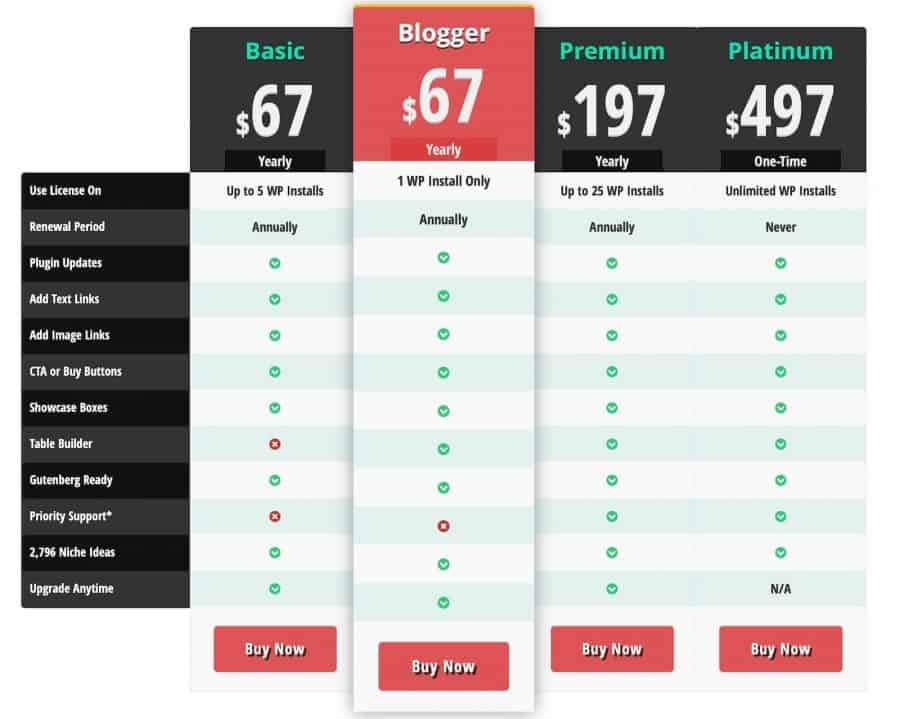 Those prices are paid annually, which seems very affordable to me. If you get the Blogger plan or higher you get access to the table builder add-on as well. However, even if you just get the Basic plan you can build showcase boxes in a matter of minutes without access to the API.
Get Amalinks Pro here!
Get your license and start today without Amazon's API.
Keep in mind the main differences between the plans besides the priority support are the number of Wordpress installations and the table builder.
If you're a blogger that only owns an Amazon affiliate site and you're not planning to create more at the time, you might be better off with the Blogger plan instead of the basic.
However, you can fly by with just the product showcase boxes like many big sites do and later upgrade your plan to get the table builder add-on. You'll see how everything works below.
Amalinks Pro Settings
Let's check out quickly the settings available at Amalinks Pro and then see what we can do with it.
First, after installing the plugin and activating your License, you'll be able to go to the Global settings menu where you can set up everything.
The first thing you need to do is to define your API keys and tracking IDs.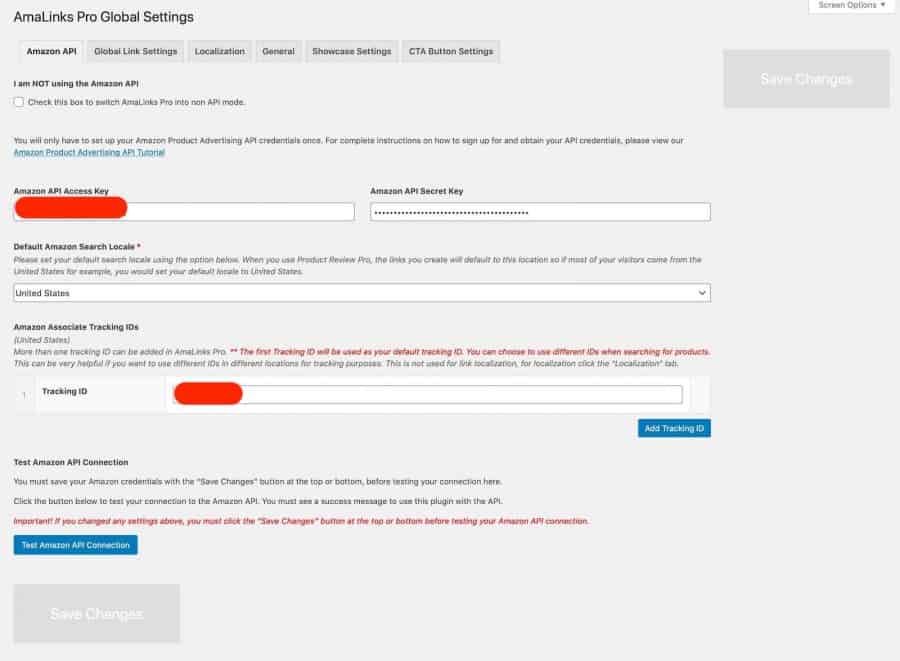 If you don't have access to API keys (there's a button to test your API connection at the bottom) then you'll get an error as Amazon doesn't allow you to call their API to pull product data from their servers.
However, you can select the first checkbox and enable the Non-API mode and just add your tracking ID to get started.
After that, you can go to the link settings. Here I like leaving all at the default settings but you can always select if you don't want to open clicks in a new Window and if for some reason you want to keep your Amazon Affiliate links as do follow you can do that as well: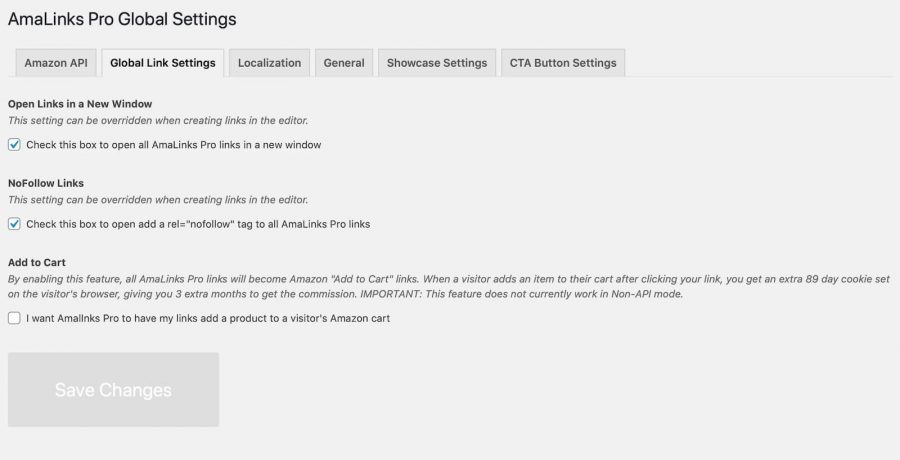 There's also an option to add to cart every product they click on, which gives you a 90 days cookie instead of 24 hours. But many people prefer not to use this as it can be a bit annoying and also it requires access to the API to work.
If you have several Amazon Associates accounts from different countries you can go to the localization tab and use Amazon OneLink or the GeniusLink to manage all of your accounts.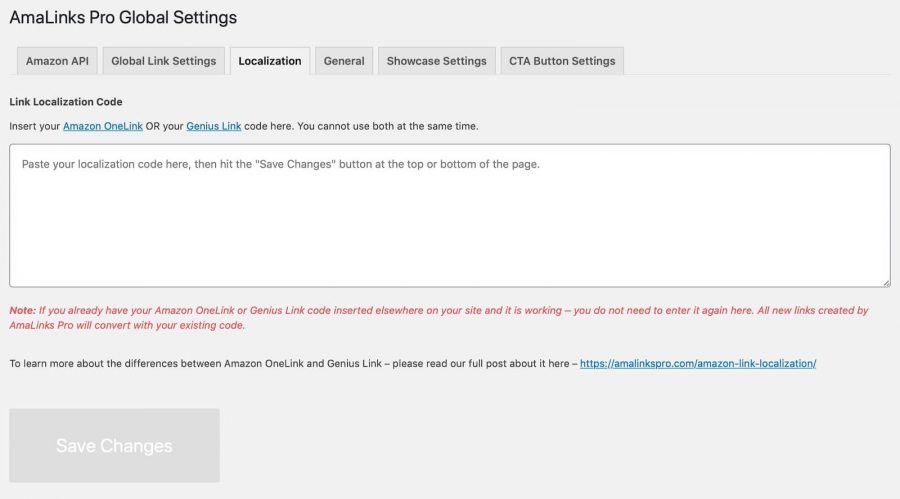 This is very handy as many people have accounts from various countries (e.g. the USA and the United Kingdom, or Mexico and Spain, etc.) to monetize all of their traffic.
One final setting I'd like to talk about is the Google Analytics event tracking. With this option, Amalinks Pro will automatically trigger an event every time a visitor clicks your Amazon links so you can track which buttons and products are receiving clicks in your Google Analytics account. This feature has been very useful to me.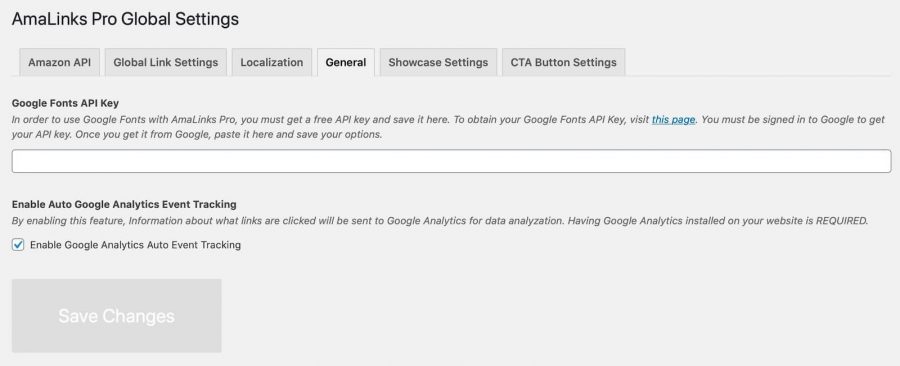 Besides that, you can customize the general look and feel of your fonts, showcase boxes and buttons and create templates for your website.
Enough talk!
Let's have a look at the plugin in action, shall we?
Amalinks Pro creates shortcuts to integrate images, call to action buttons, showcase boxes and tables into your WordPress site. I've been using Amalinks Pro with the latest version of WordPress and it works great with the Block editor, although you can also use it with the classic editor if you were never a fan of Gutenberg.
Keep in mind all of what you're about to see has been created without API access to show what you're able to achieve.
Here's how a call to action looks like:

Now, this is a simple button that you can customize to your website design and already contains your Amazon affiliate link to a product. People used to do that by adding CSS buttons or images in the past, however with the introduction of the block editor, adding buttons or call to actions has been made quite easier lately.
Nothing special to see here either. Pretty much what Amalinks Pro does is to facilitate the integration of an image that carries an affiliate link using a shortcode instead of you having to copy and paste raw HTML into your text editor.
Now let's move to the good part.
Adding buttons, text links or image links is easy and everybody can do that with their website. However, they don't look very appealing when showcasing an eCommerce product and you don't really need a plugin for that.
Amalinks Pro helps you create beautiful showcase boxes like the ones we saw at the beginning of this article used in huge sites with a lot of traffic.
Here's how the editor looks like:
If you have access to the Amazon API, you just need to enter the title of the product or the ASIN code so Amalinks Pro can pull all of the data and insert it for you.
If you don't have access to the API though, you can still use Amalinks Pro and create your showcase box in a matter of seconds by copying the links from your SiteStripe bar and pasting the text in the custom fields.
Here's how a showcase box looks and it took me less than 60 seconds to create without the Amazon API:
Pretty nice results for a minute off my time customizing it, right?
Here's a showcase box with the data pulled from the API (instantly generated):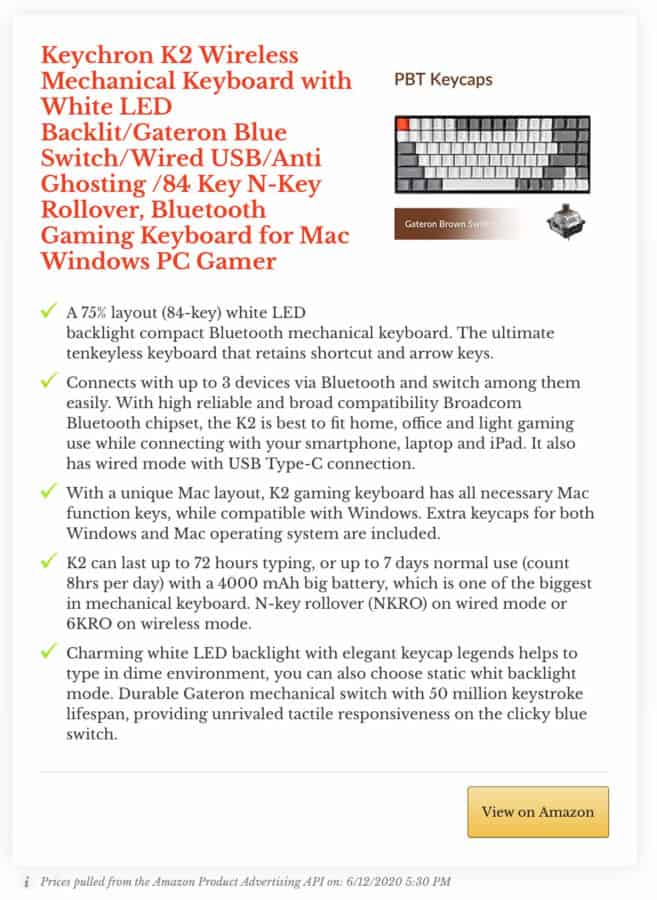 They look fairly similar, don't you think?
If you want to check them both in real life check out this demo website: Click here.
Every single important part of that showcase box is clickable, including the title, the image and of course, the CTA button. I don't recommend showing a price without the API as prices can change and you could get in trouble.
The design automatically took my web fonts and CSS styling but you can modify it if you want.
Also, everything is GA trackable so I will know which product is getting clicks when I dive into my Analytics event's menu without having to go to my Amazon Associates reports and from which pages.
Now let's try to create a table…
Here's the table editor at Amalinks Pro.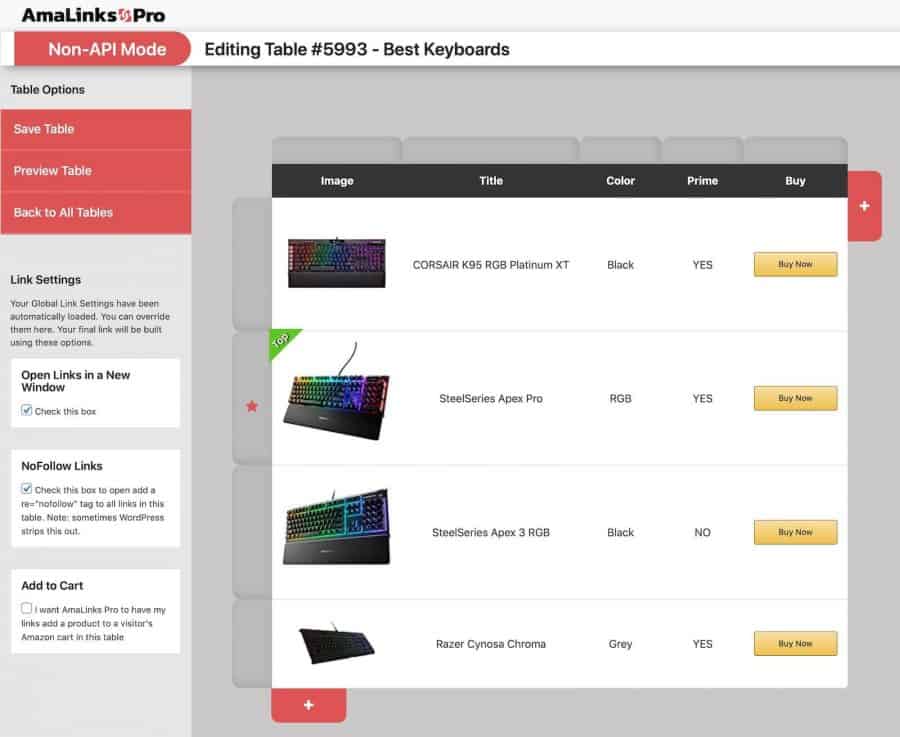 I like the table editor as it allows me to create comparisons between different products in a few clicks. Of course, if you use the API, you just need to do a search, select the products you want to use and import them to your table. It takes you a few seconds at most.
But if you're using the plugin without the API you can still build beautiful tables manually and it won't take you much longer.
Here's a table I have prepared for you here at Stream SEO without using the API. If possible, make sure you check it both on mobile and desktop.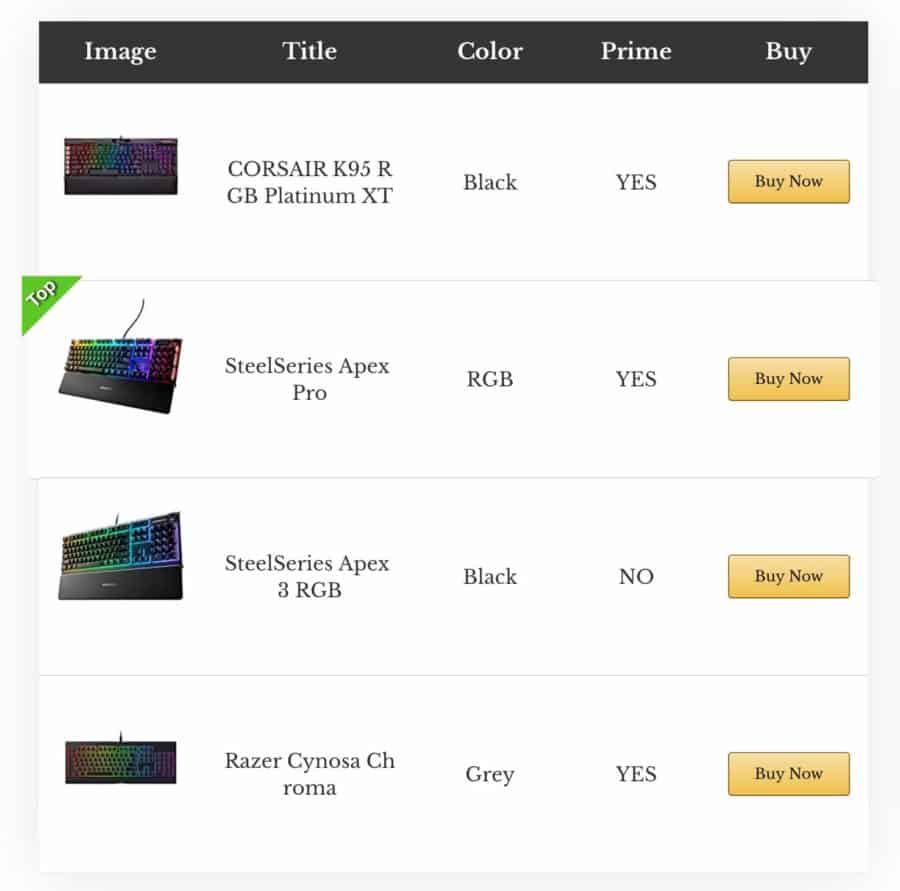 Again, if you want to see it in a real website live, check it out here.
As you can see, the table is mobile responsive, it showcases 4 different keyboards and it shows different attributes in the columns along with the clickable image and CTA links.
It took me around 3 minutes to create a table like this, and now that I have it ready I can just go and insert it everywhere on my website by adding the shortcode of the table.
I like that Amalinks Pro allows me to add as many products as I want, add search boxes, add as many columns as I want to showcase different features or benefits of the products and even sort things or paginate the tables.
I can even highlight a recommended product from the table.
Amalinks Pro support and development
I discovered a couple of simple bugs while testing the plugin and after submitting them to the support team they were fixed and a plugin update was pushed in a matter of 24-48 hours!
That was impressive.
Obviously not all of the updates or requests are going to be pushed that fast unless they are urgent or critical to the plugin, however, the dev team is definitely willing to improve fast over time and that's something I admire.
As far as I know, there's no existing plugin capable of doing this what Amalinks Pro does without access to the Amazon API and the ones that kind of do it end up being quite restricting or don't even have other simple functions as of now.
I have also seen people trying to build tables with builders like Elementor or Beaver Builder but it ends up taking a ton of time and the results achieved aren't that great unless you're a pro designer.
With the change to Amazon API 5.0 and the required sales to start getting access to the API, I think Amalink Pro fills a great void for people who are either getting started or somehow got their Amazon API keys revoked.
Give Amalinks Pro a try
Overall I feel like Amalinks Pro is a great alternative to the plugins out there. I can't say it's perfect, but the plugin has been getting better and better in the last few months. Just do a google search and check out some reviews from last year and you'll notice how much it has grown lately.
Having an active developing team is very important for a plugin to work in this space, especially when Amazon keeps changing the rules and doing updates every year.
If you're a new Amazon Associate (with new API keys) or you still have no traffic but want to build an Amazon site without it looking horrible because you have no API access, Amalinks Pro is a no brainer.
Other plugins might be able to do more or are better established in the market, but without API, you can't use them and they become a bad investment for beginners.
If you're already getting sales or have access to the API, I'm sure you have already tested other plugins, but perhaps you might find something interesting at Amalinks Pro.
I'm not saying AAWP or other plugins are bad. They're quite good.
But the latest news and updates about the API access have made some people go mad in the last few months for a good reason while also leaving with a non-working plugin many other bloggers out there building Amazon niche sites.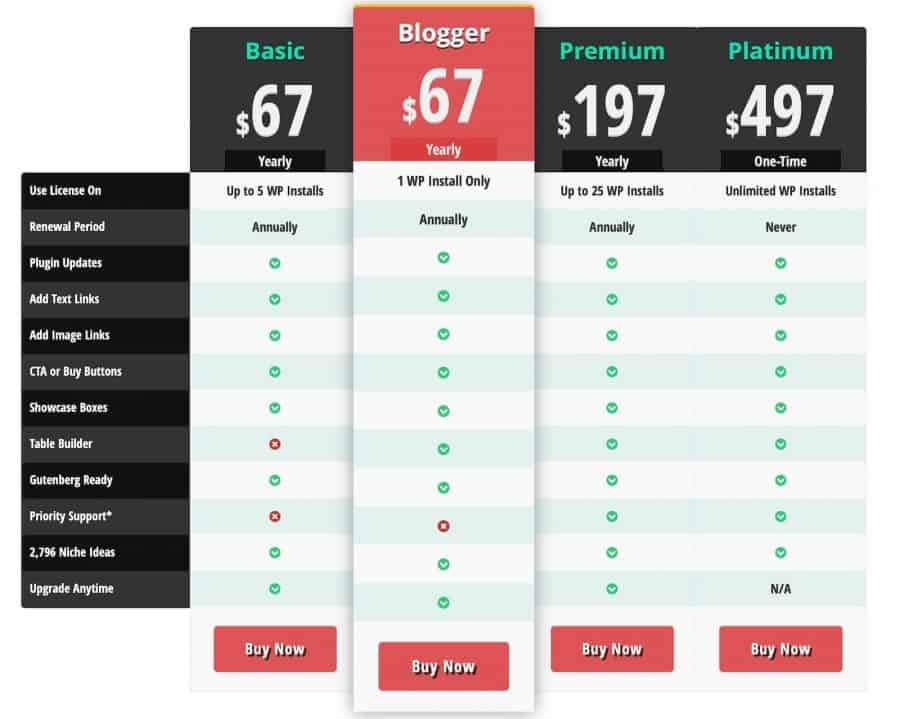 Talk to you in the next article!