If you've spent time in the affiliate marketing world, you've probably heard the concept of link cloaking.
Some people live by the practice, while others share horror stories of being banned from affiliate programs.
So you're probably here wondering, as an affiliate marketer, should I cloak my affiliate links?
And that's what we'll cover in this post.
What is Affiliate Link Cloaking?
First off, for those that don't know, let's quickly cover what affiliate link cloaking is.
Affiliate link cloaking occurs when you take an affiliate link, and change its appearance through a redirect. This is typically done to:
Conceal the end destination
Shorten the URL
Add enhanced data analytics
Increase click-through rate
Help affiliate link management
We'll cover these benefits more in-depth later in the article, but for now let's jump into how link cloaking works.
How Does Link Cloaking Work?
Simply put, the way link cloaking works, is you create a display URL that redirects to your affiliate URL.
For example, let's take Canva, a company Afflytics affiliates for.
Our affiliate link by default looks like:
This link can be pretty intimidating for a few reasons.
One, it's pretty clearly an affiliate link. Given the URL starts with partner, and the ending is an affiliate ID.
For those not super familiar with online marketing, it may not be a big deal.
But to anyone with just a little background on how the internet works…
This can be stop people from clicking a link completely.
Using a link cloaking service, we can use redirection to make our original link look like:
This link is a lot more professional, and the original destination is concealed.
If someone wants to find out the destination URL, they have to click the cloaked URL to see where it goes.
By checking where the link leads, an affiliate program can cookie their browser, tagging them for any future purchases.
Now, let's cover the most popular ways to shorten your links and cloak your URLs.
How to Cloak Affiliate Links
If you want to cloak your affiliate links, there's a dozen services you can use to do so.
We asked different affiliate marketers their favorite tools, along with some details about their experience using them.
Here's what they said:
I've been using Clickmagick since 2018 across two affiliate marketing businesses.
Clickmagick is a premium link tracking tool that allows one to create shortened links on a subdomain (e.g., go.streamseo.com/gom) to be used on any platform from Google Ads, Social Media, Email, and websites.
I use it because:
Allows for multi-platform tracking
Allows for postback URLs such that my affiliate earnings get posted in the platform so I can see which link is working best
They allow for granular tracking with subids that can be embedded directly into the URL, e.g., go.streamseo.com/gom/affiliate-1/content/productbox/cta.
One thing I do not like is if a network does not support postback URLs, then sales data has to be manually uploaded.
Having integrations via APIs to third-party networks could propel Clickmagick from a link tracker to an affiliate sales tracker.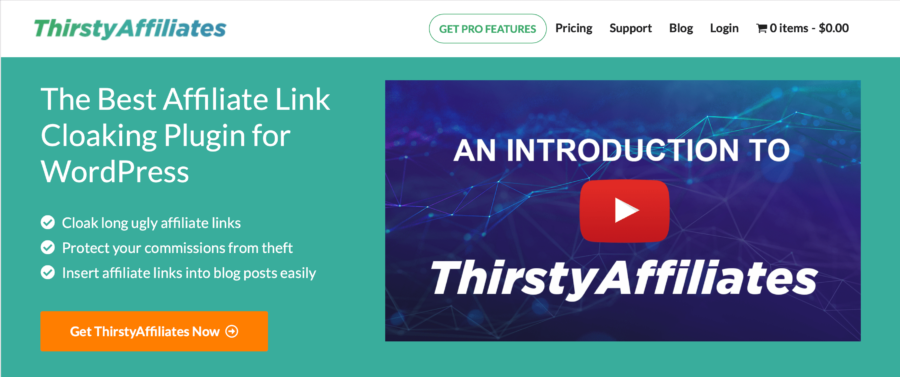 James Lee from MonetizedFuture.com:
I started using ThirstyAffiliates in early 2020. As a self-taught affiliate marketer, my knowledge of affiliate marketing and site-building came from watching Youtube videos and scouring forums. I never took a course or got a proper mentor.
I attribute this to my unique style, but the downside is that I picked up a lot of really bad habits along the way, and one of the biggest was not cloaking my affiliate links. As a New Year's resolution, I decided to take the time to go through my entire site portfolio and fix all of my links.
After doing some research I chose ThirstyAffiliates for the task. I really love how easy the interface makes managing and cloaking my affiliate links. Some of my favorite features are:
Customizable link prefixes
Keep Amazon links uncloaked
Can attach link to images and shortcodes
Global nofollow
Can turn off features you don't use to cut down on plugin bloat
I would recommend ThirstyAffiliates to any blogger or niche site builder who is looking to organize their affiliate links.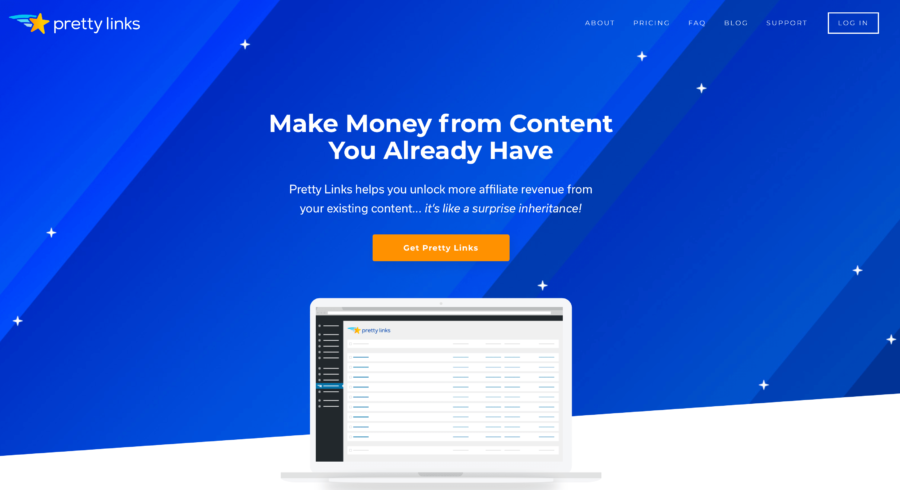 Dylan Gordon founder of HustlerSource.com:
Affiliate link cloaking is crucial for many different reasons; whether it's to achieve a branded look or to keep track of clicks.
That's why I use PrettyLinks on all of my affiliate sites! It's one of the most popular WordPress plugins for creating and managing affiliate links.
I've been using their services for over a year, without a single issue or headache.
One thing I really like about PrettyLinks is their simple yet powerful reporting, allowing you to filter out robot clicks or clicks from your own IP address!
I've also been impressed by how easily you can make your links 'nofollow' or 'sponsored,' depending on your preference.
While it's not as advanced as some of the other options on the market, it's free and does the job. They do offer a "Pro" plan, but it's not something I've invested in yet.
Benjamin Fletcher from fletcherblog.com:
I'm a big fan of Joturl for cloaking my affiliate links but also for link tracking as well, it has all the features that are important to me as an affiliate marketer like:
24/7 uptime monitoring
Fast redirect times
Deep linking capabilities
It has a lot of other features that increase affiliate sales that most affiliates completely overlook like the ability to add retargeting pixels to your links for Google and Facebook.
It's also cloud hosted, so you can use the links anywhere, although they do have a Joturl WordPress plugin as well, which is super useful for bloggers.
Support is quick as well, I don't think I've waited more than 20 minutes for a reply to any tickets I've opened.
It's genuinely hard to find a negative with Joturl as everything I'd want to see as an affiliate is built directly into the tool.
Highly recommended.
As you can see, there's tons of great options to choose from. Next, we'll go more into the benefits of cloaking links.
Benefits of Cloaking Affiliate Links
Bit.ly, one of the leading link branding services, conducted a study that showed cloaked links received up to a 34% higher click through rate than unbranded links. That's nothing to scoff at.
You're probably wondering where this enormous CTR increase comes from.
The main reason we see such an increase in CTR, is the added level of trust branded links get.
Depending on what they see here, and how scary the link looks, they may be more or less inclined to click.
When you start adding random sequences of letters, numbers, and symbols that are typically seen in tracking links, it can be a turn off for readers.
To counteract this, bloggers use affiliate link cloaking and shorteners to add trust and familiarity to link previews.
Analytics and Link Management
Another plus of using link cloakers and shorteners is the ability to track your clicks and other relevant affiliate stats in one place. For example, my previous site used Bit.ly, allowing me to view all my affiliate links, and the clicks they earned over time. This is really helpful when trying to visualize what placements result in what amount of clicks.
Another benefit, is the ability to use redirects as variables.
In the event a link breaks, or you want to update all locations, now you just have to change the redirect URL on your software, opposed to every single place on your site. This feature alone has saved me incredible amounts of time.
Frequently Asked Questions
Do Cloaked Links Prevent Affiliate Theft?
One of the leading reasons people claim they cloak their affiliate links is to prevent what's called commission theft.
This occurs when a bloggers computer is effected by malware, and the affiliate ID on their links are changed, making any successful conversions credited toward the hacker, not the affiliate.
In my 4 years of affiliate marketing, I've never heard this happen, but somehow it's still something affiliate marketers discuss.
So yes, cloaking affiliate links would avoid any issues with affiliate theft, as the affiliate ID is concealed behind the link shortening software. Regardless, we don't think it's something to worry about in the first place.
What is the best WordPress Cloaking Plugin?
WordPress is one of the most common affiliate marketing blogging tools, so it's only natural you'd want one that integrates seamlessly. Of the link cloakers and shorteners, PrettyLinks, JotURL, and ThirstyAffiliates all have WordPress plugins.
Other options will certainly work alongside a WordPress site, but don't directly integrate. Between them, it really comes down to preference, we recommend testing them all out to see what you prefer, but overall they are pretty similar!
Is Cloaking Affiliate Links Allowed?
This will depend entirely on the affiliate program that you're participating in, every single affiliate program has different terms and conditions.
Amazon Associates is one of the largest affiliate programs out there, and is notorious for not allowing it's participants to cloak their links. In fact, it's one of the many reasons people get banned from Amazon's affiliate program.
We'd recommend to read every single affiliate program's Terms and Conditions, and if you're still unsure, contact the affiliate manager for that program, and ask them directly.
Does Link Cloaking Harm SEO?
Absolutely not! It's a very common misconception that cloaking your affiliate links will have a negative effect on your sites SEO.
One of the main worries people have when it comes to link cloaking, is that Google will see them as spammy or untrustworthy.
Like most things, a few bad actors have give the entire space a bad name. Assuming your cloaked links go to somewhere completely safe and trustworthy, there will be no SEO hit.
Another worry marketers have when it comes to shortening links is the lost of link juice or PageRank. This has been confirmed by Google to untrue. In the past, redirects may have caused negative SEO issues, but that is no longer!
Should You NoFollow Cloaked Affiliate Links?
The concept of NoFollow is pretty straightforward, mark any link you don't want Google PageRank to passthrough with a nofollow link.
Google's also mentioned that any outgoing link that exists, that normally would not unless influenced by money, should be tagged as NoFollow, as well as the new rel = "sponsored" tag.
So yes, the best practice is to mark all affiliate links cloaked or not, with NoFollow and Sponsored.
Concluding Thoughts
Overall, affiliate link cloaking has nothing but upside. The main benefits of affiliate link cloaking is the added trust a branded link has, the added tracking capabilities, and the increased CTR shortened branded links give.
If the affiliate program your promoting allows you to do it, you should do so.
Options like ClickMagick, PrettyLinks, ThirstyAffiliates, and JotURL will all make it easy for you to shorten, brand, and track your links.
The only time you wouldn't want to cloak your links, is if the program you're pointing the link to specifically asks you to not do so. Amazon is the most notable example of a company that doesn't allow cloaking, but a large majority will allow it.
Do you have any questions about affiliate link cloaking?
Are you using one of the services we mention above?
Let us know in the comments!