Back in 2018, I decided to start testing some ad optimization tools to increase our revenue from the ad networks we were working with. That test was quite interesting as we ended up increasing our earnings by 70% without increasing our traffic. It's been a year now and I keep exploring as many platforms that grab my attention and so I have prepared this AdPushup Review.
Today, we're going to talk about AdPushup, a revenue optimization platform for web publishers that also uses machine learning to split test ads and increase your earnings. AdPushup has a ton of other features baked in their platform.
But the reason why you're reading this article is that you want to know how to increase your earnings, whether you're using Google Adsense, Media.net, or any other ad network and you want to maximize your CPM and impressions while keeping the best experience for your visitors.
The company is headquartered in New Delhi, India, and was founded in 2014. This means, they already have 5 years of experience, and if you've been in this industry for a while, you might have heard of them in the past.
I talked to my managers first and asked them if they have any examples of publishers using AdPushup's ad testing tool. Also, if they can share some numbers that we can expect to see.
I am a man of numbers and results, so I get much more excited about a case study, than just reading a list of features without any measurable results. With respect to that, gladly I was able to find some examples of publishers who have been working with AdPushup for a while.
Here's a website in the music niche that started working with AdPushup in Q4 2018 and increased its revenue by 259% after 9 months: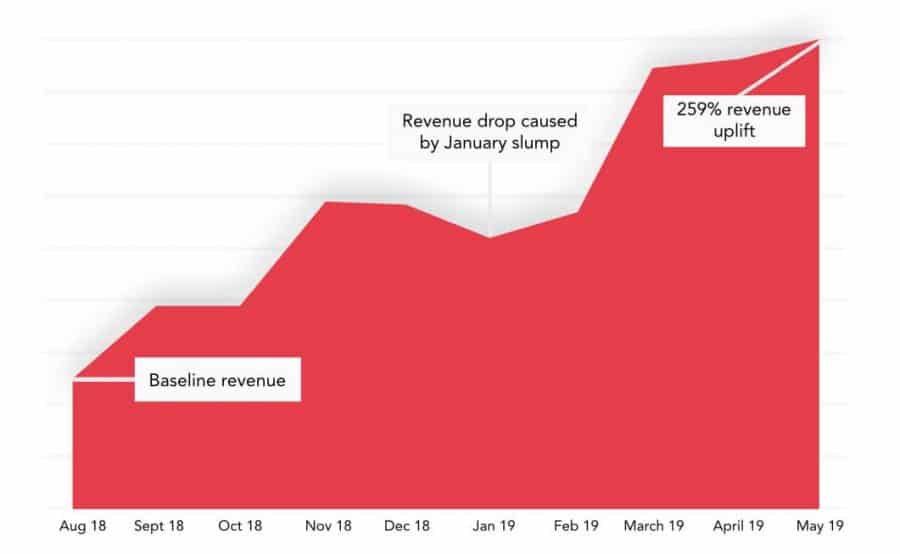 I checked online and I found this website has a ton of USA-based traffic, which is one of the top geos from around the globe.
259% growth in 9 months? Well, sounds like a win-win to me.
I found another website in the education niche that receives most of its traffic from South East Asia. They too were able to increase their revenue by 534% over a year. That's a 5.3X growth!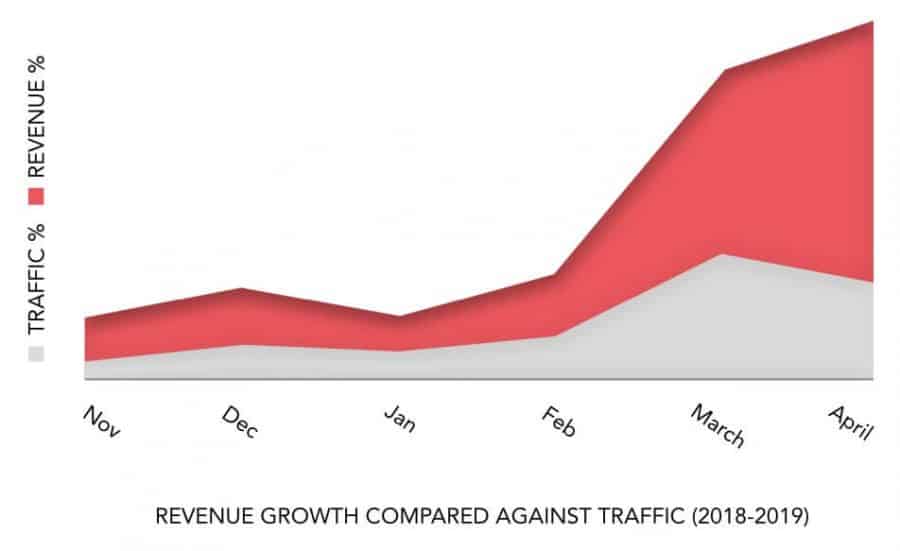 As much as these case studies sound motivating to me, I could also deduce that AdPushup can work with any site that gets traffic from any Google Adsense supported language.
After seeing such results, I was keen to review AdPushup. Though I got to know that they were going through a product overhaul and the new dashboard is on its way, so I thought of waiting for a couple of months to see it live in action.
It was October 2019 and the new version was released after which I decided to take a complete product tour. I'm quite familiar and comfortable with the AdPushup now. So, let's have a look at how AdPushup works and how it can help you increase your ad revenue.
Adpushup Setup and Dashboard
Once you create your account on AdPushup, you can log in and see a Dashboard with a clean and easy-to-understand interface.
Here, you'll be able to get a quick glance at your stats from the last day, last week, and last month. You can also compare the RPM between your original setup (the one that is not optimized by AdPushup) and the new layout that's running on AdPushup.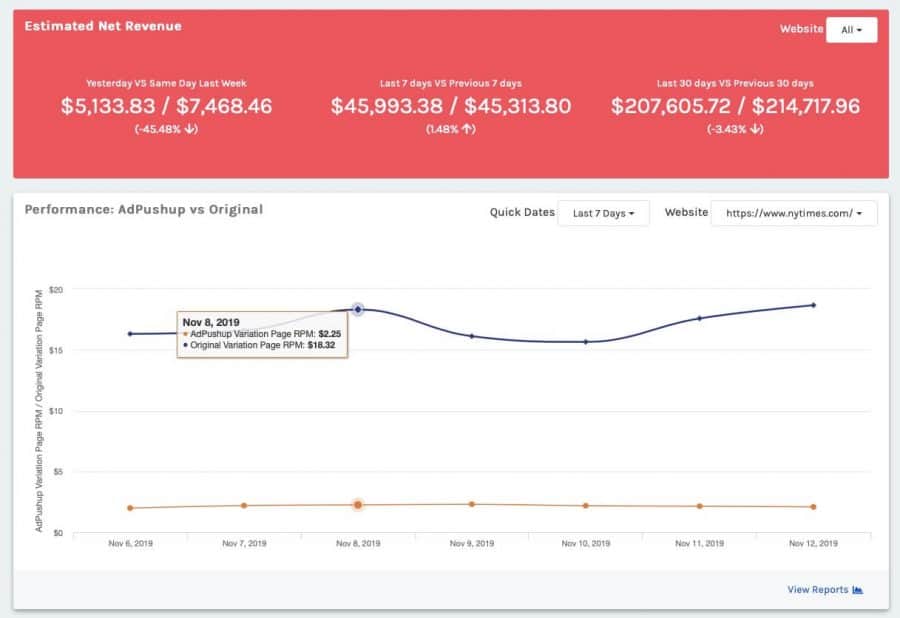 When you'll scroll down a bit, you'll see the number of impressions, CPM, RPM, and revenue based on the number of page views. You'll also get a pie chart with the revenue distribution in case you're working with multiple ad networks, as depicted below.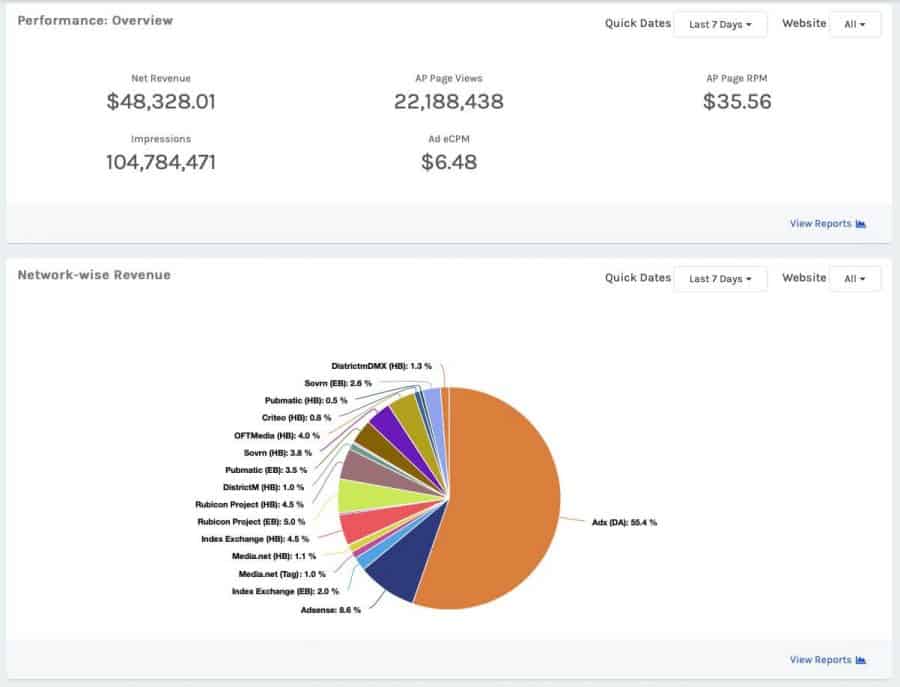 Here's what you need to get started: First, you need a website or a blog that is already making some ad revenue. AdPushup has a minimum requirement of $1,000 ad revenue per month to get qualified.
The income can be sourced from existing ad networks like Google Adsense or others, as you can see in the pie chart above. I understand that not all publishers may be making a thousand dollars in revenue. But, from an optimization point of view, I can say it is required for them to have sufficient traffic for their AI to test and optimize ad layouts on.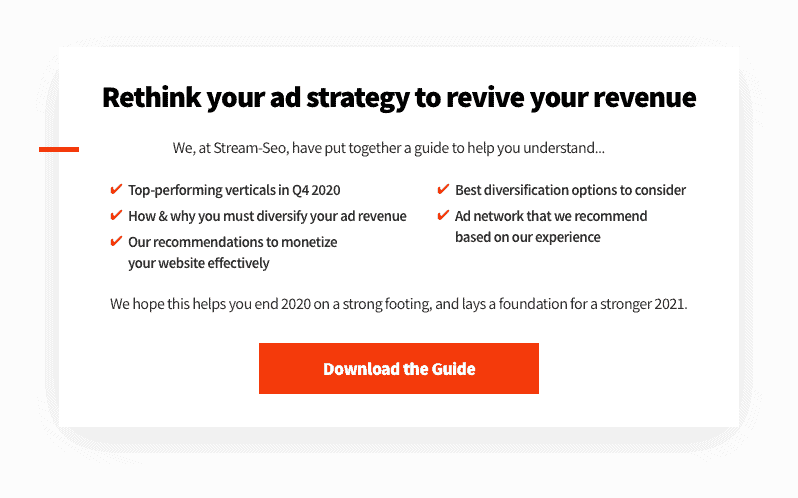 Well, this also means you need to be approved by your current network for AdPushup to further approve and optimize your site. If your site has had problems or been banned from a network, you probably won't be able to work with AdPushup.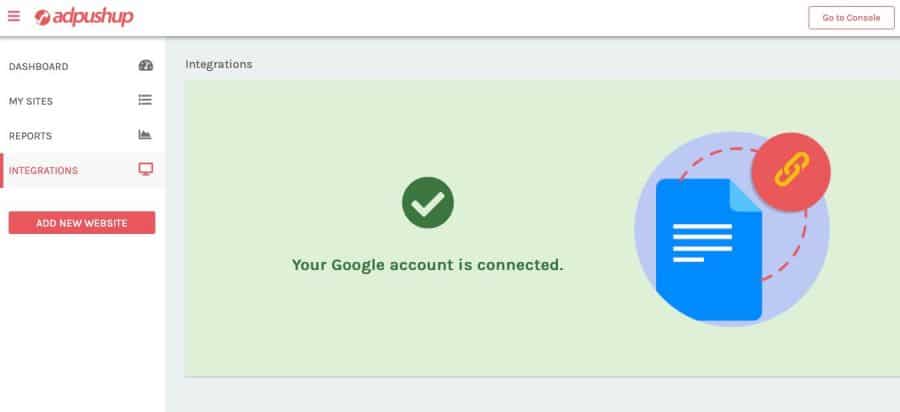 Second, once you connect your account, (Adsense and Media.net are great choices to get started with) you can start optimizing your ads and run reports to check which ads have better CPMs and generate more revenue.
Here's how the line chart looks with the ad units filtered on a daily basis: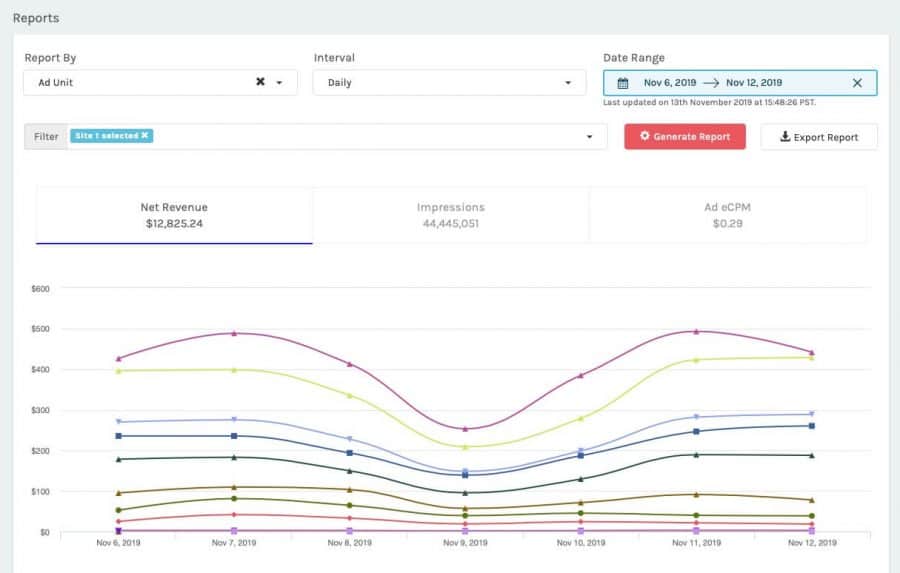 If you scroll down more, you'll be able to check the stats for every ad that shows which ad units are the top earners. Here's where you will also notice how AdPushup performs A/B testing to find the best performers, and avoid the non-performing ad units.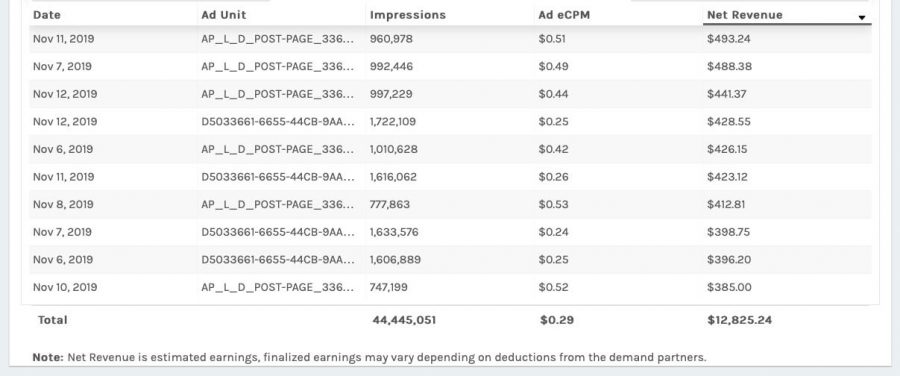 Your Site + AdPushup
Integrating your site with AdPushup is quite simple. One of the key factors is you don't need to give the control of your website's DNS to AdPushup, as opposed in the case of Ezoic. Just click the "My Sites" option at the left and you will see the list of your sites and the status of the integration done so far:

Next, click the red "Add New Website" button to get started. Once you'll enter your site URL, you'll get a JS script to allow AdPushup to start working. All you need do is copy-paste the code in the header section of your site and you'll be good to go.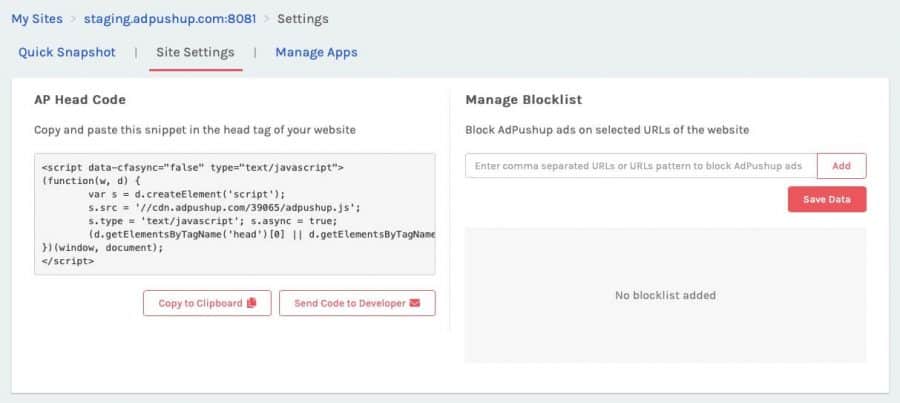 In the image above, you can also see the option to manage blocklist which basically is a way to prevent AdPushup from showing ads on particular URLs of your site, in case you need it. Think of pages where you don't really want to show ads, as a sales landing page, a thank you page, or maybe even your home page. It's up to you!
In any case, if you struggle with adding the code to your site, the ad ops (support) guys at AdPushup can help you get that job done. Once the code is added on your site, you now can start managing everything that AdPushup has to offer. Here's a quick glimpse of AdPushup's App Manager: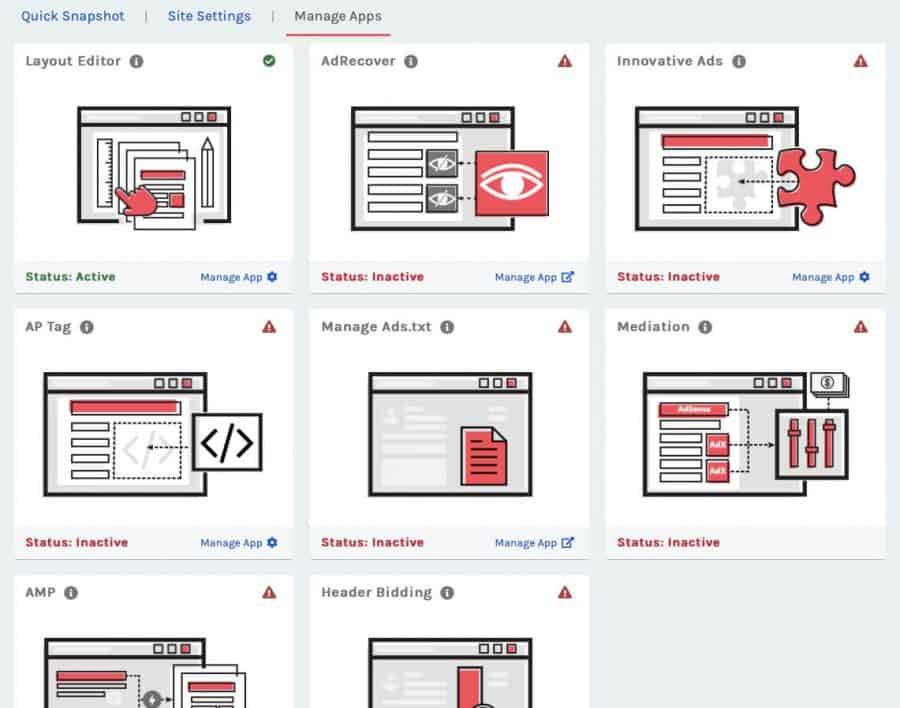 Now comes the main part.
Setting the Ad Layout
The first feature you see in the image called "Layout editor" is the main app and that's where AdPushup started 5 years agoーvisual editor to create and test ad layouts. To start implementing ads on your site, you'll have to open the layout editor app and select the network you want to work with based on your integrations.
For example, here I'll place a Google Adsense ad by inserting its code for AdPushup to convert it to its own code, and use it for split testing between different layouts.

This part might feel overwhelming if you're not a tech-savvy publisher. Thankfully, you'll have a dedicated account manager who can take care of any part that you might find complex. If at any point, you feel like you need some help, your account manager can always help you.
You'll also have the option to choose from a suite of innovative ad formats. These ads are not the basic display ads we see everywhere on the web.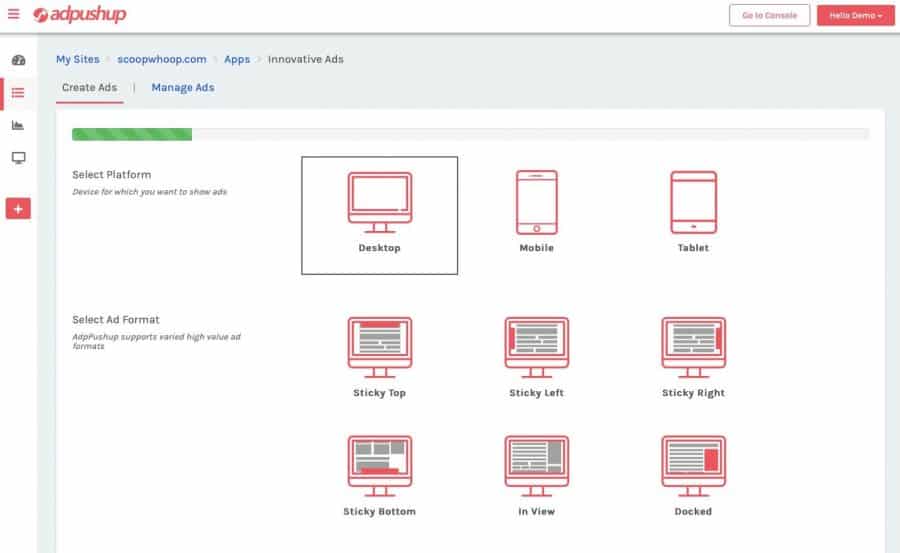 Unique in orientation and characteristics, these ads help improve ad viewability, in contrast to regular display ads that go unnoticed. I call them banner-blindness-struck-ads.
The whole idea of layout editor is for you to focus on your website, create content, and generate traffic, and watch your numbers grow while AdPushup does the optimizations for you 🙂
Ads.txt and AMP
Next, I tested other features like "Manage Ads.txt" that lets you update your ads.txt file to allow networks to work with your site.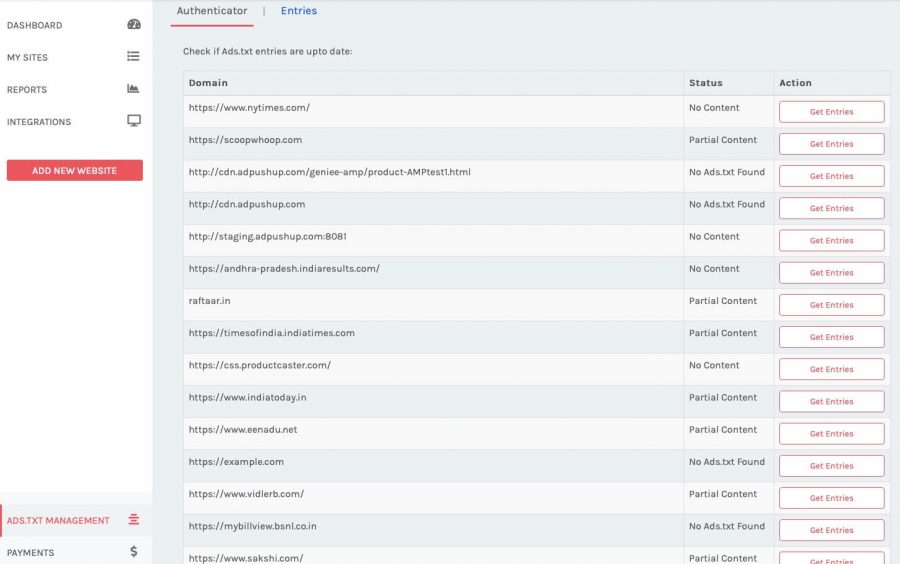 AdPushup also has the AMP app in case you want to implement it to your site/pages and make it super-fast on mobile devices. The AMP converter is also programmed to monetize the ads running on your AMP pages.
Simplifying Header Bidding
This is probably one of the most complex, yet effective, revenue optimization technologies.
How it works: Header bidding is the direct medium between advertisers and publishers to facilitate the buying and selling of ad inventory. Publishers work with multiple demand partners to fetch the best bids on their ad inventory that they put on auction.
The header bidding feature in the AdPushup app manager makes it feasible for you to directly add/remove demand partners. Further, the reporting breakdown shows you the contribution of each demand partner.
I personally think the interface makes it a lot easier for publishers like us to implement header bidding on your site without getting caught in the complexities. Not to forget, the account managers are always there to guide and help.
Adpushup Payment Options
As you would expect, since AdPushup becomes your ad optimizer, you will now receive payments from AdPushup instead of your original network; unless you set up a direct relationship with an ad network. This also happens with other platforms we have worked within the past.
AdPushup offers Wire Transfers and PayPal with a minimum payout threshold of $50.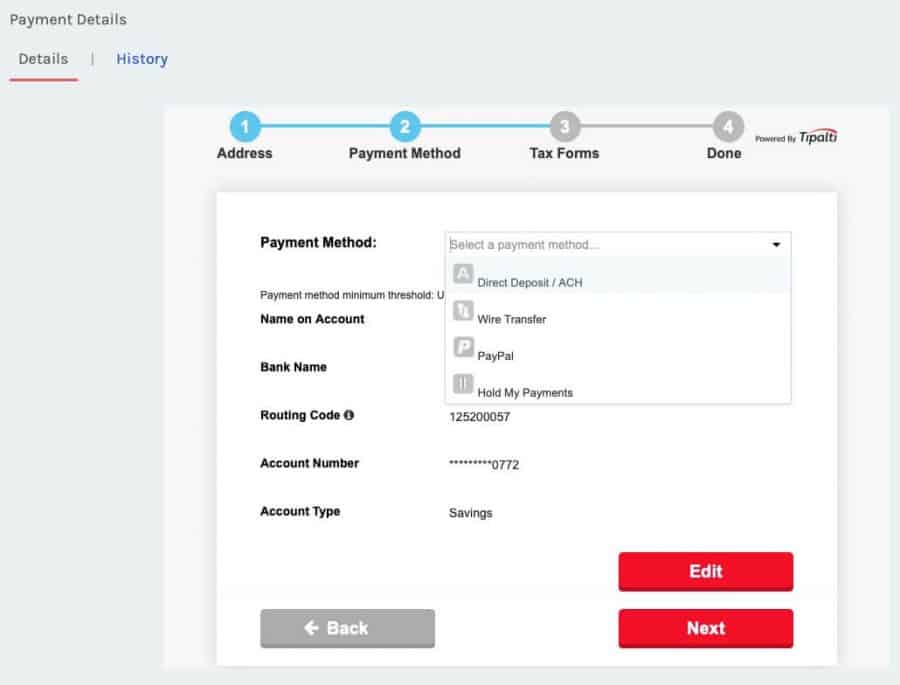 Payments are made on a Net45 frequency, so what you end up earning one month is paid 45 days (1 month and a half) later. I wish Adpushup had Net30 payments and other payment options like Payoneer but other than that everything falls within the range from a reliable revenue optimization partner.
Is Adpushup the one for you?
AdPushup is an ad optimization platform that works with machine learning to create the best ad layouts for your website. Moreover, their demand partnerships give you access to premium advertisers who are willing to pay more for your impressions. Some of their partners are Rubicon, Criteo, Index Exchange, MediaNet, Pubmatic among others.
Along with the partnerships, they also have publishers working with them that you might recognize as huge brands in the online space:

All this sounds nice, but for it to work properly and test the variations of ad layouts, you need to have a decent volume of traffic. That's why AdPushup has a requirement of $1,000 per month in earnings in order to approve you.
So, if you're a blogger who's just getting started, AdPushup may not be the immediate partner for you. My advice to you would be to start focusing on growing your traffic and perhaps start using Google Adsense or any other network according to your niche.
Although once you're past $1,000 ad revenue per month, I'd say giving AdPushup a try is a no-brainer.
AdPushup Review – Final thoughts
Ad mediation and optimization are something a lot of websites have been ignoring for years. When they finally discover the potential, they can't go back to using the typical Google Adsense auto ads.
You can certainly see your site double or triple its revenue (like the ones in the case study examples above did) just by implementing the right number of ads in the right spots.
Your account manager can be in constant touch with you via skype, email, chat, or even calls if you'd need them for this. Moreover, they are constantly monitoring your ad layouts and the ad ops stuff at the backend to improve the performance of your site.
On top of that, if you add machine learning and then boost your earnings by another 200%, you can easily earn 5-10x more than the regular Adsense auto ads. We have seen this happen with several sites where they had a mediocre CPM/RPM and they got them boosted to achieve great results.
Generating more revenue from your website will allow you to scale your operations faster and focus more on your content. Of course, this will bring you more traffic and increase your revenue in the long run.
Hence, if you're still deciding whether you should give a new platform like AdPushup a chance, I say there's no harm in trying… and certainly, you'll never find out the results until you try. Get started here!